There are a LOT of new songs this November and we're here to let you know EXACTLY what you need to be listening to.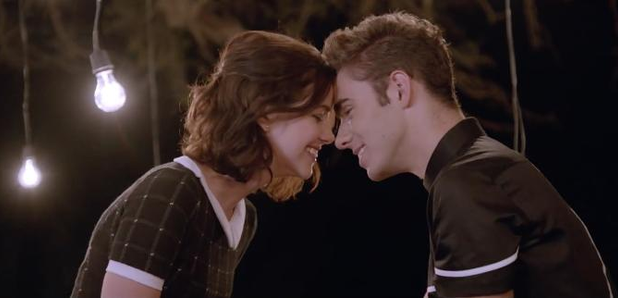 November 2015 is FULL of brand new songs you should be checking out. From Little Mix's brand new album 'Get Weird' to fresh new music from the one and only Nathan Sykes. Whether you're a fan of rock, pop, dance or R'n'B, we've curated a playlist our favourite tracks to check out this month.
Check out EVERY 2015 No.1 in our exclusive gallery right now.
So let's get down to it shall we...
Alexa Goddard - 'Love Yourself' (Justin Bieber Cover)
The original has already been a big hit in the Vodafone Big Top 40, scoring itself a place inside the top ten at the tail end of November. However you HAVE to hear Alexa Goddard's gorgeous version too.
Nathan Sykes - 'Over And Over Again'
Prepare to have your heart a little broken after watching Nathan's follow-up single to his smash hit 'Kiss Me Quick'. The music video follows Nathan and model MaeMae Renfrow throughout their ENTIRE relationship...expect tears.
Charlie Puth - 'One Call Away' (Junge Junge Remix)
Charlie Puth's sweet ballad 'One Call Away' gets a dance remix from German DJ duo Junge Junge and we think it sounds JUST as good as the original.
Honne - 'Gone Are The Days'
Funky, fresh and leaving us wanting more! That's exactly what Honne do EVERY time they release some new music.
Sigala - 'Sweet Lovin''
We've been waiting for Sigala's follow up single to 'Easy Love' and we finally have it in the form of 'Sweet Lovin'. Different track, same perfect vibe.
Lawrence Taylor - 'Bang Bang EP'
Lawrence Taylor's debut EP was released on the 13th November and is worth a listen or ten. With songs worthy of any great guitarist, you'll be wanting more after these fifteen minutes of music.
Stephen - 'Hello' (Adele Cover)
Adele's 'Hello' has been covered countless times already however singer/songwriter Stephen has taken it to another level with his own rendition.
Justin Bieber feat. J.Balvin - 'Sorry' (Latino Remix)
Justin's Vodafone Big Top 40 hit 'Sorry' has been given a Latino remix giving the tune a little spice. Colombian singer J.Balvin's Spanish verse is a particular highlight.
The 1975 - 'Love Me'
The Manchester four-piece are back with their second album and the lead single is just as awesome as we all expected it to be.
The Cat Empire - 'Wolves'
Australian ska, funk and all round party band The Cat Empire are back with a new sound (a little more electronic) and we're liking what we hear. We also dare anyone to try and learn the dance routine to the music video.
Great Skies feat. China - 'Softly'
South London producer Great Skies brings us another hypnotic tune however this time he's hired in help from Swedish singer China and we've pretty much had it on repeat since it was released.
Asami Zdrenka - 'Strange And Beautiful' (Aqualung Cover)
Asami Zdrenka (formerly of Neon Jungle) has breathed new life into Aqualung's 2005 classic 'Strange And Beautiful' as part of her 'cover trilogy' including songs by Neil Young and Placebo.
Roman Scott - 'Jealousy'
Electronic beats, a bass line that'd get anyones heart thumping and blockbuster vocals make Roman Scott's 'Jealousy' a must-have on your November 2015 playlist.
MNEK - 'Never Forget You' (Kove Remix)
We've all heard the original however James Rockhill a.k.a Kove has turned 'Never Forget You' into a banging cub tune. You may remember the Electronic producer from the single 'Way We Are' with Melissa Steel.
5 Seconds Of Summer - 'Feels Good, Sounds Good'
5 Seconds Of Summer have finally released their eagerly awaited second album 'Sounds Good, Feels Good' featuring HUGE tracks such as 'She's Kinda Hot' and 'Hey Everybody!'.

MO - 'Kamikaze'
Recognise Mø? Well you should! The Danish singer spent countless weeks in the chart with her Major Lazer collaboration 'Lean On'. It's now time to check out her very own single 'Kamikaze' (you're going to love it).
Major Lazer feat. Ariana Grande & Machel Montano - 'All My Love'
Speaking of Major Lazer...anyone fancy a collaboration with Ariana Grande? Here you go...you're welcome.
Format:B - 'Chunky'
3 minutes of PURE dance music to get you up on your feet during November. We guarantee you'll either bob your heard, tap your feet or go full on Drake and throw some crazy shapes.
Jodie Abacus - 'Halfway To Mexico'
What is this funky sound playing in my ears right now? It's your new favourite song of course.
Lukas Graham - '7 Years'
Although the lead singer is called Lukas Graham, the name 'Lukas Graham' is actually the name of the Danish four-piece band behind this incredible song '7 Years'. These guys have already had FIVE No.1 singles in Denmark, wow.
Dan Owen - 'Bad For Me' EP
Need a break from all the pop and dance music dominating the chart? Maybe it's time you get your acoustic bluesy groove on with Dan Owen's EP 'Bad For Me'.