Top Chart Hits: 20 Of The Best Pop Songs Of 2016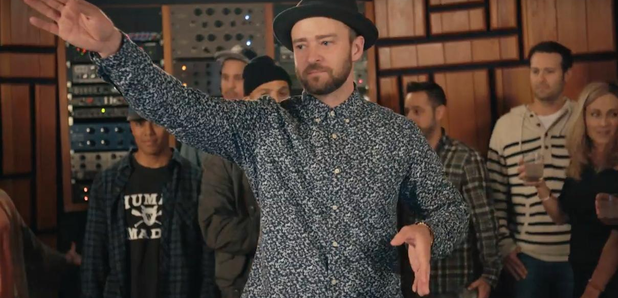 Pop music is finally back on top in 2016 with an endless stream of incredible new releases week in and week out.
We've compiled all the biggest chart pop songs of 2016 into one handy list for you to make it just that little bit easier to find all of this year's HUGE hits. Whether you're a #Mixer or a #Directioner, we've got all the tunes for you.
The new year has now arrived! Check out the BEST pop songs for 2017 right here!
So, enough talking (well, reading) and let's get on with the list! Pop songs 2016!
1. Olly Murs - 'You Don't Know Love'
Olly Murs' 'You Don't Know Love' has been up and down the chart like a yo-yo this year however it broke into the top three at the start of September. It is cool, fun and of course catchy!
Download 'You Don't Know Love' by Olly Murs
2. Little Mix - 'Shout Out To My Ex'
The Little Mix ladies knocked James Arthur off the top of the Vodafone Big Top 40 with this epic girl-power pop anthem! It is the lead single from their fourth studio album 'Glory Days' and it is a chart banger!
Download Little Mix's 'Shout Out To My Ex' now.
3. Fifth Harmony feat. Ty Dolla $ign - 'Work From Home'
Along with Little Mix, Fifth Harmony are by far one of the biggest girl bands in the world right now and their collaboration with Ty Dolla $ign is all the evidence you need.
Download Fifth Harmony & Ty Dolla $ign's 'Work From Home' today.
4. Clean Bandit feat. Anne-Marie & Sean Paul - 'Rockabye'
November 2016 was completely owned by one song and one song only! Clean Bandit's 'Rockabye' held onto the No.1 spot throughout the entirety of the month, that is NOT easy.
Download Clean Bandit's 'Rockabye' now.
5. Lukas Graham - '7 Years'
Well well, what can we say about Lukas Graham. The Danish group knocked ZAYN off the top spot after he held onto pole position for just one single week. '7 Years' is a truly special song and if you haven't heard it already, where have you been?!
Download Lukas Graham's Vodafone Big Top 40 No.1 '7 Years' now.
6. ZAYN - 'PILLOWTALK'
This was always going to be a big one wasn't it. ZAYN was the very first member of One Direction to leave the nest and go solo. To say his first venture on his own was a success is a massive understatement. The song went instantly to No.1, obviously.
Listen to the incredible moment ZAYN found out 'PILLOWTALK' was No.1!
7. Jonas Blue feat. Dakota - 'Fast Car'
Who would've believed that one of the biggest chart hits of 2016 would be a brand new rendition of Tracy Chapman's 'Fast Car'? The song came out of nowhere in January 2016 and hasn't looked back since.
Download Jonas Blue's epic cover of 'Fast Car' now.
8. Sia feat. Sean Paul - 'Cheap Thrills'
Sia and Sean Paul are a duo we never imagined we'd be able to actually see but here it is! The Australian songwriting goddess hired in Sean 'DUTTY' Paul for a verse and it is so...damn...good.
Download Sia & Sean Paul's hot collaboration 'Cheap Thrills'
9. Snakehips feat. Tinashe & Chance The Rapper - 'All My Friends'
Snakehips with the beat, Chance The Rapper with the verses and Tinasche with the hook. What more can you ask for? This tune has been a mainstay in the Vodafone Big Top 40 countdown and we can see why.
10. Jason Derulo - 'Get Ugly'
Whenever Jason Derulo drops a new single, we all know it will only be a matter of time until we're all jumping around the living room trying to emulate the 'Talk Dirty' star's moves. We'eve since learnt, we'll never be able to match Mr. Derulo's shape throwing *sigh*.
Download Jason Derulo's 'Get Ugly'.
11. Major Lazer feat. Nyla & Fuse ODG - 'Light It Up'
Major Lazer have produced one of those singles that will bury itself into your brain after just one listen. That trumpet hook is catchier than any song we've probably ever heard.
Download Major Lazer's 'Light It Up' feat. NYLA now.
12. Lawson - 'Money'
Andy, Joel, Adam and Ryan are back with some brand new music for us to absolutely devour (trust us, you're going to need more after this). Their new single 'Money' is the first track we've heard from the boys new album following on from the debut LP 'Chapman Square'.
Download Lawson's 'Money' today.
13. One Direction - 'History'
Please say this isn't the final goodbye?! One Direction's epic 'History' music video charts the boys' meteoric rise to success all the way up until they finally announced their hiatus. There are even little glimpses of ZAYN in the video!
Download One Direction's epic single 'History'.
14. Shawn Mendes - 'Stitches'
After Justin Bieber's run at the top spot which started in 2015 and ended this year, Shawn Mendes' 'Stitches' was the first No.1 of 2016. The Canadian singer, 17 at the time, started his career on the social media app 'Vine'.
Who exactly is Shawn Mendes? Here are a few facts you might like to know.
15. Alessia Cara - 'Here'
When we talk about breakthrough artists of 2016, Alessia Cara is the first name on everybody's lips. Her very first single in the Vodafone Big Top 40 was this instant pop classic 'Here'.
Download Alessia Cara's 'Here' right now.
16. Ellie Goulding - 'Army'
Ellie Goulding has been a chart veteran for a few years now. In fact she holds one of the longest running No.1 singles of all time with her track 'Love Me Like You Do'. 'Army' was her first offering of 2016 and she absolutely nailed it.
Download Ellie Goulding's 'Army' right now.
17. Meghan Trainor - 'NO'
Meghan's breakthrough hit 'All About That Bass' was easily one of the biggest pop songs of 2015, so it only makes sense for her to return with a new smash hit this year and it's called 'No'.
18. Justin Timberlake - 'Can't Stop The Feeling'
Justin Timberlake returned to music in 2016 and we hadn't realised how much we'd missed him! His first song of the year 'Can't Stop The Feeling' is probably the happiest tune you'll ever hear (yes even more than Pharrell's 'Happy').
Download Justin Timberlake's 'Can't Stop The Feeling' right now.
19. Little Mix feat. Jason Derulo - 'Secret Love Song'
We couldn't believe our ears when we heard Little Mix had teamed up with fellow chart superstar Jason Derulo however when we finally got to hear 'Secret Love Song', the world of pop collaborations was put right.
Download 'Secret Love Song' by Little Mix & Jason Derulo now.
20. DNCE - 'Cake By The Ocean'
It's catchy, fresh and pure pop magic. DNCE's breakthrough single 'Cake By The Ocean' will make you smile from ear to ear whenever you hear it with its pure feel-good vibes.
Download DNCE's 'Cake By The Ocean'