'Ragtime Gals': Jimmy Fallon's Best Barber Shop Quartet Chart Covers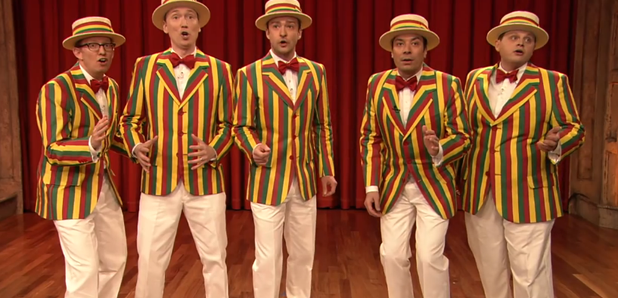 Whether it's his impressions, hosting skills or singing there is no reason not to LOVE Jimmy Fallon. Here are his very best chart song covers with his barber shop quartet.
The 'Tonight Show' host is renown for being one of the most popular men in showbiz however it his impressive set of singing pipes that have got all us chart fans in a tizz.
He has covered some of the biggest tracks around AND featuring some of our favourite celebrities.
5. R Kelly - Ignition (Remix)
There is nothing better than hearing four old style vocalists singing the words 'bouncing on 24s'. Jimmy, we salute you.
4. Jason Derulo - 'Talk Dirty' with Kevin Spacey
Kevin Spacey…yup that really is Kevin Spacey singing 'I got lipstick stamps on my passport'. Truly inspirational.
3. Color Me Badd - 'I Wanna Sex You Up'
Nominated for the Best R&B single at the Grammys, we think this new version might even be better than the original…yup we said it #SorryNotSorry.
2. Marvin Gaye - 'Sexual Healing' with Steve Carell
When we saw this we were already in love with Jimmy's 'Ragtime Gals' however when you throw in legendary comedic actor Steve Carell and some of those soulful vocals, we couldn't of been happier.
1. Justin Timberlake - 'SexyBack' with….Justin Timberlake himself.
And then Jimmy went and released this video and life was officially complete.