This Year's Longest Reigning No.1 Smashes!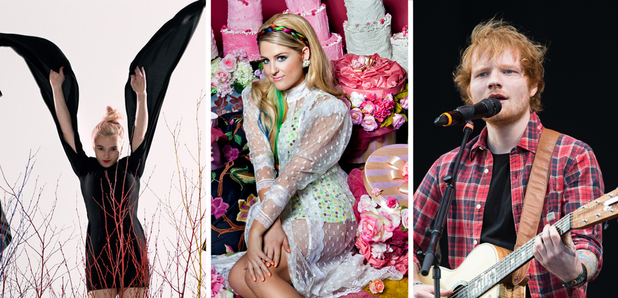 Whether it is the catchy choruses or that beat you just have to dance to, we all love a smash hit! Here are the tracks that you have put to the No.1 spot for the longest time this year.
Meghan Trainor - All About That Bass
5 Consecutive Weeks at No.1
It shouldn't come that much of a surprise that girl from Nantucket has made our 2014 list. When 'All About That Bass' dropped in late September it rocketed to the top of the Big Top 40 within 24 hours of it's release. Meghan then surpassed all other artists in 2014 by staying at the summit for an incredible 5 weeks!
Clean Bandit feat. Jess Glynne - Rather Be
4 Consecutive Weeks at No.1
With almost 150 million views on YouTube, Clean Bandit's fourth release from their debut album 'New Eyes' took the Big Top 40 No.1 crown for an entire month!
Sing! - Ed Sheeran
2 Weeks at No.1
We all know how huge Ed Sheeran's second album 'X' is and this was one reason why. The track was produced by legendary hit maker Pharrell Williams and spent two tenures at the summit of the chart.
Rixton - Me And My Broken Heart
2 Weeks at No.1
If there were ever a dream start to a music career then this would be it. Rixton were not only signed by Scooter Braun (Justin Bieber's manager) but their debut single went straight to the top spot and stayed there for two weeks!
What were your favourite songs of 2014?