11 Sexiest Music Video Moments Of 2014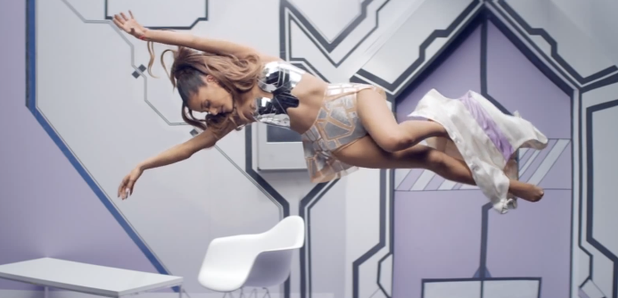 Some music videos are just too sexy to handle. We've collected 11 of the sexiest music video moments just for you incase you had missed any during the year.
Whilst you're here why not check out the 'Sexiest Music Videos Of 2015'.
Ok let's get this sexy party off to a start....first up...Queen B, obviously.
Beyonce - 'Partition'
We thought we'd start with most probably sexiest woman in the world let alone the music industry. Jay Z is a lucky, lucky man however we're not 100% sure about the sieve on her head.
T.I feat. Iggy Azalea - 'No Mediocre'
Who is that girl? No seriously who is she? This was question on everyone's lips when T.I dropped his music video for 'No Mediocre'. Well her name is Monatana Manning, a British model who supported Girls Aloud in a band called 'Cookie'.
Taylor Swift - 'Blank Space'
It's not weird that we think an angry Taylor Swift is sexy is it? It's one of those weird situations when you're not sure whether the guy is enjoying it or not…yeah he probably is.
Enrique Iglesias feat. Pitbull - 'I'm A Freak'
Yeah, we're not sure what he's really doing here, maybe he really is a freak. Regardless Enrique's million dollar smile along with a very..ahem..toned lady is surely worth a mention.
Maroon 5 - 'Animals'
'Adam Levine, check! Victoria's Secret Angel Behati Prinsloo, check! Both of them naked, kissing whilst being smothered in fake blood….um yep…check…isn't that a little gross?….Nope!
Ariana Grande - 'Break Free'
We like to think that when Ariana Grande gets home after a long day's work she hits the anti-gravity button in her bedroom and get's changed just like this.
Jessie J - 'Masterpiece'
Sometimes simple is sexy and that is definitely the case for Jessie J in her new music video for 'Masterpiece'. Keep your anti-gravity undressing and Victoria's Secret girlfriends, sometimes all that is needed is a girl from Essex in her underwear.
Shakira & Rihanna - 'Can't Remember To Forget You'
The problem with writing this articles like this is that sometimes you get distracted and don't concentrate on what keys your fingers are tapp sfapfmfa kfm akslmad adaekf.
Nicki Minaj - 'Anaconda'
Nicki broke all sorts of records when she released this jungle themed music video for her song 'Anaconda'. If you have the erm..assets then why not flaunt them!
Beyonce - '7/11'
We know we already have Queen Bey here already but come on, the lady made an entire album of music videos! Her music video for '7/11' was the most viewed music video of November on the site and we can see exactly why!
Jennifer Lopez & Iggy Azalea - 'Booty'
So much booty in such a small amount of time. The crazy thing is…J-Lo is 21 years OLDER than Iggy Azalea…how does that happen?!