Wedding Playlist: 14 Beautiful Songs To Walk Down The Aisle To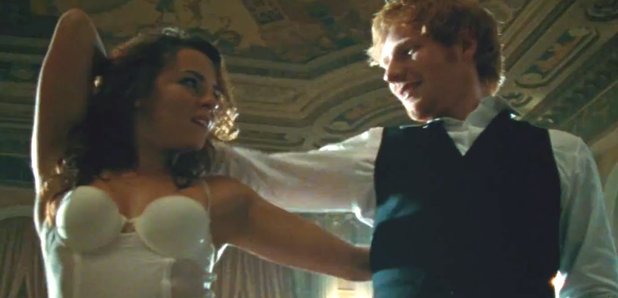 It is finally the day of your wedding & you HAVE to pick that perfect song to walk down the aisle to. Need help? Here you go!
We get it, there are so many singles you could choose for your very special day but that can make it almost impossible to pick right? But don't you worry! We have a whole wedding playlist for you to help make that decision just that little bit easier.
You're Up Next! 12 Epic Singles Impress With At An Audition

We hope we can help you out!
1. Ed Sheeran - 'Thinking Out Loud'
When Ed Sheeran wrote this song, do you think he knew how much of an incredible response he got when it was released! It was so popular that it pushed Ed to learn a whole dance routine for the music video (plus the lyrics are gorgeous).
Download 'Thinking Out Loud' by Ed Sheeran.
2. Lukas Graham - '7 Years'
How could we NOT feature the SIX week No.1 single from Lukas Graham? With beautiful piano melodies and Luke The Duke's sweet vocals, we're sure this could be perfect for a stroll down the aisle.
Download '7 Years' by Lukas Graham.
3. Jeff Buckley - 'Hallelujah'
Jeff Buckley's 1994 cover of Leonard Cohen's 'Hallelujah' is undoubtedly one of the most loved cover songs in the history of music. Imagine yourself, all in white, walking to towards your partner whilst Jeff's voice rings out. #Bliss
Download 'Hallelujah' by Jeff Buckley.
4. Jose Gonzalez - 'Heartbeats'
Believe it or not, Jose Gonzalez' 'Heartbeats' is actually a cover of a song by the same name by Swedish electronic duo The Knife. It was originally released in 2002, however it was Jose's rendition of the song in 2006, which propelled the song into the mainstream.
Download 'Heartbeats' by Jose Gonzalez.
5. The Temper Trap - 'Sweet Disposition'
Not only is this one of the most feel good songs you're ever likely to hear, its perfect in capturing that very special moment.
Download 'Sweet Disposition' by The Temper Trap
6. Adele - 'Make You Feel My Love'
You didn't actually think we'd forget her did you?
Download 'Make You Feel My Love' by Adele.
7. Sam Smith - 'Stay With Me'
The title says it all really. Sam Smith's breakthrough single 'Stay With Me' from his debut album 'In The Lonely Hour' will no doubt be played at thousands of weddings in the future. The trick is getting him there to sing it LIVE.
Download 'Stay With Me' by Sam Smith.
8. Ellie Goulding - 'Your Song'
We weren't sure whether to include Elton John's or Ellie Goulding's version of this track so we went for the flip of a coin. However you could choose either of these versions and it would be beyond memorable.
Download 'Your Song' by Ellie Goulding.
9. The Beatles - 'All You Need Is Love'
All you really need is love. If you're a movie fan you might remember a certain two characters walking down the aisle to this!
Download 'All You Need Is Love' by The Beatles
10. Florence + The Machine - 'You've Got The Love'
Who said wedding songs all need to be slow? Buck the trend and blast out Florence's 2009 anthem 'You've Got The Love'.
Download 'You've Got The Love' by Florence + The Machine
11. Nathan Sykes - 'Over And Over Again'
There wouldn't be a dry eye in the house if you used Nathan Sykes' gorgeous 'Over And Over Again' for your ceremony. That voice though...
Download 'Over And Over Again' by Nathan Sykes.
12. Maroon 5 - 'Sugar'
Ok, we might have been swayed to put this on the list because of the wedding themed music video...but still you could possibly bounce down the aisle to this funky tune.
13. Jason Mraz & Colbie Caillat - 'Lucky'
'Lucky i'm in love with my best friend'. There really is nothing better than a duet between two incredible singers such as these two. The lyrics are beautiful, its slow-paced and the guitar is simple. Basically it is perfect for a wedding.
Download 'Lucky' by Jason Mraz
14. The Beatles - 'Here Comes The Sun'
Okay, we know we've already got a Beatles track in there but they wrote so many stunning songs! 'Here Comes The Sun' is everything you need in a wedding song, just press play and trust us.
Download 'Here Comes The Sun'.