11 Chart Songs You Just HAVE To Dance To Whenever Somebody Puts Them On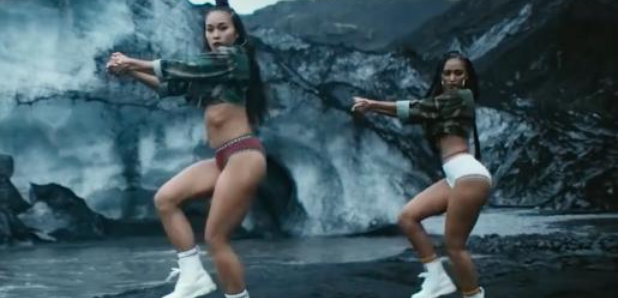 Sometimes a song comes on the radio that you just HAVE to start getting your groove on to. These are the ultimate tunes guilty of getting you to throw some shapes.
Sometimes your body does things you actually don't plan on it doing. One of those things that just can't be stopped is a little toe tapping to a big Bieber tune or a full-on routine whenever a Calvin Harris beat drops.
You're Up Next! 12 Epic Singles Impress With At An Audition

Let's take a little look at the tracks ready to make you go a little dance crazy.
1. Major Lazer feat. Justin Bieber - 'Cold Water'
Major Lazer are undoubtedly responsible for some of the hottest dance tunes around so it won't surprise you that we've included this Vodafone Big Top 40 No.1 banger. Good luck trying to stop yourself from hitting the dance floor...it won't work.
Download 'Cold Water' by Major Lazer & Justin Bieber
2. The Chainsmokers feat. Halsey - 'Closer'
How could we NOT feature The Chainsmokers' legendary 2016 dance track 'Closer'? When that drop comes around, we know you'll already be shaking that thang like there's no tomorrow.
Download 'Closer' by The Chainsmokers & Halsey now.
3. Chance The Rapper - 'Angels'
If you can pull off Chance and Saba's dance moves at 2:32 then you deserve a gold medal...good luck!
Download 'Angels' by Chance The Rapper feat. Saba
4. Calvin Harris - 'My Way'
Whether we're talking 2016 Calvin Harris with bangers such as 'How Deep Is Your Love' and 'Blame' or 2007 era 'The Girls' Calvin, he's always going to get your strutting your stuff one way or another.
Download 'My Way' by Calvin Harris now.
5. Kungs vs Cookin' On 3 Burners - 'This Girl'
If you're not pumping your fists when that chorus drops then you need to start practicing pronto.
Download 'This Girl' by Kungs.
6. Craig David - 'When The Bassline Drops'
We probably could've put any of Craig David's tunes in this playlist but we've gone for his BIG comeback track 'When The Bassline Drops' featuring none other than grime stalwart Big Narstie.
Download 'When The Bassline Drops' by Craig David
7. WSTRN - 'In2'
With a chorus as catchy as any good pop song and a bass line that can make any R'n'B artist jealous, this tune will possess your entire body and get you busting out your best moves very quickly.

8. Drake - 'Hotline Bling'
We weren't sure whether to include Elton John's or Ellie Goulding's version of this track so we went for the flip of a coin. However you could choose either of these versions and it would be beyond memorable.
Download 'Hotline Bling' by Drake.
9. The 1975 - 'The Sound'
Poppy, energetic, fun and a song that'll make anyone want to get their dancing shoes on. There's no doubt this track will make you jump up and down like a teenage fangirl.
Download 'The Sound' by The 1975
10. Dua Lipa - 'Blow Your Mind (Mwah!)'
She's easily the biggest breakout star of 2016 and the second single, 'Blow Your Mind' taken from her debut studio album is a true floor-filler. Prepare for the dance of your lifetime.
Download 'Blow Your Mind' by Dua Lipa now.
11. Tinie Tempah feat. Zara Larsson - 'Girls Like'
You can't have a playlist full of songs guilty of getting you up on your feet and dancing without featuring the party starter himself Tinie Tempah.
Download 'Girls Like' by Tinie Tempah and Zara Larsson