There's A Campaign To Get Ariana Grande To No.1 Following This Week's Tragedy In Manchester
25 May 2017, 10:11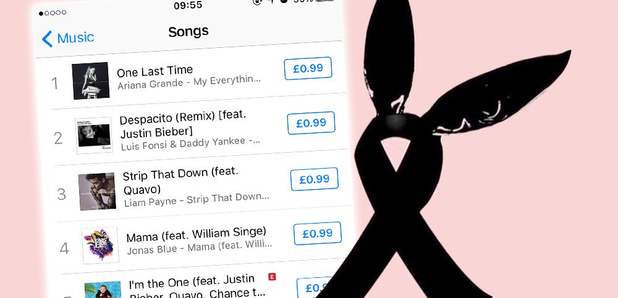 Fans want to pay tribute to the 22 people lost in the Manchester attack by getting 'One Last Time' to the top of the chart.
The entire world was shook this week, when a bomb exploded following an Ariana Grande concert in Manchester on Monday night (22nd May 2017).
22 innocent people lost their lives following the show at the Manchester Arena, with a further were injured 119, and the entire nation went into mourning after such a devastating attack.
Out of respect for those lost in Manchester, Ariana cancelled several of her upcoming 'Dangerous Woman' tour dates, including 2 nights at London's O2 Arena and shows in Germany, Switzerland, Poland and Belgium.
May 24, 2017
Ariana Tweeted her heartbreak following the attack, but has been silent since - she's being comforted by her boyfriend, Mac Miller, and her team back in the USA.
broken.
from the bottom of my heart, i am so so sorry. i don't have words.

— Ariana Grande (@ArianaGrande) May 23, 2017
The live performance of Ariana's single 'One Last Time' has been shared across social media from the night of the attack, and now fans are campaigning for it to get to number 1 as a sign of solidarity, and of respect to those 22 people who lost their lives.
We need to make @ArianaGrande song 'one last time' number one in the @BigTop40 to honour all the innocent children who died. #UnitedweStand

— Emma Greig (@emz14emma) May 24, 2017
Ariana Grande will be donating all proceeds from the sales of 'One Last Time' this week to the #Manchester victims.#PrayForManchester pic.twitter.com/o8UV9PqfoV

— Pop Culture Polls (@PopPoIls) May 24, 2017
At the time of writing (10am, Thursday 25th May) the track has reached no.1 on iTunes in the UK. For it to be number 1 this Sunday, it has to maintain the position until Lock Down at 6pm on Sunday. (Head here to see how the Vodafone Big Top 40 chart works)
> Download Ariana Grande's 'One Last Time' on iTunes.
Find out if the campaign is successful on the Vodafone Big Top 40, this Sunday from 4pm.