Who Are The Ex-Boyfriends In Ariana Grande's 'Thank U, Next'?
5 November 2018, 17:15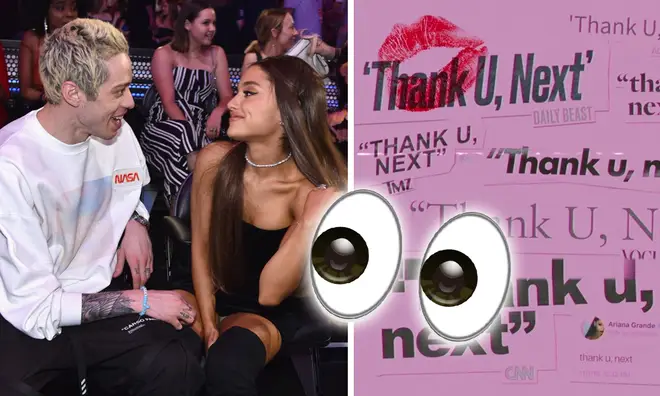 Ariana Grande's new song 'Thank U, Next' references her four of exes - Pete, Sean, Ricky and Mac - in the first verse. Who are the ex-boyfriends that Ari's talking about on the track? We've taken a quick delve into the relationship history...
Big Sean

Big Sean and Ariana Grande.

Picture: Getty Images

"Thought I'd end up with Sean, but it wasn't a match"

The lyric refers to American rapper Big Sean, who Ariana dated for eight months between October 2014 and April 2015.

Ricky Alvarez

Ricky Alvarez and Ariana Grande.

Picture: Getty Images

"Wrote some songs about Ricky, now I listen and laugh"

This line refers to her backing dancer Ricky Alvarez, who Ariana dated for over a year. The pair first got together in April 2015 and split in July 2016.

Pete Davidson

Pete Davidson and Ariana Grande.

Picture: Getty Images

"Even almost got married, and for Pete, I'm so thankful"

Ariana got engaged to actor and comedian Pete Davidson in summer 2018, just weeks after the pair began dating. They split in October 2018.

Mac Miller

Mac Miller and Ariana Grande.

Picture: Getty Images

"Wish I could say, 'Thank you' to Malcolm 'cause he was an angel'"

Ariana was first linked with singer and rapper Mac Miller in September 2016. They split in May 2018 and Mac tragically died in September 2018 at the age of 26.
'Thank U, Next' was released by Ariana Grande out of nowhere on November 3rd 2018.
Ex-boyfriend Pete Davidson was set to appear on American TV show Saturday Night Live and in a promotional clip for the episode, teased the day before, Pete seemed to joke about his failed engagement to Ariana.
> Ariana Grande Shares New Song 'Tell Me How Good It Feels To Be Needed' From AG5
In response, Ari tweeted "for somebody who claims to hate relevancy u sure love clinging to it huh," followed by "thank u, next" - which the singer later confirmed would be the name of a song and her next album.
The track was then dropped minutes before Pete's appearance on Saturday Night Live though Ariana thanks Pete and their time spent together in the song, as well as mentioning three other exes.
As of yet, no more details have been revealed about Ariana's new album.