Billie Eilish reacts to her GRAMMYs nominations and spills on Camila Cabello's new music
24 November 2019, 23:41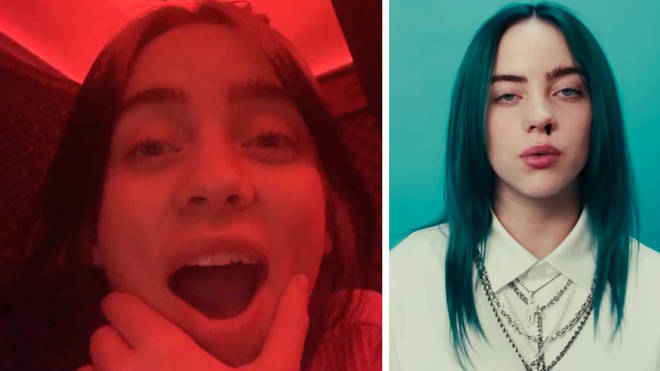 Billie Eilish has reacted to becoming the youngest artist to be nominated in the 'big four' GRAMMYs categories in an interview with Will Manning on The Official Big Top 40.
Speaking on FaceTime, Billie revealed the moment she found out she'd been nominated for 6 GRAMMY Awards this year.
"The nominees were announced at 5am," Billie told Will, "My mom came in and was like 'Billie!' - she made that voice, that's not even her voice - 'You've got six nominations' and read them to me and I was basically half-asleep."
> Coldplay reveal new album is "about One Direction" and tease upcoming tour
"The nomination is the thing that I'm grateful for. I'm really pumped about it, I think it's dope," Billie admitted. Record of the Year and Album of the Year are among the categories that the 'bad guy' singer is nominated in.
Billie's brother Finneas, who produced the star's debut album When We All Fall Asleep, Where Do We Go? was also nominated for a number of awards, including Producer of the Year.
"I'm so glad that my brother was nominated because he deserves it and I was worried he wouldn't be," said Billie.
The 2020 GRAMMYs take place on 27th January next year. Billie revealed to Will that Ariana Grande, Jessie Reyez and H.E.R. are some of the other artists she hopes to win awards on the night.
The star also admitted that she's heard the music her brother has recorded with Camila Cabello and is a big fan: "The one that they've fully done is very cute, I think it's an adorable song."
Billie joined Will on the UK's biggest chart show as her new single 'everything i wanted' climbed to Number 8.
Dua Lipa secured a third week at Number 1 with 'Don't Start Now', with Lewis Capaldi's new single 'Before I Go' debuting at Number 2. Tones And I's former Number 1 song 'Dance Monkey' was this week's Number 3.
Bastille's cover of 'Can't Fight This Feeling' was another high New Entry. The John Lewis Christmas advert soundtrack landed at Number 4 on this week's chart.
> See this week's Official Big Top 40 in full