Chart Update: Who Can Challenge Band Aid This Weekend?
20 November 2014, 12:39 | Updated: 20 November 2014, 14:07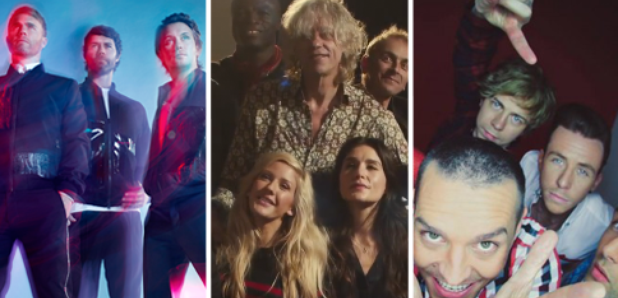 Jess Glynne & Clean Bandit topped the chart last weekend, however the huge release from Band Aid 30 earlier in the week looks set to challenge for the No.1 spot. That's not to say it'll be clean sailing for the charity single as releases from Take That and McBusted also look to make their dent in the chart.
Here are the contenders for this week's No.1 along with the reigning champion:
The CURRENT No.1: Jess Glynne & Clean Bandit - 'Real Love'
Last Sunday, we had a record number of new entries inside our top 10 - but it was Clean Bandit and Jess Glynne who came out on top! 'Real Love' went straight to number 1 just hours after being released - but can it make it two weeks at the top on Sunday?
Band Aid 30 - 'Do They know It's Christmas?'
What about Band Aid 30? Loads of the biggest artists in British music have got together to re-record 'Do They Know It's Christmas?' for 2014 to raise money to stop the spread of the Ebola virus. It broke all records when it was released on Monday - becoming the fastest selling single of the year - will it be on top on Sunday?
Take That - 'These Days'
Take That are back! Howard, Mark and Gary release their first single as a 3-piece this weekend - it's called 'These Days' and the guys will be hoping they can shoot straight to number one just hours after the single is officially released.
McBusted - 'Air Guitar'
Or maybe McBusted will do it? 'Air Guitar' is the first single from the newly-formed supergroup. Where will your downloads put them on the chart? They'll be in the studio to find out. They'll also be answering your questions in an exclusive video web chat!
Olly Murs feat. Travie McCoy - 'Wrapped Up'
We spoke to Olly last week about his involvement in Band Aid as well as his upcoming album 'Never Been Better'. The cheeky chap revealed a behind the scenes look at the music video this week where you get to see Olly in his natural habitat: surrounded by a large group of female dancers.
Taylor Swift - 'Blank Space
Music videos don't get much better than this! Taylor's second single from her record breaking album '1989' charted at number ten last weekend. Can the Swifties push her further up the chart by Sunday?
Join Marvin and Kat this Sunday at 4PM to find out whether Jess Glynne & Clean Bandit can keep their place at the top!