Chart Update: The Time Has Come For Dance Music To OWN The Chart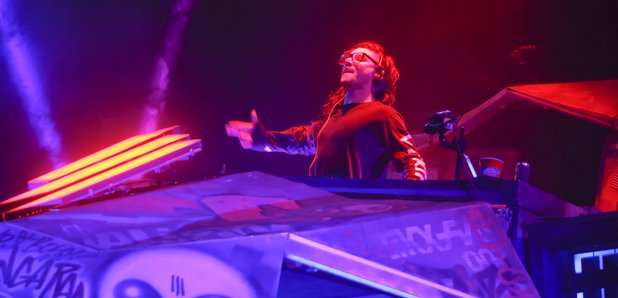 With Wiz Khalifa reigning supreme in the chart over the last three weeks it is now time for a serious challenge for the No.1 throne.
Last weekend Carly Rae Jepsen wasn't able to knock Wiz & Charlie Puth off their perch so the challenge has now fallen to to dance maestros Alesso, Skrillex, Diplo and Blonde to give it a right bloomin' good go!
Check out the top 10 singles from last weekend's show in our exclusive gallery
Have a look at the tracks with a chance of bagging themselves the next No.1 single:
The CURRENT No.1: Wiz Khalifa feat. Charlie Puth - 'See You Again'
Wiz Khalifa and Charlie Puth have a chance to equal Ellie Goulding's 4 week run at the top if they can hold off the incoming onslaught of dance tracks ready to make it big this Sunday. The 'Furious 7' single hasn't left the top spot for a single seconds since it has been released.
Check out the 14 BEST movie soundtrack songs you need to hear.
Skrillex & Diplo feat. Justin Bieber - 'Where Are Ü Now'
Legendary DJs Diplo and Skrillex can make ANYTHING sound incredible, that is just a fact. Put them together in a super double team and then add Justin Bieber for good measure and you end up with something very special indeed. The trio debuted this track at No.33 last Sunday however there is no doubt it will keep going up and up in the chart.
Alesso feat. Roy English - 'Cool'
The music video for Alesso's 'Cool' was filmed in the exact same school as Britney Spears' '…Baby One More Time' and the song is just as infectious. Can the Swedish DJ climb his way up to the top before Sunday's 6PM lockdown?
M.O - 'Preach'
Not heard of M.O yet? Well you are in for a real treat! Frankee, Annie and Nadine are an incredible three-piece girl group from London ready to take the Vodafone Big Top 40 by storm.
Blonde feat. Alex Newell - 'All Cried Out'
You may have heard Alex Newell's vocals on Clean Bandit's 'Stronger' after the single charted at No.4 last weekend. Well the American actor/singer has now lent his impressive voice to Bristol production duo Blonde's latest release 'All Cried Out'.
Carly Rae Jepsen - 'I Really Like You'
If the dance tracks don't step up to the plate on the big stage, then who knows, maybe Carly Rae Jepsen will bag herself the top spot with her super catchy single 'I Really Like You'.
WATCH: Justin Bieber & Ariana Grande Lip Sync To 'I Really Like You'
Remember to tune in at 4PM on Sunday with Marvin Humes to see who will be battling for the top spot.