Chart Update: Which Song Can Knock Band Aid 30 Off The Top?
26 November 2014, 23:23 | Updated: 27 November 2014, 10:58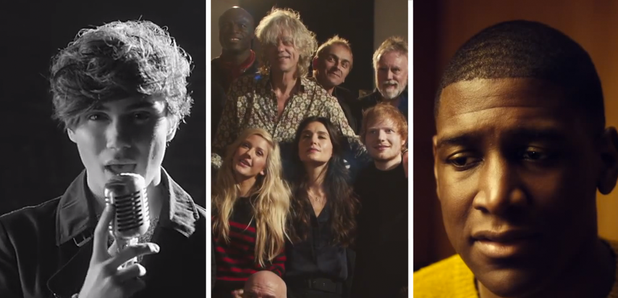 Big releases from Union J, Nico & Vinz and Labrinth are all in the running to challenge the big charity single for the No.1 spot in the last week of November.
Here are the contenders for this week's No.1 along with the reigning champion:
The CURRENT No.1: Band Aid 30 - 'Do They know It's Christmas?'
It was always going to be hard for any other track to challenge this juggernaut of a single last weekend. The charity single featuring the vocal talents of One Direction, Sam Smith, Olly Murs and Emeli Sande went straight to No.1 with ease. In a conversation with Bob Geldof he broke the news that David Guetta will be remixing the track too!
Labrinth - 'Jealous'
We may be used to Labrinth dropping these big club tunes however the man from Hackney has released something a little more stripped back for us this week. Ed Sheeran has named the track one of his favourites of 2014 and we can see why!
Take That - 'These Days'
This is Take That's first single as a 3-piece! Last week, 'These Days' was Band Aid 30's closest competitor. Perhaps this weekend they can go one better and capture the Vodafone Big Top 40's coveted No.1 spot.
Union J - 'You Got It All'
The Union J boys are back with their new ballad 'You Got It All'. If you haven't seen the video yet then you need to check it out! Could one of the UK's hottest boy bands climb to the top?
Nico & Vinz - 'In Your Arms'
We have a former No.1 in the building people! The Dutch duo had a two week run at the top with their Summer smash 'Am I Wrong'. Can they repeat their success?
Taylor Swift - 'Blank Space
Music videos don't get much better than this! Be sure to check out the best moments from Taylor's 'Blank Space' video.
Join Greg and Kat this Sunday at 4PM to find out whether Band Aid 30's 'Do They Know It's Christmas?' can keep it's place at the top!