Dua Lipa, Diplo and Mark Ronson Team Up For New Silk City Single 'Electricity'
18 July 2018, 11:15 | Updated: 31 October 2018, 16:11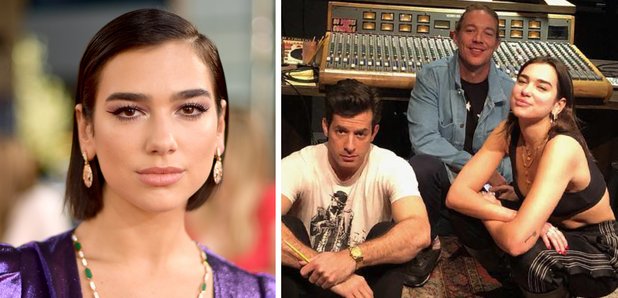 Dua Lipa is set to release a new single 'Electricity' with two of the world's biggest producers - Diplo and Mark Ronson.
The trio were pictured in the studio together back in January and now more details have been confirmed about the collaboration.
> Dua Lipa, Liam Gallagher & More Acts You Need To See At Festivals This Summer
In an interview with The Times, Mark Ronson revealed that the track was written with Florence Welch and Romy Madley Croft from the xx.
Can we just pause on that for a sec? Dua Lipa, Diplo, Mark Ronson, Florence and the Machine and the xx all putting the work into one song!
Mark's certified that "the song is a belter" and also praised Dua's incredible vocal talents: "She has this deep, soulful voice that harkens back to gospel house."
Diplo and Mark Ronson are currently bringing out music together as Silk City. Their first single 'Only Can Get Better' with Daniel Merriweather dropped in May.
Meanwhile, Dua recently brought out another huge dance anthem, 'One Kiss' with Calvin Harris, which spent 4 weeks at Number 1 on The Official Vodafone Big Top 40.
We're expecting big things from 'Electricity', we just can't wait much longer to hear it!
The Official Vodafone Big Top 40 with Marvin Humes - Sundays from 4pm