Kanye West Plays A Surprise Gig In Armenia & Jumps Into A Lake, Natch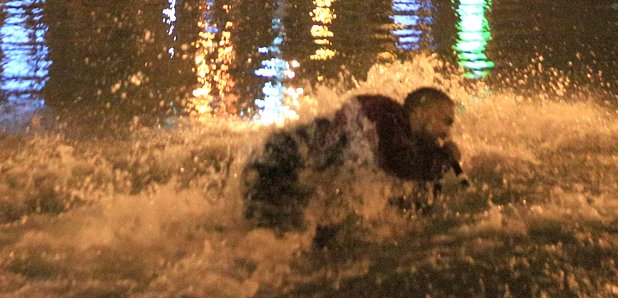 Just when you thought Kanye West couldn't surprise us any more, he goes and pulls a stunt like this.
Whether it is the biggest arena or in the back of a Nandos in South-East London, Yeezy is well renown for his impromptu appearances. Well it looks like Kanye got a little restless on his recent trip to Armenia (Kim K's father is third generation Armenian) because late Sunday night the 37-year-old rapper performed in the middle of Swan Lake-Karapi Lich in the capital city of Yerevan.
His wife wrote on her instagram account, 'What a crazy night! Kanye wakes me up & says he's doing a free concert in Yerevan, Armenia! I throw on sweats & we head out! Thousands of people were there! Kanye jumped in swan lake to be closer to the crowd on the other side & so many people jumped in too! It was such an exciting crazy night! So happy I got to rock out with everyone in Armenia on our last night here!!!! #EpicNight #ArmenianPride'
WATCH: Kanye West Raps With His Mum In An Adorable Home Video
However before he hit the water, Yeezy treated the crowd to some of his classics such as 'All Of The Lights'.
After asking the crowd if they could see him properly, Kanye decided to take a different course of action…and jumped into the lake obviously. Unfortunately the microphone didn't survive and the crowds missed out on Graduation classic 'Good Life'.