Here's The Lowdown On Kanye's Surprise 1.A.M Gig In London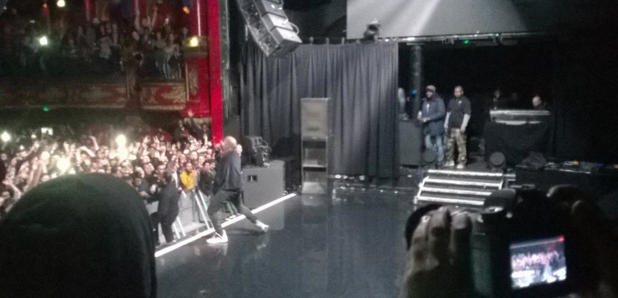 Yeezy played a surprise gig at London's historic KOKO last night and it was full of surprises.
Around 18:51 yesterday evening, Live Nation sent out a tweet announcing that the one and only Kanye West would be performing a one-off gig at Camden's most recognised venues, KOKO.
TONIGHT: @kanyewest to play one off show @KOKOLondon. Over 18s only, doors 11pm, strictly 2 tickets per person http://t.co/ybNveWYyhL #yeezy

— Live Nation UK (@LiveNationUK) March 3, 2015
Needless to say the announcement sent many London based fans in to meltdown and a mad scrabble to get tickets. As you'd expect, the gig sold out within a matter of minutes.
Tonight's @kanyewest show is now totally sold out - tickets won't be available on the door.

— KOKO (@KOKOLondon) March 3, 2015
The queues began to form!
Whilst everyone waited outside, Kanye sneaked in through the back door in preparation for the gig ahead!
#Kanye arrived at #KOKOlondon... pic.twitter.com/mfEsvAVxM5

— KOKO (@KOKOLondon) March 3, 2015
When the time finally came, the set began with Skepta and JME's 'That's Not Me', while Big Sean then appeared to perform 'Mercy' with Kanye West.
Raekwon from Wu Tang Clan also made a surprise appearance during the set, coming on stage to perform 'C.R.E.A.M.' Have a look at all the footage we've been able to get our hands on.
'New Slaves'
'Good Life'
'All Day'
'C.R.E.A.M'