LadBaby's 'I Love Sausage Rolls' goes to Number 1 in the chart before Christmas
15 December 2019, 19:41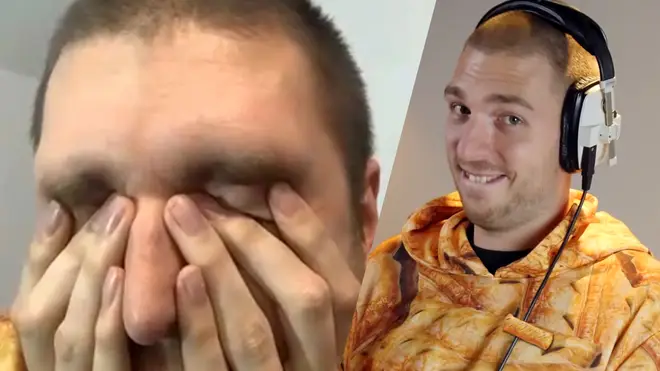 LadBaby's charity single 'I Love Sausage Rolls' has gone straight in at Number 1 on The Official Big Top 40.
LadBaby is one of the favourites to become next week's Christmas Number 1 after topping the charts this Sunday.
His charity single about sausage rolls has gone straight to Number 1, knocking off Stormzy and Ed Sheeran's collaboration 'Own It' and Will Manning revealed the news to LadBaby live on FaceTime.
> Billie Eilish reacts to her GRAMMYs nominations and spills on Camila Cabello's new music
'I Love Sausage Rolls' is a cheeky cover of Joan Jett's rock classic 'I Love Rock 'n' Roll'... that's all about those pastries!
His song 'We Built This City (On Sausage Rolls)' was last year's Christmas Number 1 and LadBaby's hoping to do it again in 2019 with the same formula - all while raising money for food bank charity, The Trussell Trust.
"Thank you. This is unbelievable, isn't it? The generosity of people at Christmas. Thank you so much for doing this and helping so many people who don't have a lot at Christmas," LadBaby told Will.
"Last year, the song raised 70,000 emergency food packages for the charity. If we can raise anywhere near that again then, yeah, it's unbelievable," the YouTuber added.
There were some massive guests on the UK's biggest chart show this week, with Selena Gomez on the show for the first time. She teased what she'd bought her friend Taylor Swift for her 30th birthday on Friday.
"What I love about Taylor is she is very personal, so you wouldn't think 'Oh she's dying for this diamond necklace'. She'd freak if I just bought her a waffle maker with flowers on it and be like 'THIS IS THE CUTEST THING EVER'," Selena said.
Stormzy also joined Will in the studio. His second album Heavy Is the Head was released on Friday alongside Harry Styles' second album Fine Line but Stormzy has nothing but love for his chart competition.
"He is brilliant... We all know he's a brilliant musician, but I think he's shook the world again. This ain't that old Harry Styles, this is a man dedicated to quality music. I've got nothing but respect for him," Stormzy said.
> See this week's Official Big Top 40 in full