Who are Los Unidades? Coldplay release new song 'E-Lo' with Pharrell Williams under new band name
28 November 2018, 10:45 | Updated: 28 November 2018, 10:46
Coldplay have released a new song titled 'E-Lo' under their new band name Los Unidades but what does it mean? And what's the new music like?
Coldplay had hinted that they've been working on a new album recently but nobody expected them to return with a whole new band name.
Now called Los Unidades, which means The Unit in English, Chris Martin and his famous band have new music to show off to their fans.
> Avicii and Chris Martin song set to be released months after DJ's death
The new song from Los Unidades - 'E-Lo' - is a collaboration with legendary American singer-songwriter and producer Pharrell Williams and also features LA-based musician Jozzy.
The track is taken from the Global Citizen EP 1, set to be released on Friday (November 30th), which also includes brand-new songs from the likes of Stormzy and David Guetta.
Early on Tuesday morning (November 27th), Coldplay's record label Parlophone tweeted: "Parlophone Records are delighted to present new signing #LosUnidades" along with a poster of four silhouetted figures.
Given the rumours, the fact that Coldplay are one of the biggest names on Parlophone's roster, that there are four members of Coldplay, and that Coldplay liked the tweet... it's led to fans speculating about Los Unidades' real identity.
Coldplay fan account ColdplayXtra investigated further and found a legal trademark agreement listing the current trademark owners for Los Unidades as Chris Martin, Jon Buckland, Guy Berryman and Will Champion - a.k.a. Coldplay.
There was also writing at the bottom of the Parlophone poster reading 'Y02LPAC81ODL' - an anagram for 'COLDPLAY2018' as if you needed any more proof about who's really behind the project.
There are social media accounts and a website for Los Unidades. Los Unidades loosely translates from Spanish to The United in English - which makes sense given the theme of the new EP.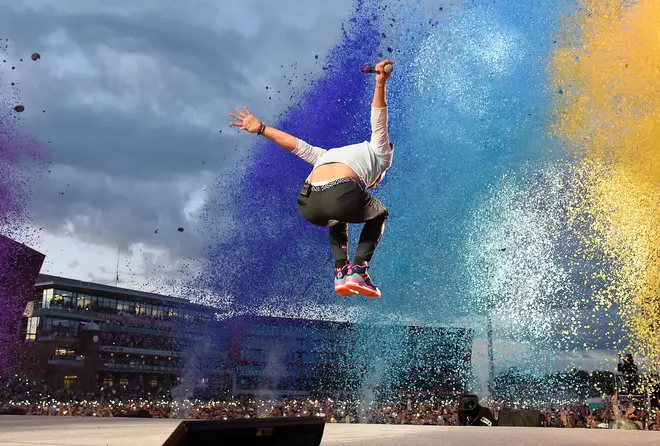 Earlier this month, Coldplay released their A Head Full of Dreams documentary film on Amazon Prime. They're releasing a live album Live In Buenos Aires on December 7th.