Sam Smith discusses doing another James Bond song and his Oscars 2019 predictions
29 January 2019, 14:43
Sam Smith talks movies to Will Manning, revealing whether he'd do another Bond song - after singing 'Writing's On The Wall' for 'Spectre' - and who he wants to win big at this year's Academy Awards.
Sam Smith joined Will Manning on the phone from LA to hear where his new song charted on The Official Big Top 40.
'Dancing with a Stranger' with Normani jumped to a place to take the top spot, becoming Sam's eighth Number 1.
> Sam Smith & Normani Take Number 1 With 'Dancing With A Stranger'
Among his previous Number 1 songs is 'Writing's On The Wall' from the most recent James Bond movie Spectre.
So would Sam record another Bond song if he was asked? "No, I think I've done that," the British singer told the show.
"I'm so, so honoured to have done it," Sam said, however he admitted it was a stressful process, "There's not one person that's ever released a Bond song that has got all positive feedback."
After Years & Years told The Official Big Top 40 that they'd be up for recording a Bond title song one day, Sam backed the boys for the job: "I think that would be really interesting, I love Olly and I love Years & Years."
Sam received the Academy Award for Best Original Song for 'Writing's On The Wall' back in 2016.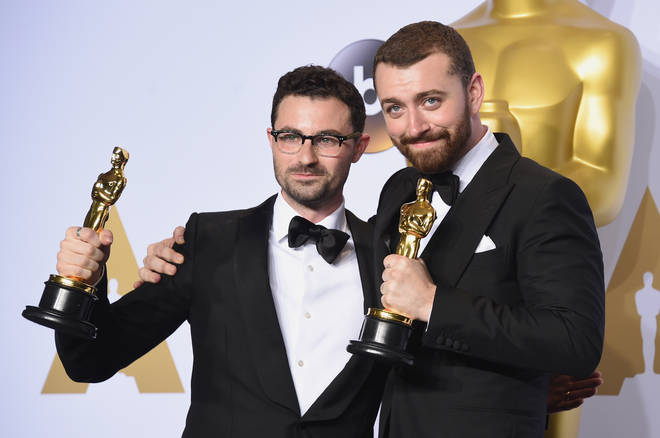 "I used to hide it away and not look at it because it made me feel uncomfortable, now I've got it out and I'm trying to embrace it," Sam said of his Oscar trophy.
The singer tipped Lady Gaga and Bradley Cooper's 'Shallow' from A Star Is Born to pick up the gong at the ceremony.
Sam revealed that he hopes that Lady Gaga will also win the award for Best Actress or British star Olivia Coleman - "I watched The Favourite and she was outrageous in that."