Meet Andie Case. The YouTube Cover Star Nailing Everyone's Tracks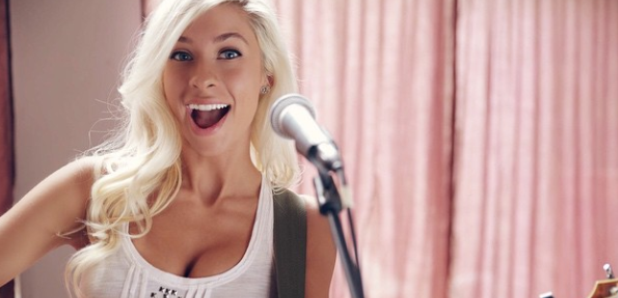 Exactly who is Andie Case? The singer EVERYONE is talking about after her song covers appeared on YouTube.
Meet Andie Case, the YouTube sensation who is taking the music industry by storm with her covers of some of the biggest stars in the world.
The blonde bombshell is from Seattle, Washington and can not only sing incredibly but play the guitar too! She even entered the Vodafone Big Top 40 back in May 2015 with a cover of Jason Derulo's No.1 single 'Want To Want Me'.
Check out Jason Derulo's original 'Want To Want Me' which spent a whole MONTH at No.1
Andie has covered Ariana Grande, Katy Perry and One Direction with her video of Rixton's 'Me And My Broken Heart' accumulating 15 MILLION views on her YouTube channel.
She also released a stunning cover of ZAYN's Vodafone Big Top 40 No.1 'PILLOWTALK'.
We thought we'd answer some of the top searched questions about the songstress to help you out...
What is Andie Case's Instagram account?
She sure does! Her username is pretty simple: 'andiecase'.
Is Andie Case hot? Umm, have you SEEN her!?!?!
She looked just as gorgeous after she dyed her hair black.
How old is Andie Case?
Andie Case was born on 12th July 1992, making her (at the time of writing) 23 years old!
Is Andie Case on Snapchat?
Of course, who isn't these days! Andie Case's snapchat name name is simply 'andiecase'.
Add me on snapchat! username andiecase pic.twitter.com/49SMlE7eVg

— Andie Case (@AndieCase) January 28, 2014
Check out our favourite Andie Case covers below right now:
1. Adele - 'Hello'
2. One Direction - 'Story Of My Life'
3. Ellie Goulding - 'Love Me Like You Do'
4. Ariana Grande - 'Almost Is Never Enough'
5. Wiz Khalifa - 'See You Again'
6. Rixton - 'Me And My Broken Heart'
7. Nick Jonas - 'Jealous'