Years & Years watch these two Disney movies to deal with a breakup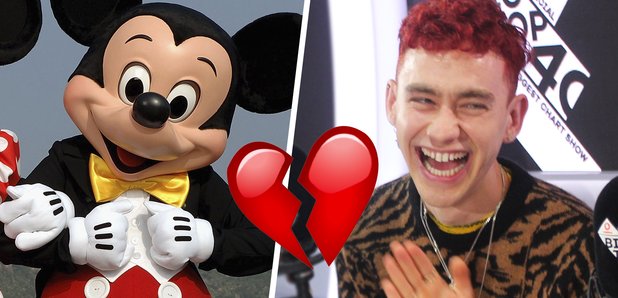 We better grab the Ben & Jerry's...
We all know that going through a breakup can be a pretty tough business... luckily, the Years & Years boys have a load of expert advice!
The band joined us on The Official Vodafone Big Top 40 to see where their new single If You're Over Me charted and it happens to be all about dealing with a broken heart.
Basically, you've got to grab a box of Kleenex, a couple of Disney DVDs and the biggest tub of Ben & Jerry's you can get your hands on.
> Top Chart Hits: 20 Of The Best Pop Songs Of 2018
That was Mikey's advice anyway when he slightly misheard Olly's choice of breakup song, as you'll see in the clip.
Olly, Mikey and Emre also spilled the details of their new album Palo Santo, including a possible collab with their new BFF - Hollywood legend Dame Judy Dench herself!
When your mate tags you in a pic of them looking

...and you not even looking

(sorry, Mikey) pic.twitter.com/5S6nLk8bJv

— The Official Vodafone Big Top 40 (@BigTop40) May 27, 2018
We also introduced Years & Years to 'orbiting', Olly auditioned to be in his own haircare commercial and, like all of our guests, the gang took on our 'classroom instruments challenge' and did a pretty fab version of their latest track.
> Where did 'If You're Over Me' get to on this week's chart? See the full Top 40!
Watch Liam Payne busting out his incredible Tom Hardy impression...