Years & Years Reveal New Album Details At 'Palo Santo' Film Premiere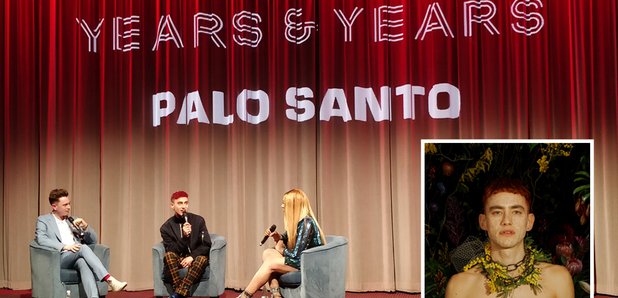 We now know what Palo Santo means...
Years & Years have revealed more details about their new album Palo Santo at an exclusive premiere.
The band hosted fans and special guests at BAFTA, London for a first screening of a short film created around the album so, of course, we headed down there to check it out.
The film stars Olly, who's a performer for androids in a strange, futuristic city called Palo Santo. Olly said that it might make people feel uncomfortable about the future and how technology could affect society.
> Shawn Mendes Gets Tickled And Slapped By Mystery Girl In Nervous Music Video
Speaking to Munroe Bergdorf, Olly explained that the idea to shoot the fantasy, sci-fi drama came over 18 months ago and he asked Fred Rowson, who'd previously directed some of the band's music videos, to be involved in the project.
It was filmed in Thailand, took four days to shoot, and connects the two music videos that Years & Years have released so far from their new album - 'Sanctify' and 'If You're Over Me'.
The legendary Dame Judy Dench features in the film as the voice of Palo Santo, telling the androids what to do. Olly first met Dame Judy when they worked on a play together and has been trying to involve the actress in a Years & Years' project ever since.
So where does the name Palo Santo come from? Olly told the audience that the title track was the first written for the new album a couple of years back.
The song was inspired by a guy that Olly was caught in a love triangle with. The mystery man liked to burn palo santo sticks, similar to incense, that are supposed to cleanse and purify your personal space.
Olly discovered that the literal translation of 'palo santo' is 'holy wood' - a title which the singer thought was pretty apt "as I've met a lot of guys who think they have some holy wood."
Palo Santo is released on July 6th and Olly confirmed that there'd be a sequel to the short film to accompany the band's next music videos. If it's anything like the first, we guarantee it's going to be pretty special.
> Where did 'If You're Over Me' get to on this week's chart? See the full Top 40!
Watch Years & Years discuss the Disney movies they watch to deal with a breakup...