13 Of The Best Pop Song Covers You'll Ever Hear #CopyCats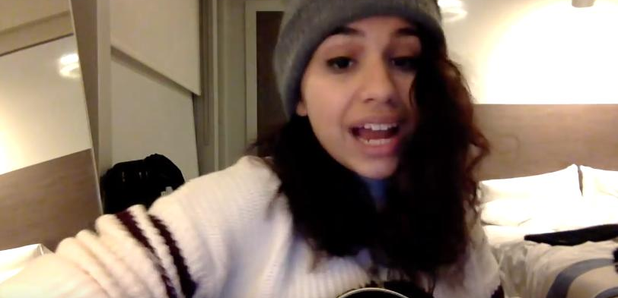 Every now and then a pop song comes along which spawns hundreds of covers. So why not put them all in a playlist for you! Enjoy.
We've collected 11 of our favourite covers of the BIGGEST tracks around. We've included hits such as Taylor Swift's 'Bad Blood' and One Direction's Vodafone Big Top 40 No.1 'Drag Me Down'. What are you waiting for? Get watching!
Turn up the heat! Check out the HOTTEST music videos of 2015.
Time for something a little bit different...
1. 'Bad Blood' - 'Arizona'
Arizona caught everyone's attention when they released their cover of Taylor Swift's huge single 'Bad Blood'. The singing in this cover is probably the sweetest thing you'll hear today...seriously, those high notes, wow.
WATCH: Taylor Swift's 'Shake It Off' Got Rotoscoped By A Group Of Animation Lab Students
2. 'Hello' - Andie Case
Adele's 'Hello' was a force in the chart world throughout the end of 2015 however Andie Case's rendition of the touching single blew us away just as much as the original.
3. 'Drag Me Down' - 'Megan Nicole, Sam Tsui, & KHS'
What's better than a One Direction cover? A One Direction cover performed on mini skateboards of course.
4. 'Shut Up And Dance' - Alex Goot & Jake Daniels
Walk The Moon's breakthrough hit 'Shut Up And Dance' has resonated with music fans all over the world, so much so that Alex and Jake put together this incredible stripped down version of the single.
5. 'Omen' - Doug Panton
Sometimes all you need is a keyboard and a captivating voice. Doug Panton's simple piano arrangement of Sam Smith and Disclosure's 'Omen' is just too good. #Fact.
6. 'Want To Want Me' - Nicole Cross
We're not going to lie, we wished Nicole had sung out her own name in true Jason Derulo style however we quickly forgave her after listening to her rendition of the Vodafone Big Top 40 No.1 single.
7. 'Cheerleader' - Jervy Hou
We can't get enough of this! The vocals, clapping and mad piano skills make this a cover to remember. Omi would be proud.
8. 'Trap Queen' - Adriana Gomez
Short and sweet. Sometimes all you need is a couple of minutes to make your mark and Adrianna does exactly that in this Fetty Wap cover.
9. 'Where Are Ü Now' - Sofia Karlberg
It's hard to think how anyone can actually make this song any better than it already is...but Sofia accomplishes it in the first 20 seconds...wow...just wow.
10. 'King' - Shaun Colwill
Years & Years bagged the top spot with 'King' early in 2015. Shaun Colwill slows down the tempo, simplifies the melody and we can't stop replaying the video.
11. 'Sugar' - Mike Attinger & Emma Heesters
Maroon 5 brought the sweet taste of Summer to 2015 with 'Sugar' and Emma Heester's cover of the tune adds a splash of country to a song that was pretty much already perfect.
12. 'Can't Feel Me Face' - Walk Off The Earth
Apart from the fact this is just TOO cool, Sarah, the female singer in the video actually gave birth to her song Luigi just hours after the video was shot...#MumPower.
13. 'Sorry' - Alessia Cara
She may be a superstar in her own right but Alessia Cara's cover of Justin Bieber's 'Love Yourself' is absolutely perfect!