Vodafone Future Breakers October – March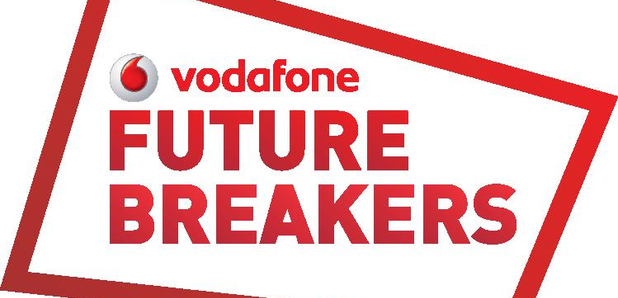 Vodafone Future Breakers on Big Top 40, October 2016 – March 2017
RULES
The following rules ("Specific Rules") together with the general competition terms and conditions (which can be found at http://www.bigtop40.com/terms-conditions/) (the " Competition Terms and Conditions") of Global (as defined in the Competition Terms and Conditions apply to 'Vodafone Future Breakers' radio competition (the "Competition") which will run from Monday 31st October 2016 to 31st March 2017 on The Big Top 40 show (the "Radio Station").
Anyone who enters the Competition (an "Entrant") will be deemed to have read and accepted the Specific Rules and the Competition Terms and Conditions and will be bound by them.
Details of the Competition:
To enter the Competition an Entrant must go online to www.bigtop40.com to the 'Vodafone Future Breakers' competition page, register their details & upload a video or audio file of them performing a music track. The performance can take the form of singing, rapping DJing or showcasing your musical talent. Live instruments can be included.
Online entry will open at 00.01am on Monday 31st October 2016 and close at 23.59pm on Friday 31st March 2017.
Entrants can enter the competition on their own or as part of a group. Entries on behalf of a group must have consent from all members of the group. Groups must not consist of more than 7 people.
Entrants may be required to sign a non-disclosure agreement at certain points within the competition process.
Entrants must upload their performance to either Vimeo, YouTube or Soundcloud and submit the video or audio link in order to enter the competition at bigtop40.com.
If an Entrant doesn't have an account with either site, they must register with one in order to share a link of their performance with Big Top 40 to enter the competition & ensure that the video or audio file is viewable to the public.
Entrants performance & link must be kept live on either Vimeo, YouTube or Soundcloud for the duration of the competition.
Global reserve the right to request a copy of the original performance for advertising or promotional activity around the competition.
By submitting a video or audio file to the site www.bigtop40.com to the Radio Station you: (i) warrant that you control all copyright and all other rights (including, without limitation, performers' rights) in and to such video or audio; and (ii) confirm the grant by you to the Radio Station [and Global Radio] of a worldwide, perpetual, royalty free licence in the copyright and all other rights in and to the video or audio (including, without limitation, performers' rights) and you waive any moral rights and like rights you have in relation to the video or audio; so that the Radio Station [and Global Radio] shall be entitled to use the video or audio in any and all media at no cost to the Radio Station [and Global Radio] and such use shall not infringe the rights of any third party.
Any Material deemed inappropriate, incomplete, incorrect or unsuitable, in the Promoter's sole discretion, will be disqualified from the Competition. Global Radio will moderate all video & audio files received. Inappropriate and unsuitable material includes, but is not limited to:



pornographic material
"off-colour" Material
political content or propaganda,

obscene, sexual, profane, lewd, or otherwise offensive Material,
nudity,

website or web page links,

derogatory characterizations of any ethnic, racial, sexual or religious groups,

any third party materials that may otherwise violate or infringe (or may infringe) copyright, trademark, logo, mark that identifies a brand or other proprietary right of any person living or deceased (including but not limited to rights of privacy or publicity or portrayal in a false light) or entity, or is otherwise objectionable,

any Material that infringes or violates someone else's rights or the law
any content or performance that has been broadcast or streamed, published or televised on television or as part of a recording of a motion picture film or television programme,

Material that is not of satisfactory quality (i.e. brightness, focus, volume) to be hosted online.
Material defaming or invading publicity rights or privacy rights of any person, living or deceased, or otherwise infringing upon any person's personal or proprietary rights,

Material containing Adverse Events regarding use of the Promoter's, or its Affiliates' products, drugs, or devices (Adverse Events means any unexpected or unfavourable symptoms associated with the administration or use of a product, including overdose, abuse/misuse of a product, withdrawal symptoms or lack of efficacy),

Material containing off-label use of the Promoter's or its affiliated companies' products, drugs or devices,

Material which shows clothing or other objects showing visible logos, drawings, cartoons, phrases, trademarks or other third-party materials,
Material which does not comply with the competition theme.
Valid entries are to be decided at the Radio Station's discretion.
Entries received may be uploaded to the 'Vodafone Future Breakers' online page as part of the competition. There is no guarantee that any/or all entries will be displayed online, or result in entrants having an advantage in the competition by appearing online.
Global reserves the right to request additional information such as, but not limited to, a photo, additional content or be invited for a screen test to confirm entrant ability.
Entrants may be also subject to background checks during the process and Global reserve the right to disqualify entrants if unsuitable.
Entrants must not be subject to a written agreement with a record label, management company or music publishing company.
Entries will be rolling with winners selected by a Big Top 40 judging panel based on criteria of performance ability, appropriateness with station brand and station output, likability, potential fan base & the prospect that the artist has to perform in a studio and/or live stadium environment. Global reserve the right to revisit any entry received at any time across the campaign period.
From all eligible entries received, one winner will be selected each month during the below dates & invited to a filmed studio recording session at Global headquarters. This session may be pre-recorded or live via social media channels. Winners will be contacted by phone &/or email. Decisions are final & no correspondence will be entered in to.

Winner 1: Wednesday 23rd November – Monday 28th November 2016
Winner 2: Wednesday 4th January – Monday 9th January 2017
Winner 3: Thursday 26th January – Wednesday 1st February 2017
Winner 4: Thursday 23rd February – Wednesday 1st March 2017
Winner 5: Friday 31st March – Wednesday 5th April 2017
Please note all dates are subject to changes at the discretion of Global.
The monthly winner as selected during the above dates will be invited to take part in a filmed studio session (pre-recorded or live via social media channels) at Global Headquarters in London (30 Leicester Square, WC2H 7LA) on the following dates;

Winner 1: Tuesday 6th December 2016
Winner 2: Monday 16th January 2017
Winner 3: Tuesday 7th February 2017
Winner 4: Tuesday 7th March 2017
Winner 5: Tuesday 11th April 2017
Please note all dates are subject to changes at the discretion of Global.
Winners accept that the recording session will be recorded & filmed as part of the competition. Winners grant a perpetual, royalty-free, worldwide, non-exclusive licence to Global Radio to use, reproduce, modify, translate, make available, distribute, publish the film or audio and to distribute and/or broadcast such film or audio in whole or in part in all media and in all formats (including transmission by way of analogue transmission, digital audio broadcasting, internet, satellite, television, film, cable or telephony) and to sub-license any other persons to do so, in each case for such purposes as Global Radio may in its reasonable discretion determine.
Winners may be required to take part in publicity and by entering this competition you agree that the radio station or promotional partners may use the name, likeness, photo, video, audio, voice and hometown details of you for advertising and promotional purposes without additional notice or compensation, unless prohibited by law.
By entering in to the Vodafone Future Breakers competition, the entrant agrees to potentially also being entered in to a selection of secondary promotions run by Global whereby, if successful, the entrant may win the chance to perform at a future Global event. Upon the occurrence of being selected to take part in a secondary promotion, a Global employee will contact the entrant with the details supplied upon entering the Vodafone Future Breakers competition.
The winners acknowledge and agree that they may be approached by Global and/or Vodafone to take part in future events and/or other musical opportunities and that a fee may not always be payable for such activities.
We will use your details to run the 'Vodafone Future Breakers' competition and contact the winner(s). We won't send you marketing unless you have explicitly agreed to this by ticking the opt-in box to receiving marketing from Big Top 40 and our partner Vodafone UK. We will handle your data in accordance with our Privacy Policy available here http://www.bigtop40.com/privacy-policy/ and Vodafone UK's Privacy Policy is available here www.vodafone.co.uk/privacy
Eligibility:
All Entrants must be aged 18 or over.
Entry is restricted to one entry per person; duplicate entries will be excluded from the Competition.
The competition is

not

open to Vodafone employees, friends or family.
Prize:
The monthly prize is a recording session at Global studios, 30 Leicester Square, WC2H 7LA. The session will consist of the following:

Approx. start day of 10.30am & finish time of 3.30/4.00pm
Recording session for approx. 2 hours
Audio mix down/sound engineering of session afterwards.
Session will be filmed, recorded & hosted online at www.bigtop40.com or recorded live via social media channels during the campaign period.
Exact recording session times to be confirmed with each individual monthly winners.
Winners will receive a hard copy of their recording session.
Winners will be allocated a travel allowance dependent on their location up to a maximum of £100.
Prize Terms
It is preferable for the winner to bring their own instruments & that upon the case that the entrant does choose to supply their own instruments that the entrant is solely responsible for the delivery of those instruments to & from Global. Global will endeavor to supply instruments required for a session however this is not guaranteed.
If the entrant is one hour late to the recording session, the session will be cancelled due to tight production turnaround times.
The maximum number of musicians the studio can accommodate is seven.
Global reserves the right to substitute the prize with another prize at its absolute discretion at any time.