Most Number 1 Songs: Who's had the most Number 1's in the UK charts?
30 April 2019, 15:45 | Updated: 9 August 2023, 10:06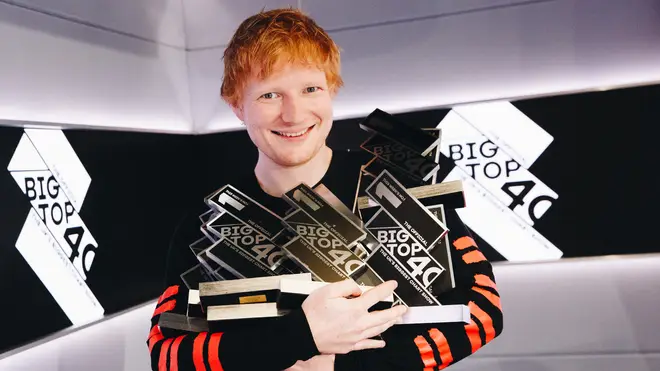 Ed Sheeran leads the way as the artist with the most Number 1's on the UK's biggest chart show.
The Official Big Top 40 from Global is the UK's biggest chart show so it's a pretty huge deal when your song gets to Number 1.
But just reaching the top once is a huge achievement, never mind repeating the success again and again and again...
These are the artists have been at Number 1 more than anyone else, with British star Ed Sheeran currently out in front with a massive EIGHTEEN trophies - way ahead of his pal Calvin Harris who has picked up twelve.
Ed Sheeran (18)

Ed Sheeran poses with his 14 Official Big Top 40 from Global Number 1 trophies.

Picture: The Official Big Top 40

Afterglow

Bad Habits

Galway Girl

How Would You Feel (Paean)

I Don't Care (with Justin Bieber)

Merry Christmas (with Elton John)

Overpass Graffiti

Own It (Stormzy featuring Ed Sheeran & Burna Boy)

Perfect Duet (with Beyoncé)

Peru (with Fireboy DML)

River (Eminem featuring Ed Sheeran)

Shape Of You

Shape Of You (Stormzy Remix)

Shivers

Sing

Thinking Out Loud

The Joker And The Queen (featuring Taylor Swift)

Visiting Hours

Calvin Harris (12)

Calvin Harris with the Official Big Top 40 from Global Number 1 trophy.

Picture: The Official Big Top 40

Desire (with Sam Smith)

Miracle (with Ellie Goulding)

By Your Side (featuring Tom Grennan)

Feels (featuring Pharrell Williams, Katy Perry & Big Sean)

Giant (featuring Rag'N'Bone Man)

One Kiss (featuring Dua Lipa)

Promises (featuring Sam Smith)

Summer

This Is What You Came For (featuring Rihanna)

Under Control (with Alesso, featuring Hurts)

We Found Love (Rihanna featuring Calvin Harris)

We'll Be Coming Back (featuring Example)

Sam Smith (10)

The BRIT Awards 2018 - Red Carpet Arrivals. Picture: Getty

Desire (Calvin Harris featuring Sam Smith)

Unholy (featuring Kim Petras)

Dancing With A Stranger (with Normani)

La La La (Naughty Boy featuring Sam Smith)

Lay Me Down (featuring John Legend)

Money On My Mind

Promises (Calvin Harris featuring Sam Smith)

Stay With Me

Too Good At Goodbyes

Writing's On The Wall

Justin Bieber (9)

Justin Bieber Performs On NBC's "Today". Picture: Getty

Cold Water (Major Lazer featuring Justin Bieber & MØ)

Despacito (Remix) (Luis Fonsi & Daddy Yankee featuring Justin Bieber)

I Don't Care (with Justin Bieber)

I'm The One (DJ Khaled featuring Justin Bieber, Quavo, Chance The Rapper & Lil Wayne)

Let Me Love You (DJ Snake featuring Justin Bieber)

Love Yourself

Sorry

Stuck with U (with Ariana Grande)

What Do You Mean?

Jess Glynne (8)

Jess Glynne with the Official Big Top 40 from Global trophy.

Picture: The Official Big Top 40

Don't Be So Hard On Yourself

Hold My Hand

I'll Be There

My Love (Route 94 featuring Jess Glynne)

Not Letting Go (Tinie Tempah featuring Jess Glynne)

Rather Be (Clean Bandit featuring Jess Glynne)

Real Love (Clean Bandit featuring Jess Glynne)

These Days (Rudimental featuring Jess Glynne, Macklemore & Dan Caplen)

Little Mix (8)

Little Mix perform at the BRIT Awards 2017. Picture: Getty

Black Magic

Break Up Song

Confetti (featuring Saweetie)

Heartbreak Anthem (Galantis, David Guetta, Little Mix)

Shout Out To My Ex

Sweet Melody

Woman Like Me (featuring Nicki Minaj)

Wings

David Guetta (7)

David Guetta Performs In Milan. Picture: Getty

Club Can't Handle Me (Flo Rida featuring David Guetta)

Heartbreak Anthem (Galantis, David Guetta, Little Mix)

Lovers On The Sun (featuring Sam Martin)

Sexy Chick (featuring Akon)

Titanium (featuring Sia)

Where Them Girls At (featuring Nicki Minaj & Flo Rida)

When Love Takes Over (featuring Kelly Rowland)

Ariana Grande (6)

Ariana Grande arrives at the 62nd Annual Grammy Awards. Picture: Getty

Bang Bang (Jessie J, Ariana Grande, Nicki Minaj)

No Tears Left to Cry

Problem (featuring Iggy Azalea)

Rain On Me (with Lady Gaga)

Stuck with U (with Justin Bieber)

thank u, next

Jason Derulo (6)

MTV EMAs 2018 - Show. Picture: Getty

Don't Wanna Go Home

In My Head

Savage Love (Laxed - Siren Beat) (with Jawsh 685)

Talk Dirty (featuring 2 Chainz)

Want To Want Me

Whatcha Say

Lady Gaga (6)

Premiere Of Warner Bros. Pictures' "A Star Is Born" - Arrivals. Picture: Getty

Bad Romance

Born This Way

Rain On Me (with Ariana Grande)

Stupid Love

Telephone (featuring Beyoncé)

The Cure

Rihanna (6)

US-ENTERTAINMENT-COSMETICS-RIHANNA. Picture: Getty

What's My Name? (featuring Drake)

We Found Love (featuring Calvin Harris)

Only Girl (In The World)

Run This Town (Jay-Z featuring Rihanna & Kanye West)

Russian Roulette

This Is What You Came For (Calvin Harris featuring Rihanna)

Rita Ora (6)

Rita Ora & Absolut Lime Kick-Off Grammy Awards Weekend With First Live Performance Of New Song, "Proud" At the Absolut Open Mic Project x Spotify Event In NYC. Picture: Getty

Anywhere

For You (with Liam Payne)

How We Do (Party)

I Will Never Let You Down

Let You Love Me

R.I.P. (featuring Tinie Tempah)

Tinie Tempah (6)

Tinie Tempah Performs At The Capital FM Arena. Picture: Getty

Crazy Stupid Love (Cheryl featuring Tinie Tempah)

Frisky

Not Letting Go (featuring Jess Glynne)

Pass Out

Turn The Music Louder (KDA featuring Tinie Tempah & Katy B)

Written In The Stars (featuring Eric Turner)

Bruno Mars (5)

2018 Billboard Music Awards - Show. Picture: Getty

The Lazy Song

Uptown Funk (Mark Ronson featuring Bruno Mars)

Grenade

Locked Out Of Heaven

Just The Way You Are

Cheryl (5)

Cheryl with the Official Big Top 40 from Global Number 1 trophy.

Picture: The Official Big Top 40

Call My Name

Crazy Stupid Love (featuring Tinie Tempah)

Fight For This Love

I Don't Care

Promise This

Clean Bandit (5)

Clean Bandit with the Official Big Top 40 from Global Number 1 trophy.

Picture: Clean Bandit

Rather Be (featuring Jess Glynne)

Real Love (featuring Jess Glynne)

Rockabye (featuring Sean Paul & Anne-Marie)

Symphony (featuring Zara Larsson)

Solo (featuring Demi Lovato)

One Direction (5)

One Direction Performs On ABC's "Good Morning America". Picture: Getty

Drag Me Down

Live While We're Young

One Way Or Another

Story Of My Life

What Makes You Beautiful