Adele's 'Easy On Me' debuts at Number 1 in the UK
17 October 2021, 19:37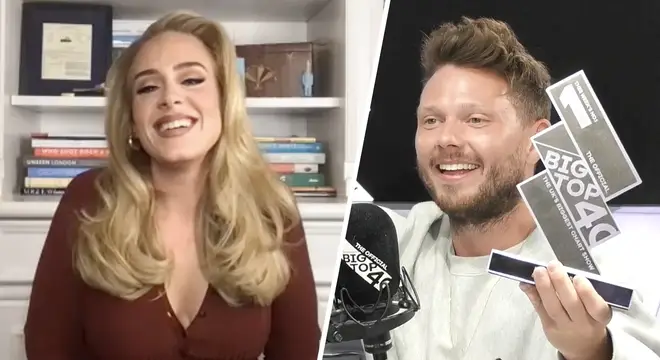 Adele's new song 'Easy On Me' is The Official Big Top 40 Number 1 this Sunday.
Adele's 'Easy On Me' has gone straight to the top of the UK's biggest chart show.
The new single debuted at Number 1 on The Official Big Top 40, with Adele joining Will Manning on the show.
"Thank you guys!" Adele told her UK fans, "I can't wait to bloody come home, I've been locked out!"
'Easy On Me' was only released on Friday but in just two days managed to knock Ed Sheeran's 'Shivers' from the top.
The singer revealed 'Easy On Me' was the first song she wrote for her new album 30, which is out next month.
Adele also admitted that she wanted to release new music last year but the coronavirus pandemic got in the way.
"I nearly put out a song," she told Will, "When the album comes out, I imagine people will work out which song."
> See this week's Official Big Top 40 in full