Chart Update: Which One Of These Can Challenge Ed Sheeran?
13 November 2014, 11:06 | Updated: 13 November 2014, 11:09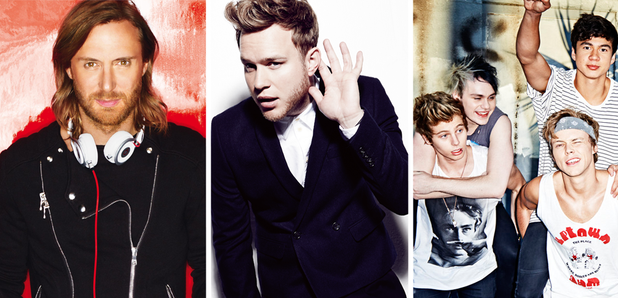 Ed Sheeran is looking to hold onto his No.1 spot for a second week running however with One Direction slowly releasing tracks from their upcoming album 'Four', this week's top ten could face a total takeover from the 1D boys! Let alone new releases from 5SOS, Olly Murs AND David Guetta!
Here are the contenders for this week's No.1 along with the reigning champion:
The CURRENT No.1: Ed Sheeran - 'Thinking Out Loud'
When we spoke to Ed a couple of weeks ago he revealed that he went through a gruelling five hours training per day for TEN days to perfect those dance moves. It certainly paid off because now the acoustic maestro is sitting pretty at the top of the world's first real-time chart.
One Direction - 'Girl Almighty', '18' or maybe even 'Steal My Girl'!
Yep that's right, One Direction could go to No.1 with any one of their recently released tunes! Brand new album 'Four' is nearly here and the boys have been drip feeding the masses with a song a day to help us all get ready for the big album launch! We get the feeling there might be one or more 1D tracks in this week's top ten!
Cheryl - I Don't Care
Cheryl has been very busy with her new album this week. She not only announced that her next single from 'Only Human' will be the incredible track 'Stars', she also treated fans to another 'Only Human Session' performance.
Rixton - Wait On Me
The Rixton boys went straight to the top of the Vodafone Big Top 40 with their debut single 'Me And My Broken Heart' back in July. They'll be hoping to repeat that success again with their second single 'Wait On Me'. Let's hope they can give the big boys a run for their money, we're rooting for you Rixton!
Olly Murs feat. Travie McCoy - 'Wrapped Up'
It's not long until we can all get our hands on Olly's new album 'Never Been Better' which is released on the 24th November but for now we'll have to make do with lead single 'Wrapped Up'! The cheeky chap revealed a behind the scenes look at the music video this week where you get to see Olly in his natural habitat: surrounded by a large group of female dancers.
David Guetta feat. Sam Martin - 'Dangerous'
Music videos don't get much more glamorous than this! David Guetta's Forumla One inspired music video for 'Dangerous' must have cost a fortune to make but it is definitely worth it! The French DJ will be hoping to capture another No.1 after triumphing with Sam Martin earlier in the year with 'Lovers On The Sun'.
5 Seconds Of Summer - 'Good Girls'
Can the Aussie rockers capture their second Vodafone Big Top 40 No.1?
Join Greg and Kat this Sunday at 4PM to find out whether Ed Sheeran can keep his place at the top!