Chart Update: Is Yeezy About To Storm The Chart?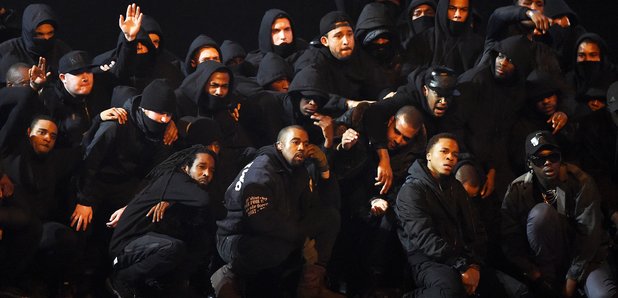 There are some BIG tunes coming this Sunday but will Years & Years still be 'King' of the chart by the end of the Vodafone Big Top 40 show.
Years & Years stole the No.1 spot last weekend from Ellie Goulding after the 'Love Me Like You Do' singer spent an entire MONTH in pole position. However will the trio's upbeat single 'King' stay top of the Vodafone Big Top 40 for as long as they'd hope?
There are some BIG contenders all vying for the top spot. Let's have a look at what other songs you could be seeing at No.1 come the end of the show on Sunday.
The CURRENT No.1: Years & Years - 'King'
The Years & Years lads came on the show last Sunday and told Marvin how amazing their fans had been in helping them grab the No.1 single. However will you actually keep them top for much longer?
Kanye West - 'All Day'
Has there been any other week in the history of music news where you have seen Yeezy's name pop as much as it has recently? From his enigmatic BRIT awards performance to selling his new Adidas shoes you can't go anywhere without hearing Mr.West's name. So where will 'All Day' chart? Well that's up to you guys isn't it!
Rihanna feat. Kanye West & Paul McCartney - 'FourFiveSeconds'
The dream trio are still threatening to take away the top prize from all the other artists. Rihanna dropped this single at the start of February however the sheer star power of the song (and the song itself of course) has kept it in the race to No.1 for a LONG TIME.
Flo Rida feat. Sage The Gemini - 'G.D.F.R'
When that chorus drops it's unlikely you'll be able to stay still. If you are already familiar with the track then you'll be clever enough to work out the song's title stands for 'Going. Down. For. Real'. How will it fare on Sunday?

Ellie Goulding - 'Love Me Like You Do'
She finally fell down a place at the weekend but that doesn't mean you can count Ellie out for this week's No.1.

G.R.L - 'Lighthouse'
It was never going to be easy for the four remaining members of G.R.L to get back to making music after the untimely passing of Simone Battle however the girls have finally come back with a fitting tribute.