DJ Khaled & Justin Bieber's New Collab With Quavo & Chance The Rapper Is An "Anthem"
18 July 2018, 12:39 | Updated: 31 October 2018, 16:11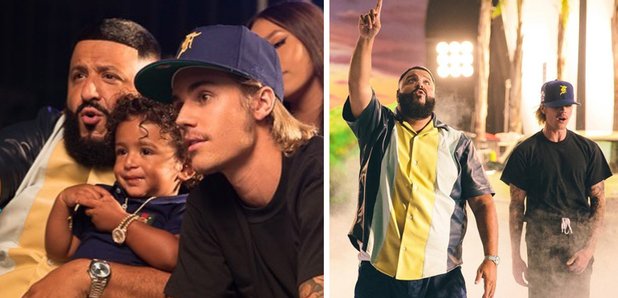 DJ Khaled has confirmed that he's got a new single on the way with the newly-engaged Justin Bieber.
The pair, along with Quavo, Chance The Rapper and Lil Wayne, were responsible for one of 2017's biggest hits. 'I'm The One' reached Number 1 on The Official Vodafone Big Top 40 in April last year... and now they're ready to do it all over again!
> Dua Lipa, Diplo and Mark Ronson Team Up For New Single 'Electricity'
Khaled posted a series of photos from the music video shoot on his Instagram, writing: "Fan luv I'll have more updates for you real soon very soon ! IM UP TO SOMETHING! #FatherOfAsahd the album in the works ! @wethebestmusic !! EVERYTHING TOP SECRET!! New anthem soon come wit some of my great friends !! ITS TOP SECRET FOR NOW .."
Bieber is pictured looking back over footage with Khaled and his son Asahd, while Quavo and Chance The Rapper appear in other snaps.
In June, Quavo shared a picture on Instagram of him with Bieber and Chance captioned "C H E M I S T R Y", leading fans to believe that this will be the title of the latest collaboration.
DJ Khaled's new album Father of Asahd is set to be released on October 19th 2018 and is being executively produced by his young son.
If rumours are to be believed, 'Chemistry' is dropping this Friday (July 20th) and you know it's going to bang!
The Official Vodafone Big Top 40 with Marvin Humes - Sundays from 4pm