Drake Has Updated 'Scorpion' Days After First Version Of Album Released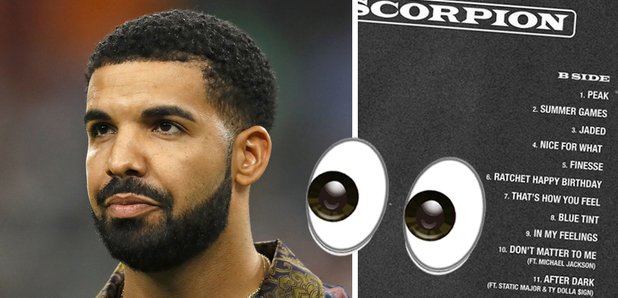 Drake's been secretly updating his latest album... even though it's already out there!
It's one of the biggest albums of the year, has broken streaming records and topped the charts all around the world...
But there's someone not happy with Drake's new album Scorpion... Drake himself!
> Boston Bun Has Made One Of 2018's Best Music Videos
It only came out on Friday (29 June) but the Canadian rapper has reportedly tweaked the album post-release. Reddit user 'jrmio' has inspected Scorpion and found differences between some of the original tracks and what's available to stream now.
June 29 #Scorpion @Drake pic.twitter.com/9UqTd6NNdn

— OVO Sound (@OVOSound) June 26, 2018
It suggests that Drake has secretly updated his album and uploaded new versions hoping fans wouldn't notice!
Here's what has been changed according to the /hiphopheads thread:
'In My Feelings' - New Lil Wayne vocals
'Emotionless' - The line "Version of s***" is no longer censored and mix is different after this point
'Talk Up' - Changes have been made to the mix
'Ratchet Happy Birthday' - Changes have been made to the mix
'Blue Tint' - Fade out has been changed
Plus, it seems that the whole album has undergone the same mastering process again so even tracks where nothing has been altered are ever-so-slighty different to what they were on Friday.
Drake isn't the first artist to update his album after it's been released. Kanye West made significant changes to 'The Life of Pablo' over a month after the album's release and recently The Carters were rumoured to have tweaked 'Everything Is Love'.
Scorpion is Drake's fifth studio album and is a double album with a hip hop "A side" and a more R&B-influenced "B side".
We wonder who else has made adjustments to their work without it being picked up by fans...
For more of the biggest hits, listen to The Official Vodafone Big Top 40 this Sunday from 4pm.