Elton John celebrates 'Merry Christmas' with Ed Sheeran reaching Number 1
5 December 2021, 19:46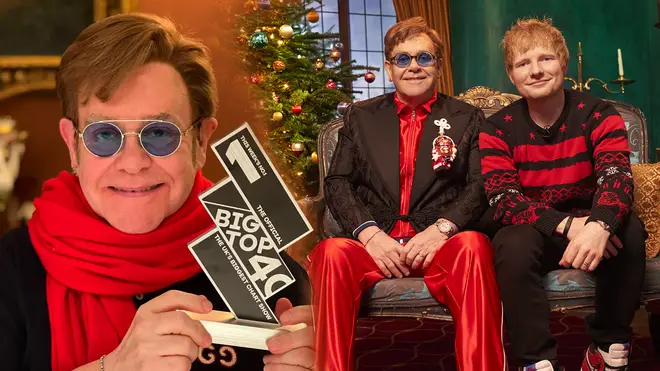 Ed Sheeran and Elton John's 'Merry Christmas' goes straight to Number 1 on The Official Big Top 40.
Ed Sheeran and Elton John's Christmas song 'Merry Christmas' has debuted at Number 1 in the UK.
The collaboration was only released on Friday but has gone straight to the top of the UK's biggest chart show.
Ed Sheeran first announced the song whilst speaking to Will Manning on The Official Big Top 40 earlier this year, with Sir Elton John himself joining Dev Griffin on the show this Sunday as the Number 1 news was announced.
'Merry Christmas' becomes Elton's third Number 1 of the year whilst it's Ed's fifth Number 1 of 2021.
"I'm feeling fantastic, that's my third one!" Elton told Dev, "It's astonishing, what a year I've had!"
Elton wasn't just at Number 1 this week - his former chart topper 'Cold Heart' with Dua Lipa was also at Number 2.
What?! 'Merry Christmas' is the @BigTop40 #1 and 'Cold Heart' is #2!

This has been a crazy year and having my third Big Top 40 number 1 single of 2021 with one of my most special friends is the perfect way to round it off! pic.twitter.com/8hfCBFrXeQ

— Elton John (@eltonofficial) December 5, 2021
Meanwhile, Ed Sheeran now has 16 Official Big Top 40 Number 1s to his name. 'Merry Christmas' joins 'Bad Habits', 'Visiting Hours', 'Shivers' and 'Overpass Graffiti' as his five for the year so far.
> See this week's Official Big Top 40 in full