Exclusive Interview With Meghan Trainor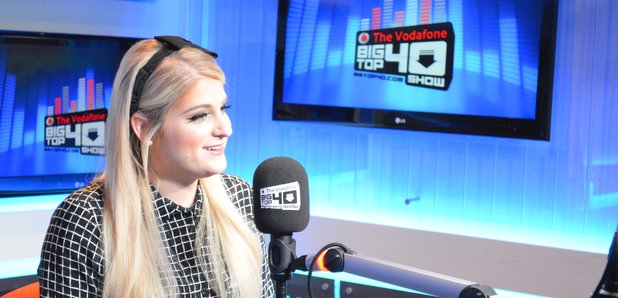 We spoke to Meghan Trainor about her Trinidadian uncle, her favourite tracks around right now and her dream collaboration.
In 2014 Meghan Trainor's debut single 'All About That Bass' held onto the No.1 spot for FIVE consecutive weeks and now she is back with second single 'Lips Are Movin'. The track debuted at No.2 just behind Mark Ronson's 'Uptown Funk' in a tense battle at the top of the chart.
However it seems that being pipped to the post by Mark Ronson & Bruno Mars hasn't affected the girl from Nantucket Island as she revealed to us that one of the 'Uptown Funk' would be her dream collaboration. Have a little listen to find out which one.
Meghan's album 'Title' incorporates a huge array of different influences with the title track itself surprisingly featuring a little bit of a Caribbean twist. When asked where this came from, Miss Trainor told us all about her Trinidadian uncle and the possibility of bringing him on tour with her.
It's fair to say that 2014 was undoubtedly Meghan's biggest year to date. When asked what her ULTIMATE highlight of last year was, Meghan revealed 'Meeting Beyonce was the best part of 2014. She was perfect in real life, just like I imagined and she told me that her and Blue Ivy jam to my songs, so life is complete.'
She also went on to praise other musicians that she loves, 'Ed Sheeran is an incredible songwriter who I really look up to and seeing my name or hearing my name next to artists such as him gives me CHILLS'.
Meghan's tour will be reaching UK shores in April where she'll be playing in London, Manchester, Glasgow and Birmingham. She told us to expect 'lots of colour, lots of dancing, lots of fun, I do some Caribbean stuff, break out my ukulele and of course get real intimate with my Megatronz'. We can't wait!
Check out Meghan Trainor's top three tracks on her iPod right now too…
1. Sam Smith - 'Like I Can'
2. Ed Sheeran - 'Thinking Out Loud'
3. Mark Ronson feat. Bruno Mars - 'Uptown Funk'