WATCH: Rami Malek & Freddie Mercury Singing Side-By-Side Shows How Accurate 'Bohemian Rhapsody' Really Is
21 November 2018, 14:44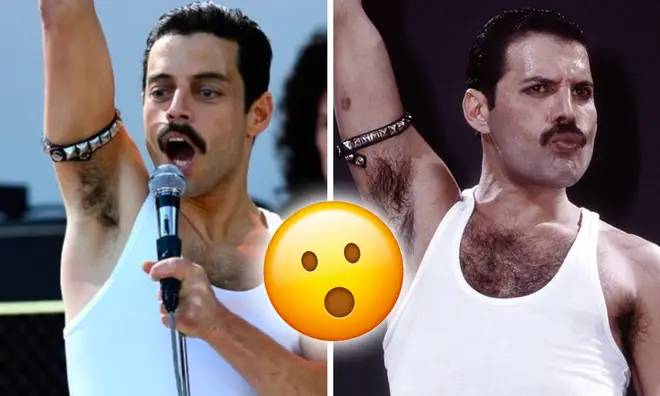 A video of 'Bohemian Rhapsody' star Rami Malek and Queen's Freddie Mercury singing side-by-side shows the painstaking detail that went in to recreating the band's famous Live Aid performance in the new movie.
The Bohemian Rhapsody film is topping box offices around the world right now and moviegoers have been wowed by Rami Malek's portrayal of Queen lead singer Freddie Mercury.
But a side-by-side comparison of Freddie and Rami shows just how incredible the actor's performance really is.
> Reading & Leeds Festival Announce 2019 Headliners
Twitter user @ThisGameIsEasy has aligned Queen's original Live Aid performance from 1985 with Rami's recreation in the 2018 movie and the accuracy has blown fans away.
So much so that the viral clip has racked up over 8 million views on the social media app.
The band's Live Aid performance was one of the most iconic music moments of the 20th century so its only right that it takes centre stage in the latest biopic.
Queen performed six songs in a powerful 20-minute set at Bob Geldof's Wembley Stadium fundraiser: 'Bohemian Rhapsody', 'Radio Ga Ga', 'Hammer to Fall', 'Crazy Little Thing Called Love', 'We Will Rock You' and 'We Are the Champions.
Rami manages to expertly capture every single one of Freddie's flourishes and facial expressions in a performance that will definitely put him in the running for an Oscar nomination at next year's ceremony.