RuPaul's Drag Race UK: United Kingdolls' 'UK Hun?' goes Top 5 in UK charts
15 February 2021, 17:42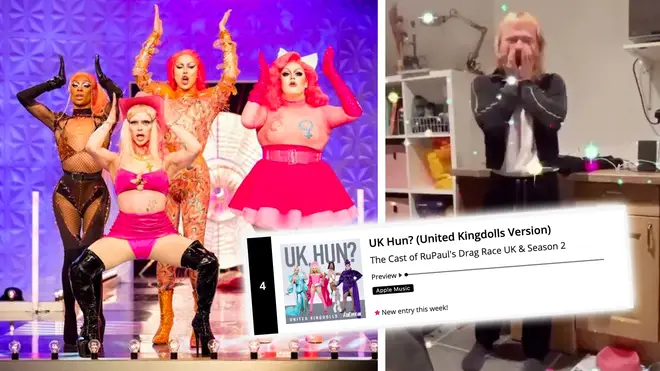 Bing, bang, bong, sing, sang, song, ding, dang, dong...
'UK Hun?' from RuPaul's Drag Race UK was this week's highest New Entry on The Official Big Top 40.
The United Kingdolls version of the track reached Number 4 on the UK's biggest chart show this Sunday afternoon.
It's taken from the latest episode of the show, where the Queens went to town parodying Eurovision. Fans have been streaming and downloading the catchy song ever since to get it into the charts.
And it's fair to say that United Kingdolls were pretty excited to hear it on the radio...
Riton and Nightcrawlers' 'Friday' featuring Mufasa and Hypeman climbed to Number 1 on this week's chart.
Olivia Rodrigo's 'drivers license' was last week's Number 1 but slipped down to second place.
Whilst, Tiesto's 'The Business' reached its highest placing yet, climbing up from Number 4 to Number 3.
> See this week's Official Big Top 40 in full