Best Christmas Albums Of All Time: From Michael Bublé To Mariah Carey
4 October 2018, 16:48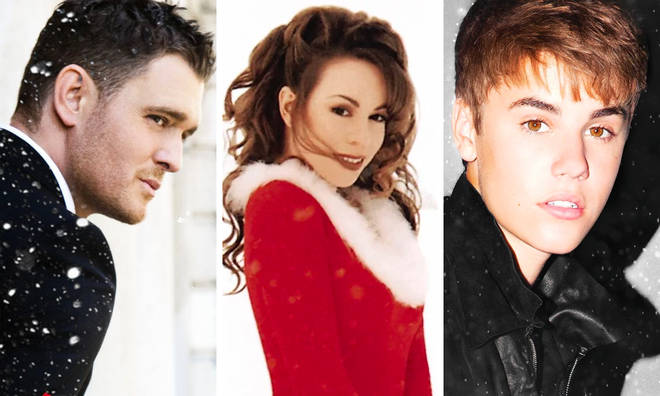 Need a festive CD for your Christmas party? We've picked out the best Christmas music albums of all-time, each one packed with massive Xmas songs that'll have you rockin' around the tree!
Michael Bublé - Christmas (2011)

Michael Buble's Christmas in Hollywood - Season 2015. Picture: Getty

Bublé is the ultimate king of Christmas - even his name sounds like it should be hung on a Christmas tree. The Canadian singer's 2011 Christmas album is a fine selection of smooth Christmas covers, including 'It's Beginning to Look a Lot Like Christmas'.

Susan Boyle - The Gift (2010)

'Das Supertalent' - 3rd Semi Final. Picture: Getty

Susan Boyle's first Christmas album was nominated for a Grammy - it's that good! The album has a 1960s feel and is a collection of classic Christmas carol covers. If you're a fan, there's even a second Christmas album from Susan!

Sia - Everyday Is Christmas (2017)

via GIPHY

You've got to hand it to Sia - the Australian singer released her first Christmas album in 2017 and there wasn't a single cover in sight. Instead, ten original songs, including the single 'Santa's Coming for Us' and our favourite 'Puppies Are Forever'.

Kylie Minogue - Kylie Christmas (2015)

Kylie Performs At Royal Albert Hall In London. Picture: Getty

After releasing her famous cover of 'Santa Baby' back in 2000, Kylie Minogue finally delivered a full album of Christmas tunes in 2015. It was worth the wait - three original Christmas songs (including one with James Corden) along with ten covers.

Justin Bieber - Under the Mistletoe (2011)

via GIPHY

Would you believe it - Justin Bieber's second studio album was a Christmas one! Under the Mistletoe features the super-catchy, original song 'Mistletoe' plus a whole load of incredible Christmas covers.

Mariah Carey - Merry Christmas (1994)

Global Icon Mariah Carey Announces Mariah Carey Christmas Factory During The Grand Opening Of Sugar Factory American Brasserie In Seattle. Picture: Getty

She's responsible for one of the greatest holiday songs ever but there's a whole album of Mariah Carey Christmas tunes to get stuck into. Merry Christmas features a mix of covers and original songs, of course including 'All I Want for Christmas Is You'.

Kelly Clarkson - Wrapped in Red (2013)

Kelly Clarkson's Cautionary Christmas Music Tale - Season 2013. Picture: Getty

Kelly's 'Underneath the Tree' is a modern Christmas classic that we'll definitely still be signing along to in twenty years time. her 2013 festive album Wrapped in Red is another that mixes covers with original songs.

Gwen Stefani - You Make It Feel Like Christmas (2017)

via GIPHY

No Doubt star Gwen Stefani released her first full-length Christmas album in 2017. You Make It Feel Like Christmas includes a load of covers plus the title track, a collaboration with American country singer Blake Shelton.

Tom Chaplin - Twelve Tales of Christmas (2017)

Tom Chaplin Performs at Guildhall, Southampton. Picture: Getty

Keane lead singer Tom Chaplin released his second studio album in 2017 - a collection of Christmas-themed songs. Its filled with eight original tracks, including the lead single 'Under a Million Lights', plus four, traditional Crimbo covers.

Now That's What I Call Christmas (2015)

via GIPHY

Are we allowed to include this one? I guess, we make up the rules. If you're looking for all of the biggest Christmas songs on one, handy album, we've got to say... Now That's What I Call Christmas has it all!