Sharaya J: Who Is Little Mix's 'Strip' Rapper?
22 October 2018, 15:15 | Updated: 30 October 2018, 17:04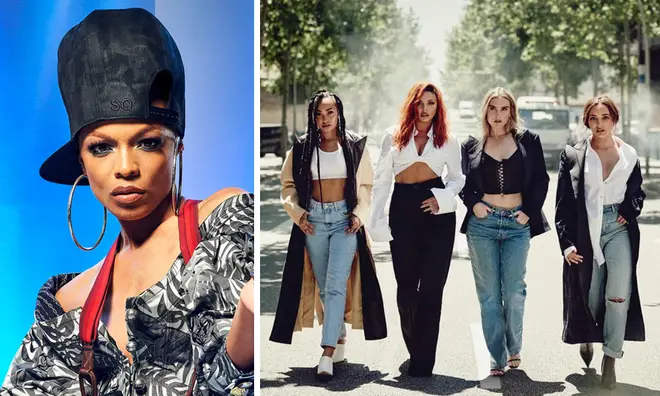 Little Mix's new single 'Strip' from 'LM5' features American rapper Sharaya J. Who is the rising rap star and what other songs has Sharaya J released so far?
Little Mix release their fifth studio album LM5 on 16th November 2018 and the collaborations are all women.
Sharaya J is the 34-year-old rapper from Hawaii who features on Little Mix's incredible second single 'Strip'.
> Who Is Kamille? Singer-Songwriter Featured On Little Mix's 'More Than Words'
It's Track 4 on the new album and the follow-up to The Official Vodafone Big Top 40 Number 1 song 'Woman Like Me'.
We've got all the details on Sharaya J, including her biggest songs, Instagram account and more...
What are Sharaya J's biggest songs?
Sharaya has released three official singles so far - 'BANJI', 'Smash Up the Place' and 'Takin' It No More'.
'BANJI' is her most-viewed video on YouTube, which so far has had over 2.5 million views.
She's signed to Missy Elliot's record label - The Goldmind Inc. - and Missy herself features on 'BANJI'.
Who is Sharaya J's partner?
There has been speculation that Sharaya J and Missy Elliot are actually married.
The pair have never commented on the rumours but have been linked romantically for a number of years.
When was Sharaya J on The Four?
Sharaya J was a contestant on Season 2 of American reality show The Four: Battle for Stardom in 2018.
She finished as the runner-up on the show, missing out to British singer James Graham.
When did Sharaya J have cancer?
Before appearing on The Four, Sharaya was diagnosed with Stage 2 breast cancer.
She revealed that she was undergoing chemotherapy whilst on the show.
The good news is that, in a later episode, the rapper confirmed that the tumour in her right breast had gone.
It was an emotional moment, with judges Sean Combs, Meghan Trainor and DJ Khaled going on stage to hug the singer and host Fergie telling the cheering crowd that "she's a survivor."
What is Sharaya J's official Instagram account?
You can follow Sharaya J on Instagram: @banjiraya