Halsey slams Victoria's Secret 'lack of inclusivity' after performing in 2018 Fashion Show
3 December 2018, 10:36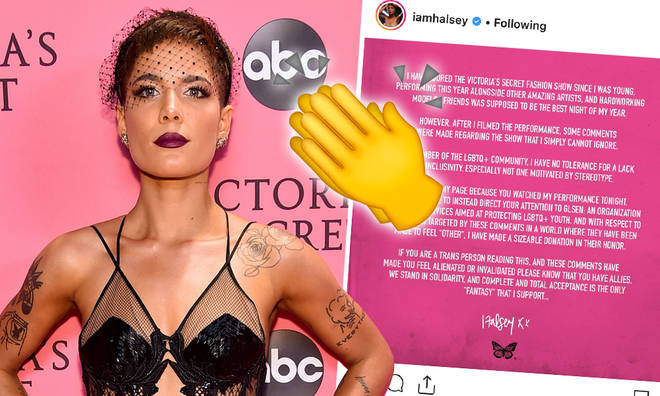 Halsey has posted a powerful statement on Instagram criticising Victoria's Secret "lack of inclusivity" after recent comments made by the underwear brand's chief marketing officer about transgender models.
Victoria's Secret faced a backlash last month after remarks made by its chief marketing officer, Ed Razek.
In an interview with Vogue, Razek said: "Shouldn't you have transsexuals in the show? No. No, I don't think we should."
> Shawn Mendes addresses rumours about his sexuality
Halsey's performance in the 2018 Victoria's Secret Fashion Show was recorded before the comments were published.
The 'Without Me' singer posted a statement after the show was broadcast in the US on Sunday night, writing: "As a member of the LGBT+ community, I have no tolerance for a lack of inclusivity. Especially not motivated by stereotype."
She continued to say: "If you a trans person reading this... please know that you have allies."
Halsey revealed that she had made a donation to GLSEN, an organisation that supports LGBTQ+ youth, in respect.
Victoria's Secret were forced to apologise for the November comments, stating in a message on Twitter that they "absolutely would cast a transgender model for the show."
Shawn Mendes, Rita Ora, Bebe Rexha, The Struts and The Chainsmokers were among the other performers at the annual Victoria's Secret Fashion Show.