When is Taylor Swift's new album release date?
25 February 2019, 12:11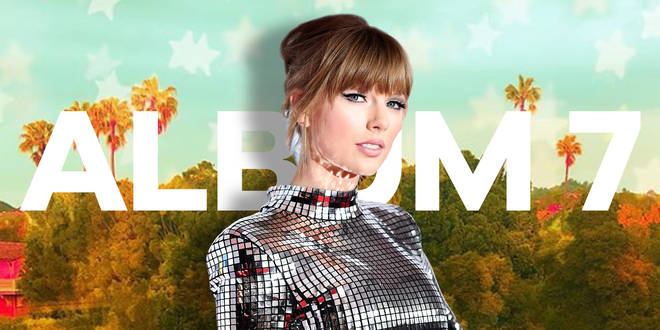 Taylor Swift appears to have teased the release of her seventh studio album on Instagram.
The singer, aged 29, is expected to release her new album in 2019 and seems to be hinting at what we can expect.
On Sunday (24th February), Taylor posted a stylised picture on her Instagram of seven palm trees emerging from a forest and captioned the snap with just seven palm tree emojis.
> Ed Sheeran stars in The Beatles-based 'Yesterday' movie trailer
The new image is heavily filtered and overlayed with faint stars so it's not Taylor's usual sort of Instagram post.
She followed this up with a photo of her sitting on a spiral staircase which was in a similar style, using the bokeh effect - those little camera dots you get where the light in the background blurs out of focus.
So what can we deduce about the album's release date from this? Well, as ever, Swifties have a number of theories...
One fan counted sixty-one stars on the photo and found that in sixty-one days time it's 26th April - which is a Friday, the day that new music tends to be released. It's also Arbor Day, a holiday where people are encouraged to plant trees.
Crazy #TS7 Theory: So if there's 60 stars as some have said, let's say there's about 60/61 ⭐️ There's 61 days until April 26, FRIDAY, a SINGLE RELEASE day! Another connection is April 26 is Arbor Day, a connection to PALM TREES!? 🌴 @taylorswift13 look what your doing to us 😂 pic.twitter.com/L4ucFuxCub

— Anna & Mitch 🌴 TS7 (@annaandmitch) February 24, 2019
Another Twitter user noticed that there are four palm trees bunched together on one side of the picture and two on the other, with a larger seventh palm tree in the middle.
Could this be a reference to her four country albums, two pop albums and her new seventh project being somewhere between the two genres? It's perhaps a stretch but you never know...
My theory: Okay so in this picture there are 4 palm trees on the left (4 country albums). There are two palm trees on the right (2 pop albums). There is one large palm tree in the middle. This represents her new album. It's gonna be a diff genre than anything she's ever done pic.twitter.com/cVpc1mrFF0

— lex 🌙 (@tragicts) February 24, 2019
Fans also spotted that the font changed on Taylor Swift's website which, while a minor detail we'll admit, is always a pretty strong indication that a new era is coming.