We've answered some of the frequently asked questions we receive below. If we haven't answered your question, please get in touch and let us know how we can help.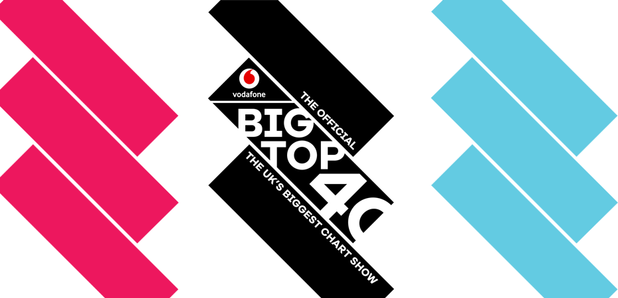 Can I request a song?
Unfortunately not, as we are a chart show we only have time during the show to countdown the top 40. Remember, if there is a song you want to hear, you can listen to a clip of all the songs in our chart on our chart page , for most songs there will also be a link to the song's music video.
How is the Big Top 40 Show chart compiled?
The Official Vodafone Big top 40 is compiled from a mix of Apple Music streaming and iTunes sales data from across the week, plus airplay data from the radio stations which the show is broadcast on.
How can I change the chart?
Our chart is based around iTunes sales/downloads and streaming, which means every time you download a song from iTunes or stream on Apple Music could change our chart. On our chart page, you can find links to download all the songs currently in the chart.
How come I can't register/sign in?
If you are trying to login with a username or password from another radio station's website, then please note that the Big Top 40 Show website is a separate website and you will need to register here too.
How can I listen to audio clips or watch video online?
If you are having trouble viewing our live video streams or hearing the audio feed, there is likely to be a simple solution to the problem. The most common problem is that your computer does not have the correct software installed. All the software required is completely free, there's a list of links below.
What software do I need to listen online?
Operating System: Windows 95 or higher.
Browser: Internet Explorer version 4, 5, 6 or 7. (Note: versions 3 and below are not compatible). Firefox 2 and 3 are also compatible.
Browser Plug-in: Windows Media Player 6.4 or higher. (Note: version 7 is not compatible with Windows '95)
Download Microsoft Internet Explorer.
Download Windows Media Player.
Download Firefox.
What hardware do I need to listen online?
A computer that meets the minimum requirements to playback stations. This minimum specification refers to the 'power' of the computer, as well as having an installed and working, modem or other internet connection, soundcard and speakers. We recommend the following as a minimum specification:- 166MHz processor or higher 16-bit soundcard Speakers (connected!) 28.8kbps modem or better. (We suggest 56.6 kbps or hi-bandwidth connection for best results).
If you have a Norton Anti-virus or Firewall software installed on your computer, you may experience some difficulties loading our player properly.
Why have you restricted your stream to listeners in the UK?
If you live abroad you might have noticed a bit of a change with our player. This has happened because of a change in the way we are allowed by the music industry to stream on the Internet.
The Big Top 40 Show has to have a licence to play music from a body called PPL (Phonographic Performance Ltd - www.ppluk.com) which acts on behalf of the record companies to collect royalties.
In recent years as internet streaming has become more widespread, the PPL have decided to clarify that the royalty payments that we make only cover our use of music as simulcasts of our radio stations and within the UK.
To comply with the new licence terms we have to demonstrate that our listening is only being heard in the UK.
As a result we have had to make a slight modification to our player.
For the majority of listeners, the change will be invisible, as we will able to automatically verify that the network you're connected to is in the UK, and show you the player as normal.
Some people are in the UK but their internet connection appears to be connected to networks outside the UK. If you appear to be outside the UK, we will ask you to provide a valid UK postcode. We won't be storing any personal information, but a cookie will allow you to be connected to the player automatically for the next 90 days. You will need to re-validate every 90 days to carry on listening to The Big Top 40 Show online.
If you don't live in the UK, and are unable to provide a valid postcode (e.g. WC2H 7LA) you will be unable to connect to the player.
When I click 'Listen Again' will it know I am using a Mac?
Yes, the player will automatically detect when you are accessing via a Mac and, providing you have Flash version 8 or above installed it will load the Mac compatible Flash version of The Big Top 40 Show player. The player will not automatically prompt you to install the correct flash player if it is not already installed.
I cannot load the listen again player on my Mac?
To use the player on an Apple Mac, please install Silverlight. You will be prompted to do this when you load the player.
Still having problems?
If we haven't answered your question here or if there's anything else you want to ask us and let us know via the form below...
Premium Rate Phone and Text on The Big Top 40
What is Premium Rate?
Premium Rate services are those for which you are charged through your monthly phone bill or through credit on your mobile phone. These services tend to cost more than a normal text message or phone call.
How do I know if a number is Premium Rate?
Premium Rate numbers are accessed from your landline (starting with 09, 118, 0871, 0872 and 0873) or by sending a text from your mobile phone to a 5 digit number called a shortcode like The Big Top 40's on 82200. Not all services running on a shortcode are Premium Rate and we will tell you if there is a charge associated with a specific service.
What kind of services are Premium Rate?
The types of services available on premium rate can include:
Competitions or voting by phone or text
Recorded information lines or text alerts, such as news, sports or traffic updates and horoscopes
Live and virtual chat services
Mobile ringtones, videos, images and games downloads
Charity text donations
What do 'standard network rate' and 'network access charge' mean?
We know and will always tell you how much we're charging you to call or text us. What we don't know is how much your phone service provider is also charging you. That depends on the telephone company and what kind of deal you have with them. That's why you'll hear us say that you will be charged your 'standard network rate' or that 'network access charge'.
Every time you send a text, you pay your phone company a fee for doing so. These vary from phone company to phone company and may also vary depending on the number you're texting to (some networks, for example, may charge less to text someone on the same network than they do for texting someone on a different network). This is known as a 'standard network rate message' and is usually around 10p to 12p. The cost we tell you about is what you pay in addition to whatever charge your network applies. So, for example, if your text to us costs 50p and your network also charges you 10p per text, then you'll actually pay 60p. This should appear on your bill as two separate texts, one that you've sent to us charged at 10p and another that you've received back from us charged at 50p. In the case of premium rate services, texts sent at standard network rate are not included in any bundles you may have as part of your deal with your phone companies and will always incur a charge.
The same is true when you call from a landline or mobile phone. We will always tell you the cost to access our services – this is the 'Service charge'. The service charge will always be the same, whether you're calling from a landline or mobile phone. What does vary is your 'network access charge'. This is a cost imposed on you by your phone company for accessing our services and should be made clear in your contract with them.
What is a Premium Rate Block?
Some phone companies have a Premium Rate block installed on their lines as standard. You will recognize this as a long, continuous tone if you are trying to call us on one of our Premium Rate numbers. If you are trying to text, your text will fail when you try to send it. You can request for the block to be removed by calling your phone service provider.
Can I access Premium Rate Services from abroad?
Premium Rate services will not work if you are calling or texting from outside of the UK. Unfortunately if you are on holiday or away on business, you will not be able to interact with our stations.
Our Premium Rate Promise
Our aim is to entertain you. We know – because you've told us – that you love the competitions we run and you enjoy listening to and taking part in them. We want to keep it that way. That's why we're making these promises:
Whenever you call or text us on a premium rate number, we'll make sure you know how much we're going to charge you for that call or text
When we've told you how much a call or text will cost, that's what it will cost. There are always going to be some small variations in cost depending on your network charges (we've explained more about that above), but you should still be able to look at your bill and identify the call/ text.
When we stop accepting entries to a premium rate service, we'll tell you not to call or text any more. If you still try and call or text, you may get billed for it and there's nothing we can do about that. You should have listened!
We will never sell your personal information to other companies. We may, from time to time send you text messages or email communications with offers or services that may be relevant to you but these communications will always come from The Big Top 40 or a carefully selected partner (if you have expressly opted in to receive messages from our partners). You will never be charged for receiving these messages and can opt out of receiving them in future by replying with the word STOP.
If you're still not sure, you can find the full terms and conditions that are applicable to all of our competitions displayed on our website.
What if I have a query about your Premium Rate Services?
If you think there is a problem with our Premium Rate services or would like to make a complaint, please call our customer service line on:
03333 212 196
Calls to 03 numbers are charged at the same rate as calls to 01 and 02 numbers and count towards inclusive call allowances on landlines and on mobile phones. Global Radio Ltd do not make any profit from calls to this number.
Alternatively, you can write to us. Please send your query to: Premium Rate Manager, Global Radio Limited, 30 Leicester Square, London, WC2H 7LA.
Regulation of Premium Rate
Global Radio, the parent company of The Big Top 40 is registered with the Premium Rate Services regulator, Phone Pay Plus. Our registration number is: ORG832-96388-41101.
We hope that we've explained how premium rate charges work and reassured you that the way we use them is fair and transparent. We also hope that you will continue to enjoy listening to and participating in our features and competitions. If you have any questions or concerns, we want to hear them. Please feel free to get in touch.