Every FIFA Soundtrack Song EVER: From FIFA 98 to FIFA 19
27 September 2018, 11:17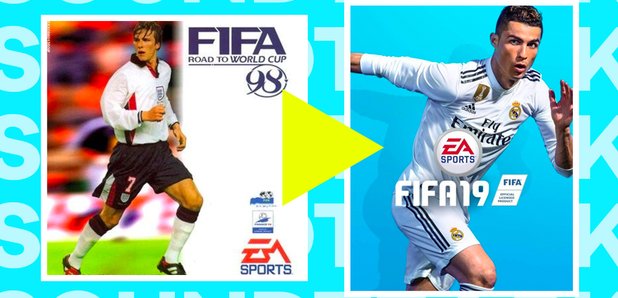 FIFA is the world's biggest football video game series and each year comes with an iconic soundtrack.
For any new artist, getting your track included on the FIFA Soundtrack is a massive step forward.
Over the years, the FIFA series has introduced football fans to bands and singers from around the world.
> 29 Of The Best FIFA Soundtrack Songs Of All Time
The EA Sports game has helped the careers of Kasabian, Kings of Leon, Madeon and Jungle to name but a few.
We've compiled a list of all the songs to have ever featured on FIFA, right up to the latest FIFA 19.
The first game to come with a licensed soundtrack was FIFA: Road to World Cup 98 so we've gone back over twenty years.
Check out every FIFA Soundtrack from 1998 to 2019...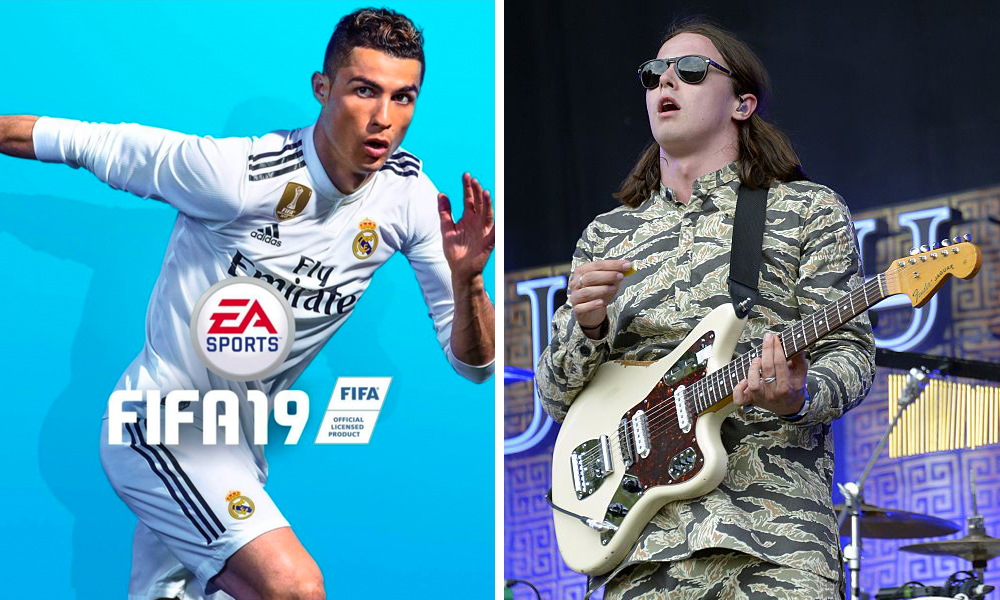 Credit: FIFA & EA Sports/Getty Images
FIFA 19 Soundtrack
Andreya Triana - Beautiful People
Atomic Drum Assembly - Island Life
Bakar - Big Dreams
Bantu & Dr. Chaii - Jackie Chan
Bas - Tribe feat. J. Cole
BC Unidos - Take It Easy feat. U.S. Girls and Ledinsky
Bearson - It's Not This feat. Lemaitre and Josh Pan
Billie Eilish - you should see me in a crown
Bob Moses - Heaven Only Knows
Broods - Peach
Bugzy Malone - Ordinary People
Childish Gambino - Feels Like Summer
Confidence Man - Out The Window
Courtney Barnett - City Looks Pretty
Crystal Fighters - Another Level
Death Cab For Cutie - Gold Rush
Easy Life - Pockets
Ghali - Habibi
Gizmo Varillas & Baio - Losing You (Baio Remix)
Gorillaz - Sorcererz
Husky Loops feat. MEI & Count Counsellor - Everytime I Run
Jacob Banks - Love Ain't Enough
Jungle - Beat 54 (All Good Now)
Kojey Radical - Water with Mahalia & Swindle
LADAMA - Porro Maracatu (TOY SELECTAH Remix)
Lao Ra - Pa'lante
Logic - Warm It Up feat. Young Sinatra
LSD (Labrinth, Sia, Diplo) - Genius
Mansionair - Violet City
No/Me - Consistent
NoMBe - Drama feat. Big Data
Ocean Wisdom - Tom & Jerry
Octavian - Lightning
Peggy Gou - It Makes You Forget (Itgehane)
Sam Fender - Play God
Stealth - Truth Is
Stereo Honey - Where No One Knows Your Name
SUN SILVA - Blue Light
Tom Misch - Good To Be Home feat. Loyle Carner, Barney Artist, Rebel Kleff
Tove Styrke - Sway
Wovoka Gentle - 1000 Opera Singers Working In Starbucks
Yolanda Be Cool - Musika feat. Kwanzaa Posse
Young Fathers - Border Girl
Hans Zimmer ft. Vince Staples - Champions League Remix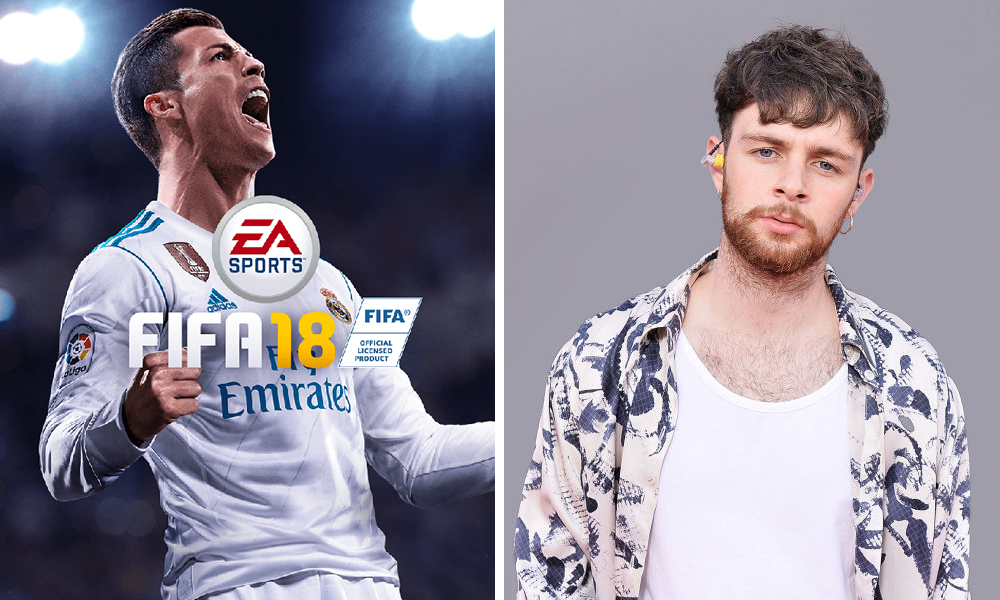 Credit: FIFA & EA Sports/Getty Images
FIFA 18 Soundtrack
alt-J - Deadcrush
Avelino (feat. Stormzy & Skepta) - Energy
Bad Sounds - Wages
Baloji - L'Hiver Indien
BØRNS - Faded Heart
Cut Copy - Standing In The Middle Of The Field (Radio Edit)
Django Django - Tic Tac Toe
IDER - King Ruby
Kimbra - Top Of The World
Kovic - Drown
Lorde - Supercut
Mondo Cozmo - Automatic (New Edit)
Mura Masa - Helpline feat. Tom Tripp
ODESZA - La Ciudad
Off Bloom - Falcon Eye
Oliver - Heart Attack feat. De La Soul
Outsider - Miol Mor Mara
Perfume Genius - Slip Away
Phantoms - Throw It In The Fire
Portugal. The Man - Live In The Moment
RAC - Beautiful Game feat. St. Lucia
Residente - Dagombas en Tamale
Rex Orange County - Never Enough
Run The Jewels - Mean Demeanor
Sir Sly - &Run
Slowdive - Star Roving
Sneakbo feat. Giggs - Active
Sofi Tukker - Best Friend feat. NERVO, The Knocks, and Alisa UENO
Superorganism - Something For Your M.I.N.D.
Tash Sultana - Jungle
Teme Tan - Ça Va Pas La Tête?
The Amazons - Stay with Me
The National - The System Only Dreams In Total Darkness
The War On Drugs - Holding On
The XX - Dangerous
Tom Grennan - Found What I've Been Looking For
Toothless - Sisyphus
Vessels - Deflect The Light feat. The Flaming Lips
Washed Out - Get Lost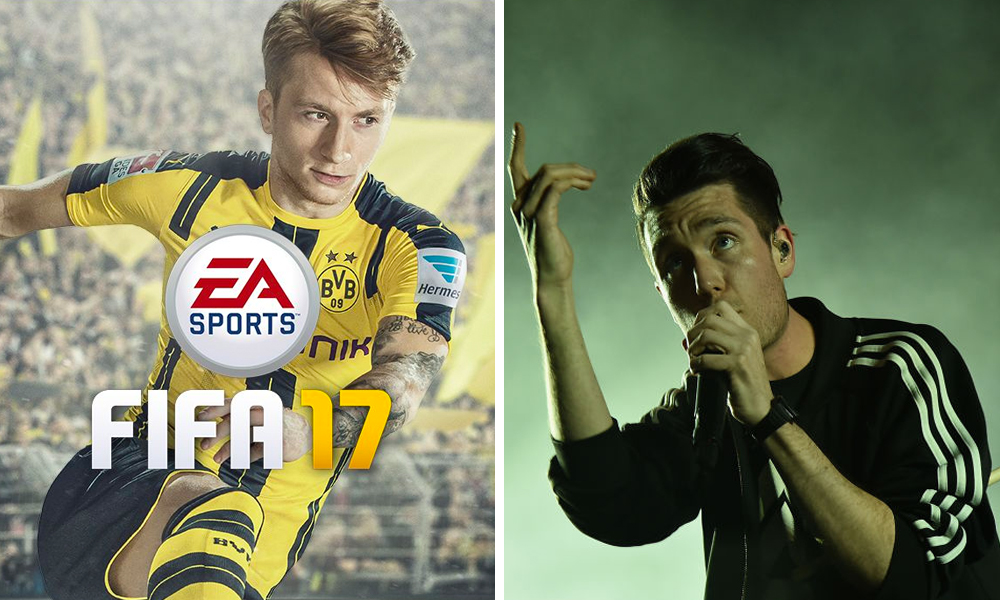 Credit: FIFA & EA Sports/Getty Images
FIFA 17 Soundtrack
Balkan Beat Box - I Trusted U
Barns Courtney - Hobo Rocket
Bastille - Send Them Off!
Appeals - Bayonne
Beaty Heart - Slide To The Side
Beck - NEW SONG
Bishop Briggs - Be Your Love
Bob Moses - Tearing Me Up (RAC Mix)
Capital Cities - Vowels
Catfish And The Bottlemen - Postpone
Ceci Bastida - Un Sueño feat. Aloe Blacc
Compass: Mexican Institute Of Sound + Toy Selectah - Explotar feat. Rob Birch, Kool A.D., Emicida, Maluca
Declan McKenna - Isombard
Digitalism - Shangri-La
DMA's - Play It Out
Empire Of The Sun - High And Low
Formation - Pleasure
Glass Animals - Youth
Grouplove - Don't Stop Making It Happen
HUNTAR - Anyway
Jack Garratt - Surprise Yourself
Jagwar Ma - O B 1
KAMAU - Justfayu feat. No Wyld
Kasabian - Comeback Kid
Kygo - Raging feat. Kodaline
Lemaitre - We Got U feat. The Knocks
Lewis Del Mar - Painting (Masterpiece)
Lola Coca - Love Songs
LOYAL - Moving As One
Lucius - Almighty Gosh
NGOD - Blue
Oliver - Electrify feat. Scott Mellis
Paper Routes - Chariots
Paul Kalkbrenner - (Let Me Hear You) Scream
Phantogram - Same Ol Blues
Porter Robinson & Madeon - Shelter
Rat Boy - Get Over It
Rocco Hunt - Sto Bene Così
SAFIA - Bye Bye
Saint Motel - Move
Skott - Porcelain
Society - Protocol
Sofi Tukker - Johny
Souls - Satisfied
Spring King - Who Are You?
ST feat. Marta Kot - Vera i Nadezhda (WIN)
Systema Solar - Rumbera
Tourist - Run
Two Door Cinema Club - Are We Ready? (Wreck)
Zedd & Grey - Adrenaline
ZHU - Money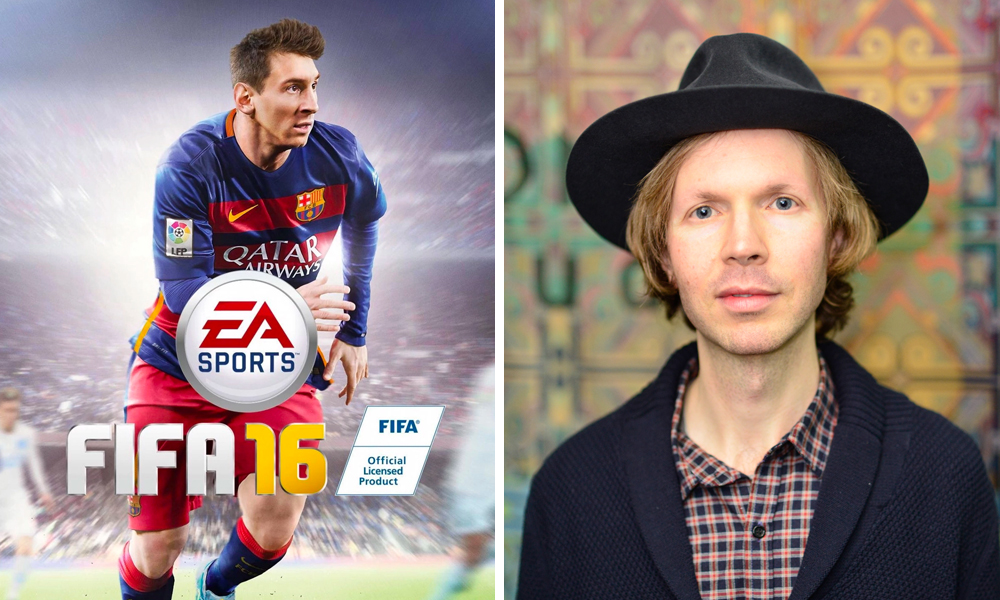 Credit: FIFA & EA Sports/Getty Images
FIFA 16 Soundtrack
All Tvvins - Darkest Ocean
April Towers - A Little Bit Of Fear
Atlas Genius - Stockholm
AURORA - Conqueror
Baiana System - Playsom
Baio - Sister Of Pearl
BANNERS - Shine A Light
Bastille - Hangin'
Beck - Dreams
Bomba Estereo - Soy Yo
BØRNS - Fool
Coasts - Tonight
Disclosure - Omen feat. Sam Smith
Durante - Slow Burn feat. Chuck Ellis
Everything Everything - Distant Past
Foals - Mountain At My Gates
Gin Wigmore - New Rush
Icona Pop - Emergency
Jax Jones - Yeah Yeah Yeah
John Newman - Tiring Game feat. Charlie Wilson
Kaleo - Way Down We Go
Kygo - ID
Louis The Child - It's Strange feat. K. Flay
Miami Horror - All It Ever Was
No Wyld - Let Me Know
Nothing But Thieves - Trip Switch
Of Monsters And Men - Crystals
Parade of Lights - Feeling Electric
RAC, Nate Henricks - Back of the Car
Raury - Crystal Express
Seinabo Sey - Pretend
Skylar Grey feat. X Ambassadors - Cannonball
Slaptop - Walls
Speelburg - Lay it Right
Swim Deep - One Great Song And I Could Change The World
The Royal Concept - Smile
The Very Best - Makes A King feat. Jutty Taylor
Tiggs Da Author - Run
Unknown Mortal Orchestra - Can't Keep Checking My Phone
X-Wife - Movin' Up
Years & Years - Gold (FIFA Edit)
Zibra - Goodbye Mondays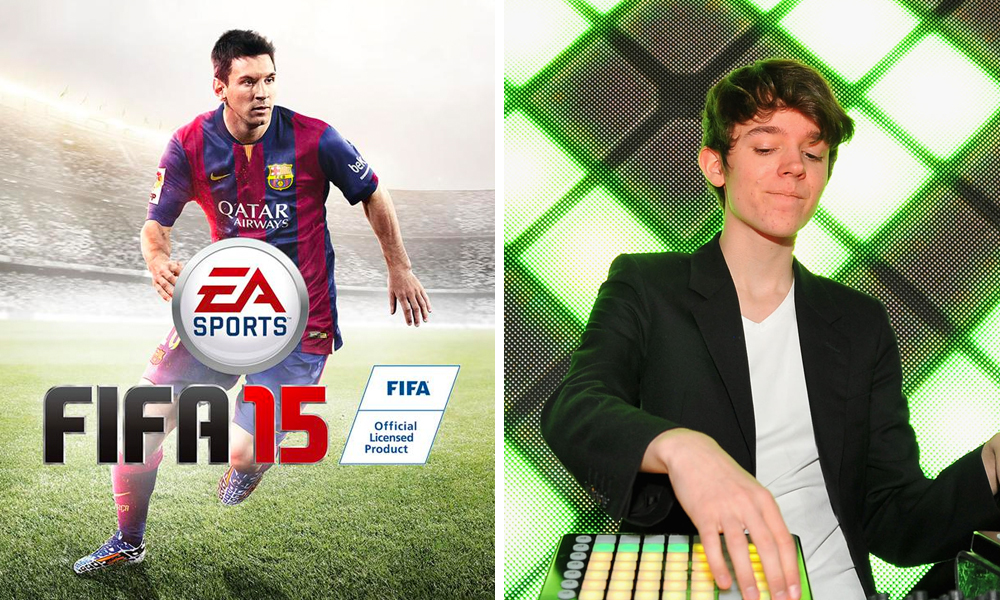 Credit: FIFA & EA Sports/Getty Images
FIFA 15 Soundtrack
A-Trak - Push (Featuring Andrew Wyatt)
Bang La Decks - Utopia feat. Dominique Young Unique
Broods - L.A.F.
ChocQuibTown - Uh La La
Death From Above 1979 - Crystal Ball
Dirty South - Tunnel Vision feat. SomeKindaWonderful
Elliphant - Purple Light feat. Doja Cat
Emicida feat. Rael - Levanta e Anda
AVICII - The Nights
Foster The People - Are You What You Want To Be?
Jacob Banks - Move With You
Joywave - Tongues feat. Kopps
Kinski Gallo - Cumbia Del Corazón
Kwabs - Walk
Lowell - Palm Trees
Kasabian - Stevie
Fmlybnd - Come Alive
Elliphant - All or Nothing
Jungle - Busy Earnin'
Vance Joy - Mess Is Mine
Magic Man - Tonight
Milky Chance - Down by the River
Polock - Everlasting
Madden Brothers - We Are Done
Madeon - Imperium
tUnE-yArDs - Water Fountain
MPB4 - Agiboré (Marky's Ye-Mele Refix)
Nico & Vinz - When The Day Comes
Prides - Out Of The Blue
Rudimental - Give You Up feat. Alex Clare (World Cup Remix)
Saint Motel - My Type
Saint Raymond - Wild Heart
Sante Les Amis - Brasil
Slaptop - Sunrise
Teddybears - Sunshine feat. Natalie Storm
Tensnake - Pressure feat. Thabo
The Griswolds - 16 Years
The Kooks - Around Town
The Mountains - The Valleys
The Ting Tings - Super Critical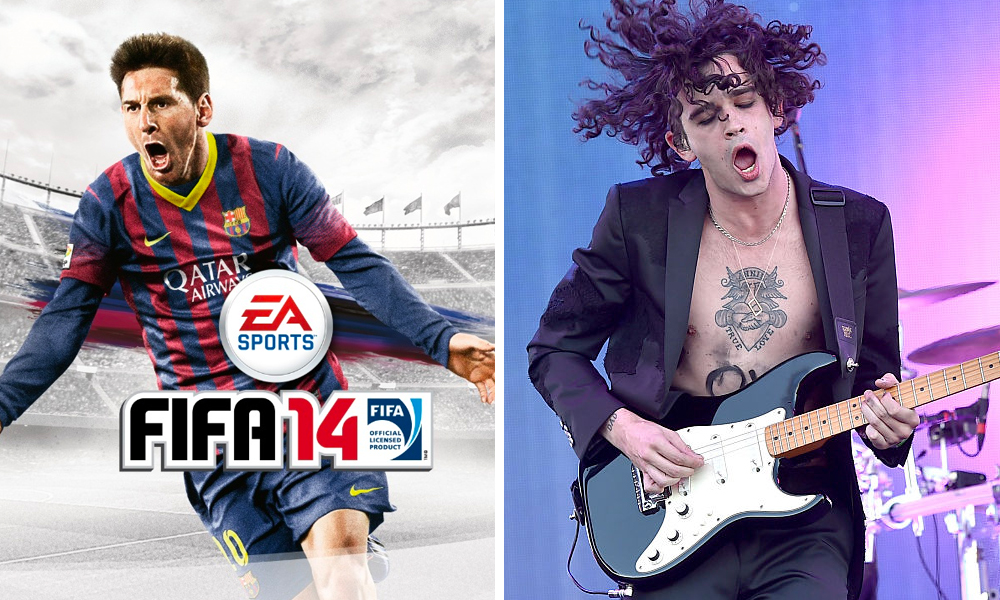 Credit: FIFA & EA Sports/Getty Images
FIFA 14 Soundtrack
Ki:Theory - Kitty Hawk
American Authors - Hit It
Amplify Dot - Get Down
Bloc Party - Ratchet
Chvrches - We Sink
Crystal Fighters - Love Natural
Dan Croll - Compliment Your Soul
Wretch 32 - 24 Hours
You Me At Six - Lived A Lie
Vampire Weekend - Worship You
The Royal Concept - On Our Way
The Naked And Famous - Hearts Like Ours
The Colourist - Little Games (St. Lucia Remix)
The Chain Gang Of 1974 - Miko
David Dallas - Runnin'
De Staat - Down Town
Disclosure - F For You
Empire Of The Sun - Alive
Foals - My Number (Trophy Wife Remix)
Grouplove - I'm With You
Guards - I Know It's You
Illya Kuryaki & The Valderramas - Funky Futurista
Jamie N Commons - Marathon
John Newman - Love Me Again
Karol Conka - Boa Noite
Los Rakas - Hot
Marcelo D2 - Você Diz Que o Amor Não Dói
Miles Kane - Don't Forget Who You Are
OK KID - Am Ende
Oliver - Mechanical
Olympic Ayres - Magic
Portugal. The Man - Purple Yellow Red & Blue
Robert DeLong - Here
Rock Mafia Ft. Wyclef Jean And David Correy - I Am
Smallpools - Dreaming
The 1975 - The City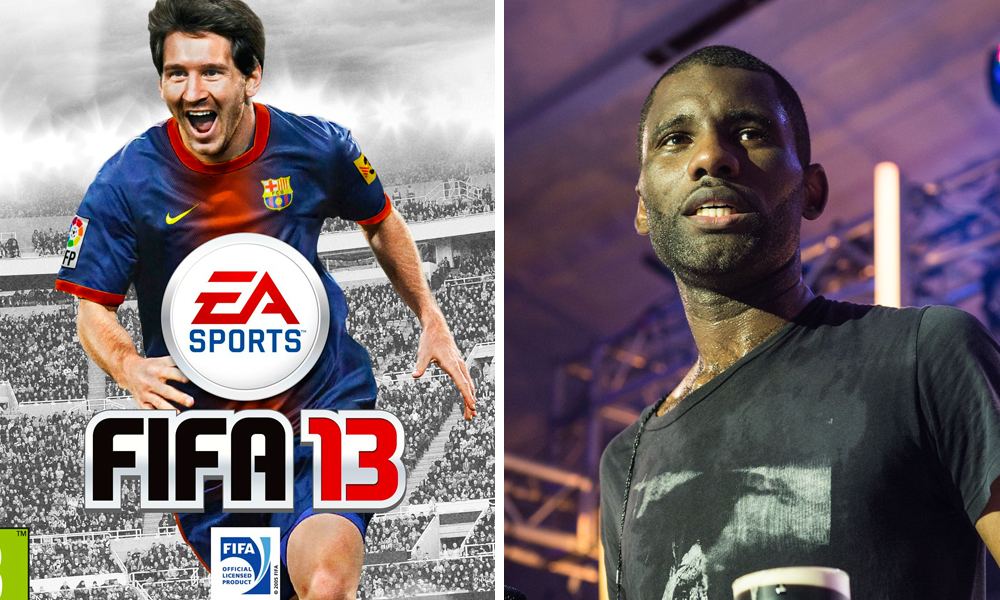 Credit: FIFA & EA Sports/Getty Images
FIFA 13 Soundtrack
Matisyahu - Searchin
Young Empires - Rain of Gold
Flo Rida feat. Lil Wayne - Let It Roll Part 2
Imagine Dragons - On Top of the World
Santigold - Big Mouth
Passion Pit - I'll Be Alright
Clement Marfo and The Frontline - Us Against The World
The Presets - Ghosts
Chevin - Champion
Animal Kingdom - Get Away With It
Ashtar Command - Mark IV feat. Joshua Radin
Cali - Outta My Mind
Astro - Panda
Band Of Horses - Feud
Bastille - Weight Of Living, Part 2
Bloc Party - We Are Not Good People
Crystal Fighters - Follow
deadmau5 feat. Gerard Way - Professional Griefers
Django Django - Hail Bop
Duologue - Get Out While You Can
Elliphant - TeKKno Scene feat. Adam Kanyama
Featurecast - Got That Fire (Oh La Ha) (feat. Pugs Atomz)
Fitz And The Tantrums - Spark
Foreign Beggars and Bare Noise - See The Light
Hadoen! - Bliss Out
Jagwar Ma - What Love
Kasabian - Club Foot
Jonathan Boulet - You're A Animal
Kimbra - Come Into My Head
Kitten - G#
Kraftklub - Eure Madchen
Ladyhawke - Black White & Blue
Madeon - Finale
Metric - Speed The Collapse
Miike Snow - Paddling Out
Reptar - Sweet Sipping Soda
Reverend And The Makers - Shine The Light
Rock Mafia - Fly Or Die
The Royal Concept - Goldrushed
Royal Teeth - Wild
St. Lucia - September
Stepdad - Jungles
The Enemy - Saturday
The Heavy - Don't Say Nothing
Two Door Cinema Club - Sleep Alone
Walk The Moon - Quesadilla
Wretch 32 - Blur
Youngblood Hawke - We Come Running
Zemaria - Past 2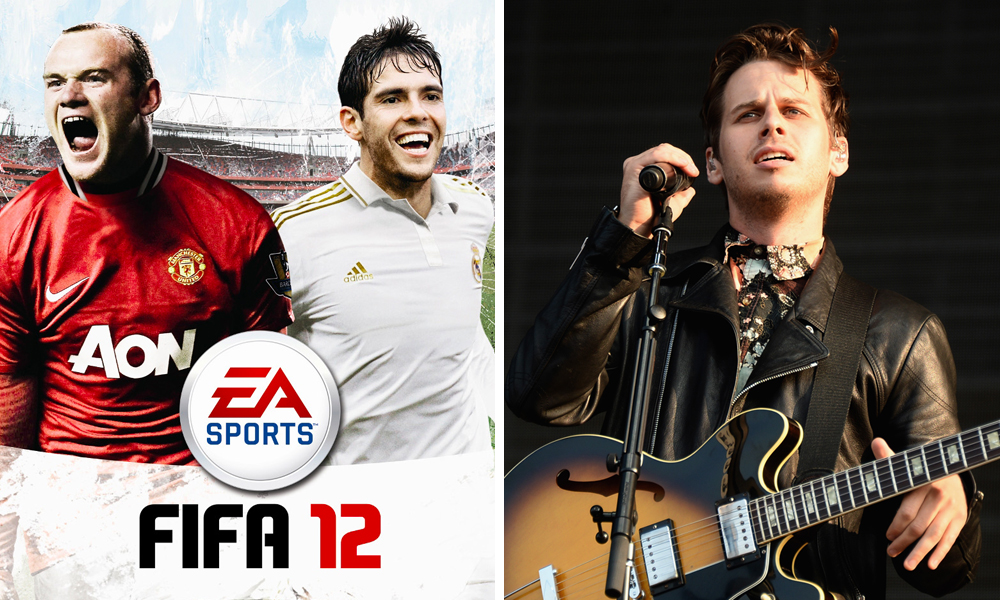 Credit: FIFA & EA Sports/Getty Images
FIFA 12 Soundtrack
Alex Metric & Steve Angello - Open Your Eyes
All Mankind - Break The Spell
Architecture in Helsinki - Escapee
Bloco Bleque / Gabriel O Pensador - So Tem Jogador
Chase & Status - No Problem
Crystal Castles / Robert Smith - Not In Love
CSS - Hits Me Like A Rock
Cut Copy - Where I'm Going
Digitalism - Circles
DJ Raff - Latino & Proud
El Guincho - Bombay (Fresh Touch Dub Mix)
Empresarios - Sabor Tropical
Foster the People - Call It What You Want
Givers - Up Up Up
Glasvegas - The World Is Yours
Graffiti6 - Stare Into The Sun
Grouplove - Colours (Captain Cutz Remix)
Japanese Popstars - Let Go
Kasabian - Switchblade Smiles
La Vida Boheme - El Buen Salvaje
Little Dragon - Nightlight
Macaco - Una Sola Voz
Marteria feat. Yasha - Verstrahlt
Monarchy - The Phoenix Alive (Kris Menace Remix)
Pint Shot Riot - Twisted Soul
Portugal. The Man - Got It All (This Can't Be Living Now)
Rock Mafia - The Big Bang
Spank Rock - Energy
The Chain Gang Of 1974 - Hold On
The Hives - Thousand Answers
The Medics - City
The Hives - Thousand Answers
The Naked & Famous - Punching In A Dream
The Strokes - Machu Picchu
Tying Tiffany - Drownin'
The Ting Tings - Hands
The Vaccines - Wreckin' Bar (Ra Ra Ra)
Thievery Corporation - Stargazer
Tittsworth & Alvin Risk feat. Maluca - La Campana
TV On The Radio - Will Do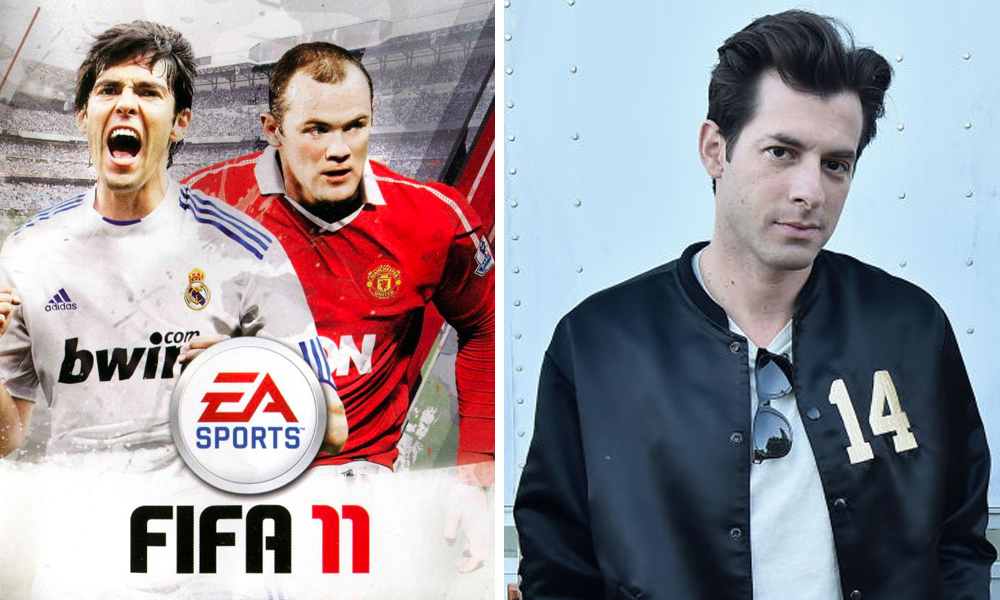 Credit: FIFA & EA Sports/Getty Images
FIFA 11 Soundtrack
The Pinker Tones - Sampleame
Ladytron - Ace of Hz
Ram Di Dam - Flashbacks
The Black Keys - Tighten Up
Caribou - Odessa
Gorillaz - Rhinestone Eyes
Charlotte Gainsbourg - Trick Pony
Chromeo - Don't Turn The Lights On
Adrian Lux - Can't Sleep
Choc Quib Town - El Bombo
Ana Tijoux - 1977
Yeasayer - O.N.E.
Dan Black - Wonder
Dapuntobeat - :O
Dum Dum Girls - It Only Takes One Night
Ebony Bones - W.A.R.R.I.O.R.
Groove Armada - Paper Romance
Howl - Controller
Jonsi - Around Us
Jump Jump Dance Dance - White Picket Fences
LCD Soundsystem - I Can Change
Linkin Park - Black Out
Locnville - Sun In My Pocket
Malachai - Snowflake
Maluca - El Tigeraso
Mark Ronson Feat. Simon Le Bon and Wiley - Record Collection
Massive Attack - Splitting The Atom
MGMT - Flash Delirium
Zemaria - The Space Ahead
Scissor Sisters - Fire With Fire
The Pinker Tones - Sampleame
Tulipa - Efemera
Two Door Cinema Club - I Can Talk
We Are Scientists - Rules Don't Stop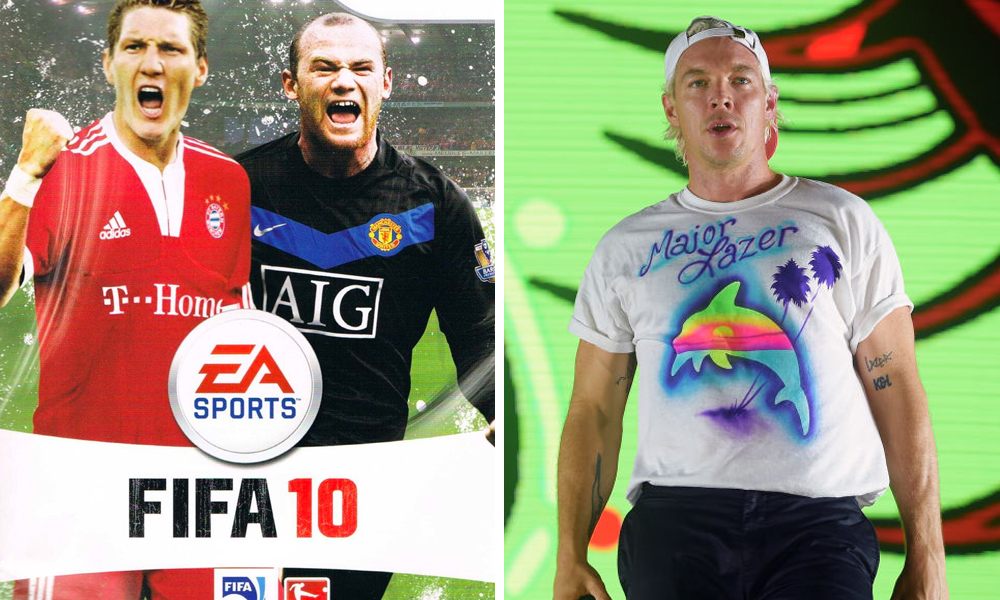 Credit: FIFA & EA Sports/Getty Images
FIFA 10 Soundtrack
Auletta - Meine Stadt
Balkan Beat Box feat. Tomer Yosef and Saz - Ramallah Tel Aviv
BLK JKS - Lakeside
Bomba Estéreo - Fuego
Buraka Som Sistema feat. Pongolove - Kalemba
CasioKids - Fot i Hose
Children Collide - Skeleton Dance
Cut Off Your Hands - Happy As Can Be
Dananananaykroyd - Black Wax
Datarock - Give It Up
Fabri Fibra - Donna Famosa
Fidel Nadal - International Love
Los Fabulosos Cadillacs - La Luz del Ritmo
Macaco - Hacen Falta Dos
Major Lazer feat. Mr. Lexx and Santigold - Hold the Line
Marcio Local - Soul do Samba
Matt & Kim - Daylight
Metric - Gold Guns Girls
Mexican Institute of Sound - Alocatel
Nneka feat. Wesley Williams - Kangpe
Passion Pit - Moth's Wings
Peter Bjorn and John - Nothing to Worry About
Pint Shot Riot - Not Thinking Straight
Playing for Change - War
Rocky Dawuni - Download the Revolution
Röyksopp - It's What I Want
SoShy - Dorothy
The Answering Machine - It's Over! It's Over! It's Over!
The BPA feat. Ashley Beedle - Should I Stay or Should I Blow
The Enemy - Be Somebody
The Whitest Boy Alive - 1517
Tommy Sparks - She's Got Me Dancing
Wyclef Jean - MVP Kompa
Zap Mama - Vibrations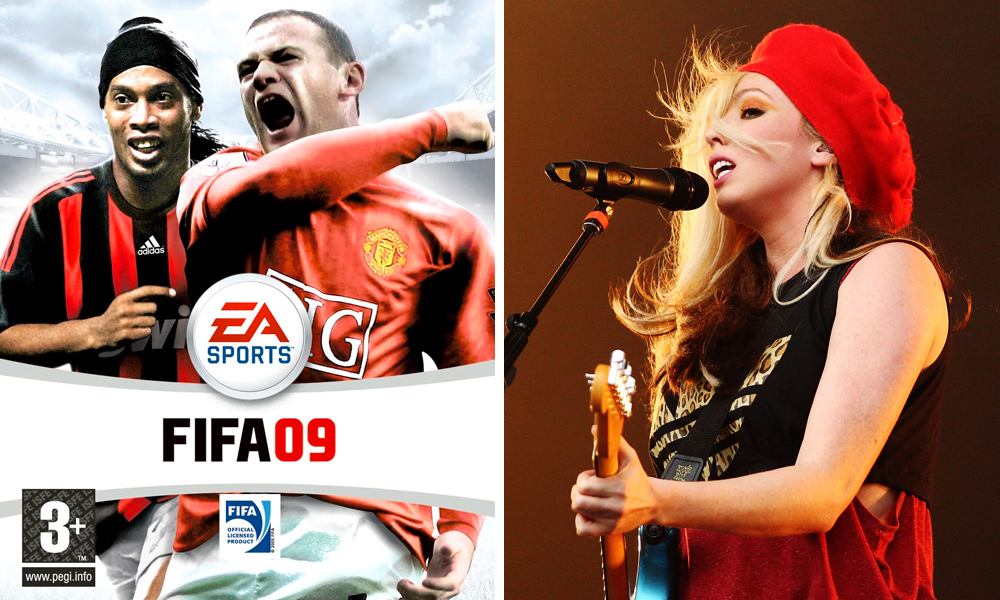 Credit: FIFA & EA Sports/Getty Images
FIFA 09 Soundtrack
Caesar Palace - 1ne
Chromeo - Bonafied Lovin' (Yuksek Remix)
CSS - Jager Yoga
Curumin - Magrela
Cut Copy - Lights And Music
Damian "Jr. Gong" Marley - Something For You (One Loaf Of Bread)
Datarock - True Stories
DJ Bitman - Me Gustan
Duffy - Mercy
Foals - Olympic Airways
Gonzales - Working Together (Boys Noize Remix)
Hot Chip - Ready For The Floor (Soulwax Remix)
Jakobinarina - I'm A Villain
Junkie XL feat. Electrocute - Mad Pursuit
Jupiter One - Platform Moon
Kasabian - Fase Fuse
Ladytron - Runaway
Lykke Li - I'm Good I'm Gone
Macaco - Movin'
MGMT - Kids
My Federation - What Gods Are These
Najwajean - Drive Me
Plastilina Mosh - Let U Know
Radiopilot - Fahrrad
Reverend And The Makers - Open Your Window
Sam Sparro - Black & Gold
Señor Flavio - Lo Mejor Del Mundo
Soprano - Victory
The Airborne Toxic Event - Gasoline
The Black Kids - I'm Not Gonna Teach Your Boyfriend How To Dance With You (The Twelves Remix)
The Bloody Beetroots - Butter
The Fratellis - Tell Me A Lie
The Heavy - That Kind Of Man
The Kissaway Trail - 61
The Kooks - Always Where I Need To Be
The Pinker Tones - The Whistling Song
The Script - The End Where I Begin
The Ting Tings - Keep Your Head
The Veronicas - Untouched
The Whip - Muzzle #1
Tom Jones - Feels Like Music (Junkie XL Remix)
Ungdomskulen - Modern Drummer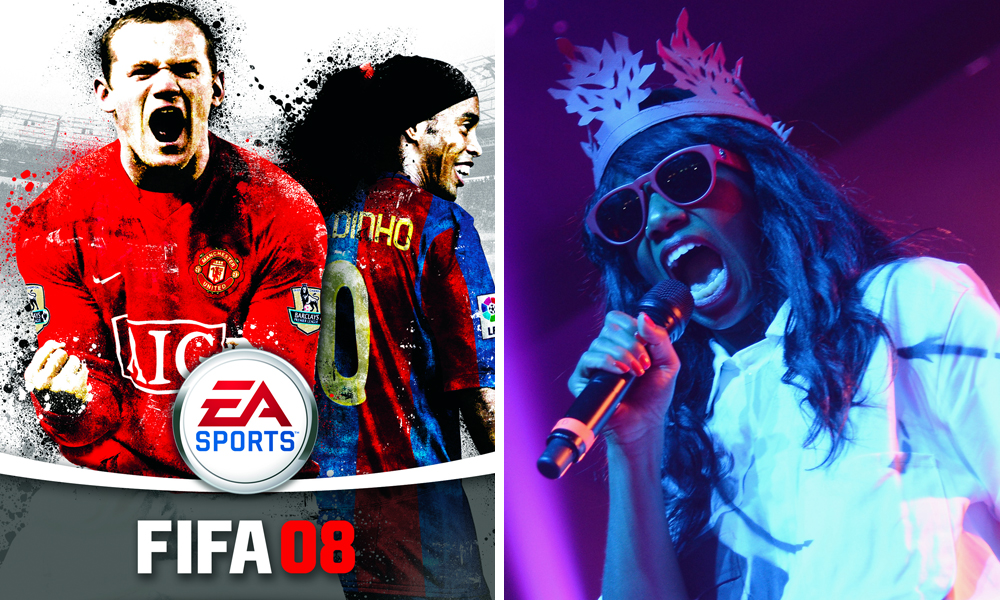 Credit: FIFA & EA Sports/Getty Images
FIFA 08 Soundtrack
!!! - All My Heroes Are Weirdos
Apartment - Fall into Place
Art Brut - Direct Hit
Aterciopelados - Paces
Babamars - The Core
Bodyrox feat. Luciana - What Planet You On?
Bonde do Rolê - Solta o Frango
CAMP - From Extremely Far Away
Carpark North - Human
Céu - Malemolência
Cheb i Sabbah - Toura Toura: Nav Deep Remix
Cansei de Ser Sexy - Off the Hook
Datarock - Fa-Fa-Fa
Digitalism - Pogo
Disco Ensemble - We Might Fall Apart
Dover - Do Ya
Heroes & Zeros - Into the Light
Ivy Queen - Que Lloren
Kenna - Out of Control (State of Emotion)
k-os - Born to Run
La Rocca - Sketches (20 Something Life)
Lukas Kasha - Love Abuse
Madness feat. Sway and Baby Blue - I'm Sorry
Maxïmo Park - The Unshockable
Melody Club - Fever Fever
Mexican Institute of Sound - El Microfono
Modeselektor feat. Sasha Perera - Silikon
Noisettes - Don't Give Up
Pacha Massive - Don't Let Go
Peter Bjorn and John - Young Folks
Planet Funk - Static
Robyn - Bum Like You
Rocky Dawuni - Wake Up the Town
Santigold - You'll Find a Way
Simian Mobile Disco - I Believe
Superbus - Butterfly
Switches - Drama Queen
The Automatic - Monster
The Cat Empire - Sly
The Hoosiers - Goodbye Mr A
The Hours - Ali in the Jungle
The Tellers - More
Tigarah - Culture, Color, Money, Beauty
Travis - Closer
Tumi & the Volume - Afrique
Vassy - Wanna Fly
Wir sind Helden - Endlich ein Grund zur Panik
Yonderboi - Were You Thinking Of Me?
Credit: FIFA & EA Sports/Getty Images
FIFA 07 Soundtrack
Angélique Kidjo - Wele Wele
Belasco - Chloroform
Bersuit Vergarabat - O Vas a Misa …
Bitman & Roban - Get on the Floor
Blasted Mechanism - Blasted Empire
Boy Kill Boy - Civil Sin
caBas - La Cadena de Oro
Carlos Jean - Get Down
caBas - La Cadena de Oro
Carlos Jean - Get Down
D.O.C.H.! - Was in der Zeitung Steht
Elefant - Uh-oh Hello
Epik High - Fly
Fertig, Los! - Sie ist in Mich Verliebt
Infadels - Can't Get Enough (Mekon Remix)
Malibu Stacy - Los Angeles
Mellowdrone - Oh My
Mobile - New York Minute
Morning Runner - Gone up in Flames
Muse - Supermassive Black Hole
Nightmare of You - Dear Scene, I Wish I Were Deaf
Outlandish - Kom Igen
Paul Oakenfold - Beautiful Goal
Outlandish - Kom Igen
Persephone's Bees - Muzika Dlya Fil'ma (Music for Film)
Plastilina Mosh - Peligroso Pop
Polysics - Tei! Tei! Tei!
The Prototypes - Kaleidoscope
Ralph Myerz and the Jack Herren Band - Deepest Red
Seu Jorge - Tive Razão
Shiny Toy Guns - You Are the One
Stijn - Gasoline and Matches
Surferosa - Royal Uniform
Tahiti 80 - Big Day
The Feeling - Sewn
The Pinker Tones - TMCR Grand Finale
The Sheer - Understand
The Young Punx - You've Got To …
Tigarah - Girl Fight
Trash Inc. - Punk Rock Chick
Us3 - Kick This
Young Love - Discotech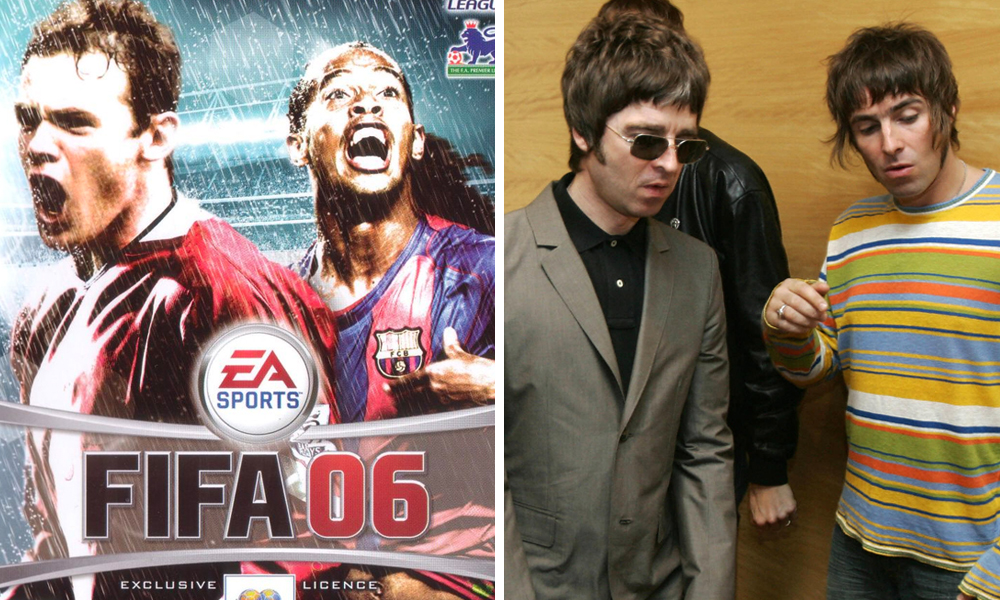 Credit: FIFA & EA Sports/Getty Images
FIFA 06 Soundtrack
3D Voz - Fiesta
AK4711 - Rock
Bloc Party - Helicopter
AK4711 - Rock
Blues Brother Castro - Flirt
boTECOeletro - Coco Nutz Mass
Boy - Same Old Song
Carlinhos Brown & DJ Dero - Nabika
Damian (Jr. Gong) Marley - Welcome To Jamrock
Dogs - London Bridge
Doves - Black and White Town
Duels - Potential Futures
Embrace - Ashes
Hard-Fi - Gotta Reason
Jamiroquai - Feels Just Like it Should
Kaos - Now and Forever
Kinky - Coqueta
K'naan - Soobax
KYO - Contact
LCD Soundsystem - Daft Punk Is Playing at My House
Linea 77 - Inno All'Odio
Mando Diao - God Knows
maNga - Bir Kadin Cizeceksin
Marcelinho da Lua - Tranquilo
Nine Black Alps - Cosmopolitan
Oasis - Lyla
Paul Oakenfold - Beautiful Goal
Röyksopp - Follow My Ruin
Selasee - Run
SoShy - The Way I
Subsonica - Corpo a Corpo
Teddybears STHLM - Cobrastyle
The Departure - Be My Enemy
The Film - Can You Touch Me
The Gift - 11.33
The Rakes - Strasbourg
Vitalic - My Friend Dario
Yerba Buena - Cityzen Citysoy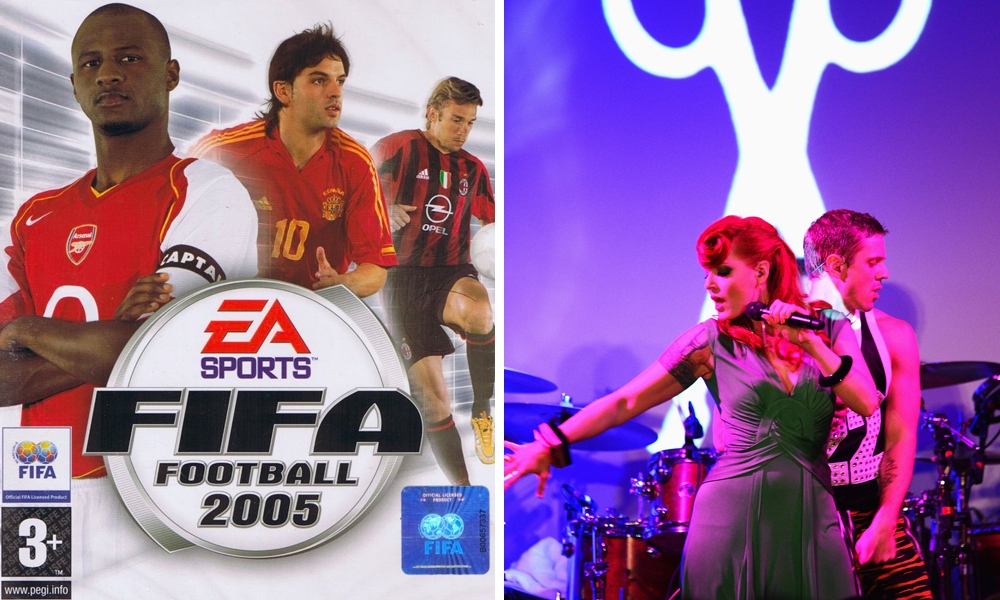 Credit: FIFA & EA Sports/Getty Images
FIFA Football 2005 Soundtrack
Air - Surfing on a Rocket
Brothers - Dieci Cento Mille
Clorofila of Nortec Collective - Almada
Debi Nova - One Rhythm (Do Yard Riddim Mix)
Emma Warren - Wants U Back
Faithless - No Roots
Ferry Corsten - Rock Your Body, Rock
Flogging Molly - To Youth (My Sweet Roisin Dubh)
Franz Ferdinand - Tell Her Tonight
Future Funk Squad - Sorcerary
Gusanito - Vive La Vida
Head Automatica - Brooklyn Is Burning
Inverga + Num Kebra - Eu Perdi Você
Ivete Sangalo - Sorte Grande
INXS - What You Need (Coldcut Force Mix 13 Edit)
Jose - A Necessidade
INXS - What You Need (Coldcut Force Mix 13 Edit)
Jose - A Necessidade
Los Amigos Invisibles - Esto Es Lo Que Hay (Reggaeton Remix)
Mala Rodriguez - Jugadoras, Jugadores
Mañana - Miss Evening
Marcelo D2 - Profissão MC
Miss J - Follow Me
Marcelo D2 - Profissão MC
Morrissey - Irish Blood, English Heart
Nachlader - An die Wand
New Order - Blue Monday
Oomph! - Augen Auf!
Paul Oakenfold - Beautiful Goal (EA Sports Football Theme)
Sandro Bit - Ciao Sono Io
Sarah McLachlan - World on Fire (Junkie XL Remix)
Scissor Sisters - Take Your Mama
Seeed - Release
Sneak Attack Tigers - The End of All Good
Soul'd Out - 1,000,000 Monsters Attack
The Sounds - Seven Days a Week
The Soundtrack of Our Lives - Karmageddon
The Streets - Fit But You Know It
Wayne Marshall - Hot in the Club
Zion y Lennox - Ahora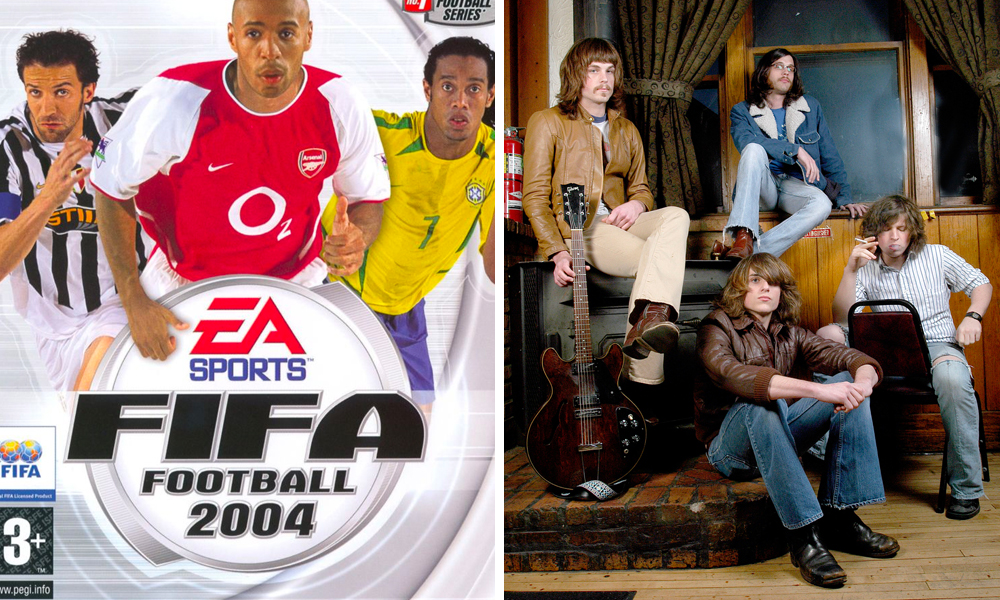 Credit: FIFA & EA Sports/Getty Images
FIFA Football 2004 Soundtrack
Asian Dub Foundation - Rise To The Challenge
Babamania - Wanna Rock
Caesars - Jerk It Out
Café Tacuba - Eo (El Sonidero)
DJ Sensei - Musica Grande
Goldfrapp - Train
Junior Senior - Rhythm Bandits
Kane - Rain Down on Me (Tiesto Remix)
Kasabian - L.S.F
Kings Of Leon - Red Morning Light
Lostprophets - Burn, Burn
Paul van Dyk - Nothing But You
Radiohead - Myxomatosis
Suburbia - Always
The Clones - Crazy Boys
The Cooper Temple Clause - Promises, Promises
The Dandy Warhols - We Used to Be Friends
The Individuals - Take A Ride
The Jam - Town Called Malice
The Raveonettes - That Great Love Sound
The Stone Roses - Fools Gold
Timo Maas - Unite
Tosca - Gute Laune
Tribalistas - Já Sei Namorar
Underworld - Two Months Off
Vicentico - Se Despierta La Ciudad
Wir sind Helden - Guten Tag
Zeca Pagodinho - Deixa A Vida Me Levar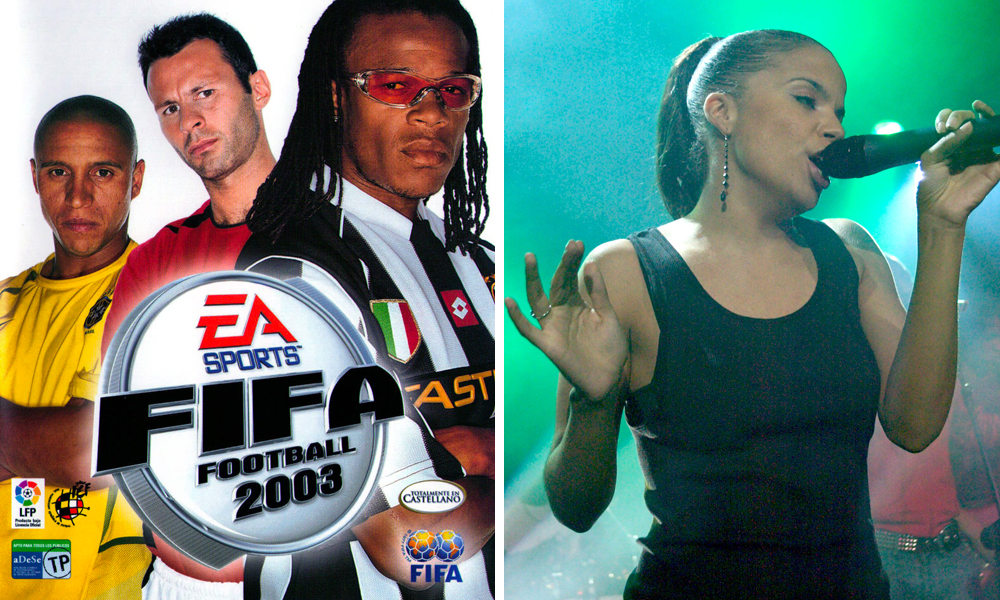 Credit: FIFA & EA Sports/Getty Images
FIFA Football 2003 Soundtrack
a.mia - Jumpin to the Moon (Unexplored Field Mix)
Antiloop - In My Mind
Avril Lavigne - Complicated (Pablo La Rossa Vocal Mix)
Bedroom Rockers - Drivin
Dax Riders - Real Fonky Time
D.O.G. - Force
Idlewild - You Held the World in Your Arms
Kosheen - Hide U
Kosheen - Pride
Ms. Dynamite - Dy-Na-Mi-Tee
Safri Duo - Played A-Live (The Bongo Song)
Sportfreunde Stiller - Independent
Spotrunnaz - Bigger and Better
Timo Maas - To Get Down (Fatboy Slim Remix)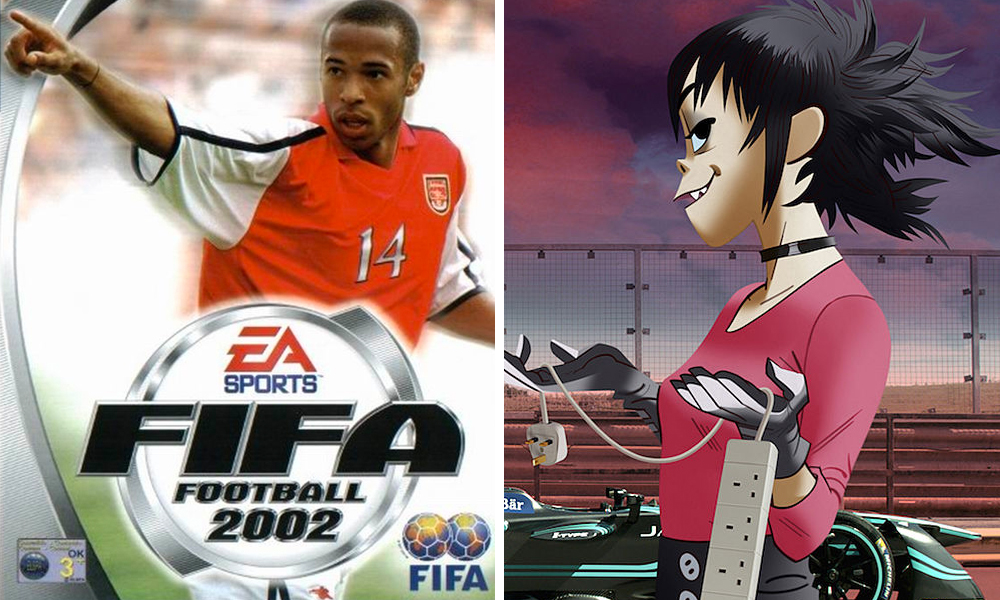 Credit: FIFA & EA Sports/Getty Images
FIFA Football 2002 Soundtrack
BT - Never Gonna Come Back Down (Hybrid's Echoplex Dub)
Cirrus - Stop and Panic
Conjure One - Redemption (Max Graham's Dead Sea Mix)
DJ Tiësto - Flight 643
Gorillaz - 19-2000 (Soulchild Remix)
Gouryella - Tenshi
Issi Noho - First Snow (General Midi Remix)
R4 - Revolution
Sandy vs Housetrap - Overdrive
Schiller - Das Glockenspiel (Tiesto Remix)
Terpsichord - The Bells
The Edison Factor - Repeat the Sequence
Vitae - Energy Flow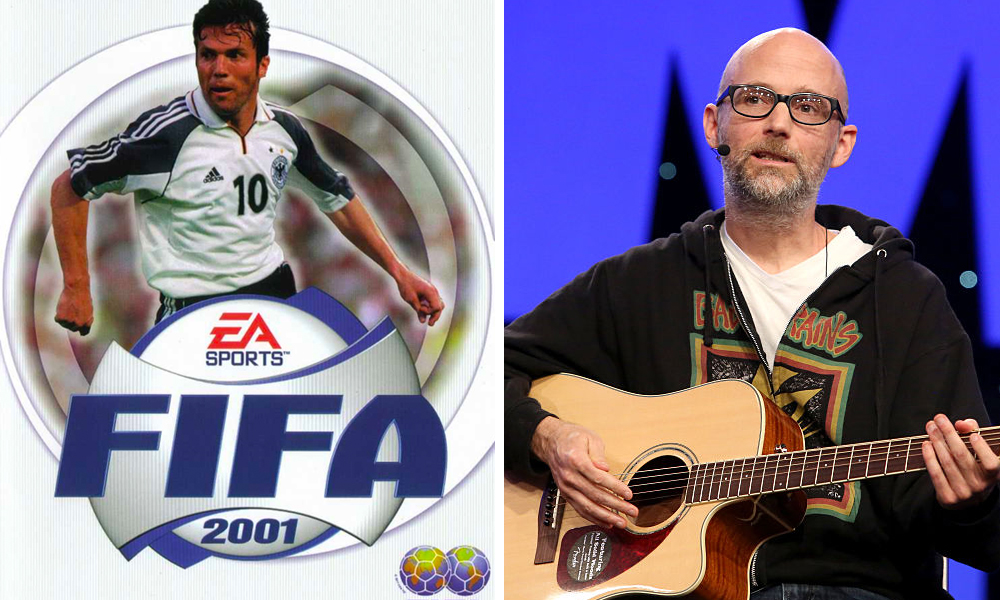 Credit: FIFA & EA Sports/Getty Images
FIFA 2001 Soundtrack
Curve - Chinese Burn (Lunatic Calm Remix)
Grand Theft Audio - We Luv You
Moby - Bodyrock
The Source - Fly Away
Utah Saints - Funky Music (Levent's Funk-o-Rama Short Edit)
Utah Saints - Power to the Beats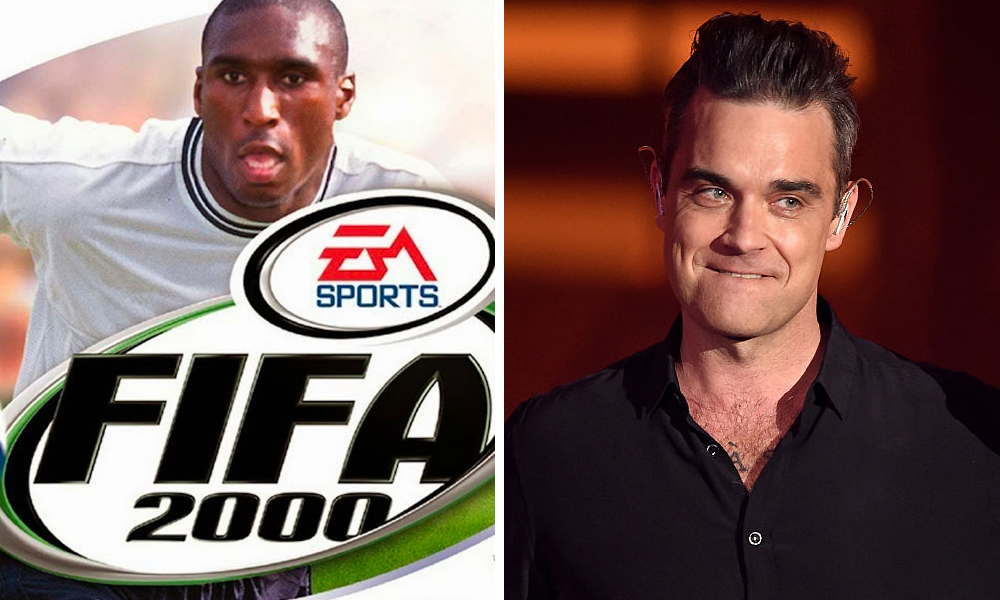 Credit: FIFA & EA Sports/Getty Images
FIFA 2000 Soundtrack
Apollo 440 - Stop The Rock
Elite Force - Call It Brisco (And Why Not?)
Gay Dad - Joy!
Junior Blanks - All About Beats (DJ Scissoricks Mix)
Lunatic Calm - LC001 (Neon Ray Mix)
Reel Big Fish - Sell Out
Robbie Williams - It's Only Us
Sniper - Cross Fader Dominator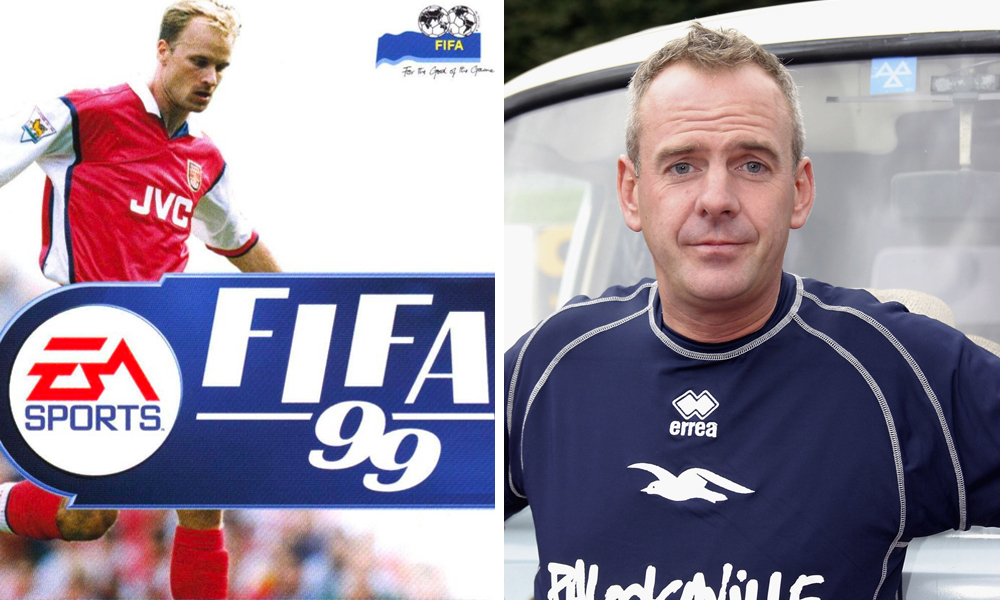 Credit: FIFA & EA Sports/Getty Images
FIFA 99 Soundtrack
Danmass - Gotta Learn (Dub Pistols Sick Junkie Remix)
Dylan Rhymes - Naked and Ashamed
Fatboy Slim - The Rockafeller Skank
Gearwhore - Passion
God Within - Raincry (Spiritual Thirst)
Lionrock - Rude Boy Rock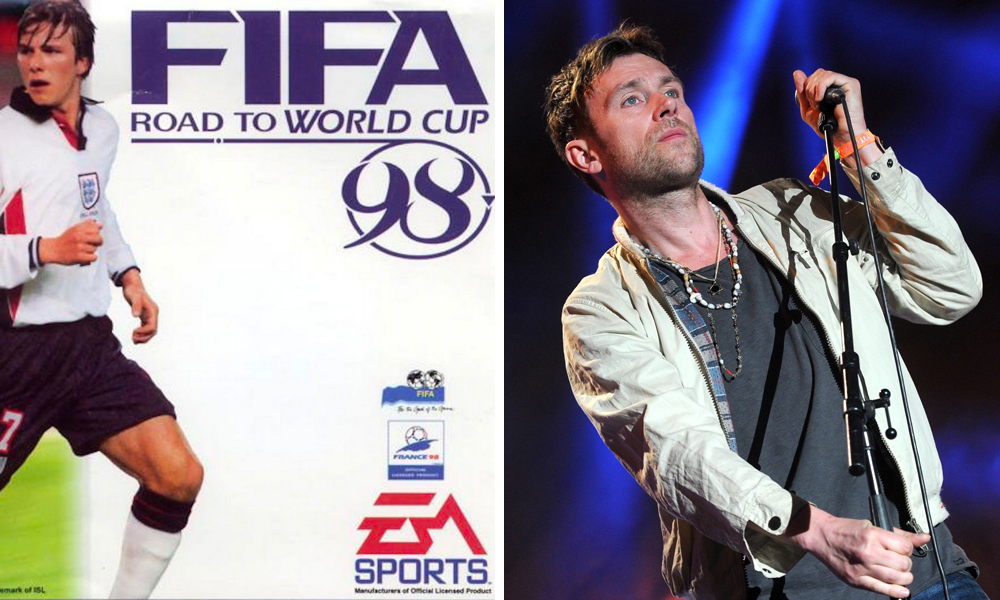 Credit: FIFA & EA Sports/Getty Images
FIFA: Road to World Cup 98 Soundtrack
Blur - Song 2
The Crystal Method - Keep Hope Alive
The Crystal Method - More
The Crystal Method - Now is the Time (iCloud 9 Remix)
The Crystal Method - Busy Child
Electric Skychurch - Hugga Bear
Whilst you're here...
> 29 Of The Best FIFA Soundtrack Songs Of All Time
> FIFA 19 Soundtrack: Songs We Wanted To See On The New Game
> FIFA 19 Soundtrack: More About This Year's Official Playlist