Top Chart Hits: 20 Of The Best Pop Songs Of 2018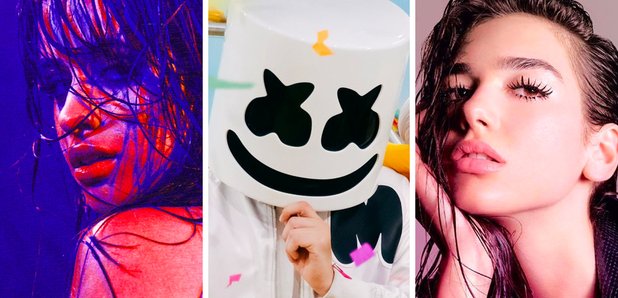 There's been some incredible pop songs released so far in 2018 - and they're all here!
We've complied some of the biggest and best chart hits of 2018 into one huge playlist.
Whether you're loving Dua Lipa or just can't get enough of Camila Cabello, we've got the perfect pop music for you.
Want more? Here's 35 Of The Best Pop Songs Of 2017!
1. 'These Days' - Rudimental ft. Jess Glynne, Macklemore & Dan Caplen
'These Days' came close to breaking the record for most weeks at No. 1 on The Official Vodafone Big Top 40, set in 2017 by Luis Fonsi, Daddy Yankee and Justin Bieber's 'Despacito'.
This huge collaboration includes British singer Jess Glynne, American rapper Macklemore and rising star Dan Caplen.
Listen to 'These Days' on Apple Music.
2. 'IDGAF' - Dua Lipa
3. 'Never Be The Same' - Camila Cabello
4. 'Tip Toe' - Jason Derulo ft. French Montana
5. 'Finesse (Remix)' - Bruno Mars & Cardi B
6. 'For You (From "Fifty Shades Freed")' - Liam Payne & Rita Ora
7. 'Strangers' - Sigrid
8. 'FRIENDS' - Marshmello & Anne-Marie
9. 'Say Something' - Justin Timberlake ft. Chris Stapleton
10. 'Meant to Be' - Bebe Rexha ft. Florida Georgia Line
'Meant to Be' sees Bebe Rexha teaming up with American country music duo Florida Georgia Line.
The track's all about letting go of your worries and accepting that whatever will be, will be! It's one of Bebe's biggest tracks to date and the music video's had over 300 million views.
Listen to 'Meant to Be' on Apple Music.
11. 'In My Blood' - Shawn Mendes
Ahead of the release of 'In My Blood', Shawn Mendes tweeted that it was "the closest song to my heart that I've written".
The track is an emotional ballad about how it feels when you're about to give up but ultimately decide not to. Basically, all the feels.
Listen to 'In My Blood' on Apple Music.
12. 'Sanctify' - Years & Years
Years & Years returned in 2018, three years after releasing their huge debut album Communion.
'Sanctify' has a slightly darker sound than previous hit singles 'King', 'Shine' and 'Desire' and is about a guy who is struggling to come to terms with their sexuality.
Listen to 'Sanctify' on Apple Music.
13. 'Done For Me' - Charlie Puth ft. Kehlani
'Done For Me' is another massive single from Charlie Puth's second album VoiceNotes, released in 2018.
Featuring rising R&B singer Kehlani, the track is the last part of the story - following on from 'How Long' and 'Attention' - about a particularly difficult time in a relationship.
Listen to 'Done For Me' on Apple Music.
14. 'End Game' - Taylor Swift ft. Ed Sheeran, Future
'End Game' was released as the next single from Taylor's reputation album in 2018.
It's the second Taylor Swift song to feature Ed Sheeran. The pair first collaborated on 'Everything Has Changed' in 2012, which was included on the Red album. They've both come a long way since!
Listen to 'End Game' on Apple Music.
15. 'Fine Line' - Mabel & Not3s
16. 'Want You Back' - 5 Seconds of Summer
17. 'Personal' - HRVY
18. 'I Know You' - Craig David ft. Bastille
19. 'My My My!' - Troye Sivan
20. 'You Are The Reason' - Calum Scott