Girls, Girls, Girls: 10 Best All-Female Collaborations Of All Time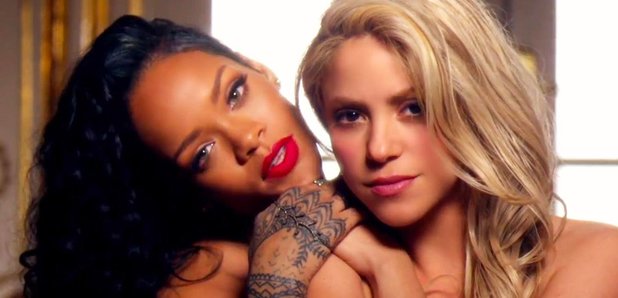 Who run the world?
Bebe Rexha joined us recently on The Official Vodafone Big Top 40 to announce a massive new collaboration, called 'Girls'.
The Rita Ora single features Bebe alongside Cardi B and Charli XCX - four of the biggest names in music, all on one huge bop.
It got us thinking about some of our favourite female collabs from years gone by so we put together a playlist, of course. Have a listen to some of the biggest and best chart hits where it's only girls allowed...
Enjoying the sun? Check out our Best Summer Songs of 2018 Playlist!
1. Christina Aguilera, Lil' Kim, Mýa & Pink – Lady Marmalade
The original super-collab, featuring that famous line... "Voulez-vous coucher avec moi (ce soir)?"
2. Lady Gaga - Telephone ft. Beyoncé
It says "To be continued..." at the end of the video and we're still here waiting for part 2!
3. Brandy & Monica – The Boy Is Mine
It's been remixed over the years but the original is still an absolute classic.
4. Beyoncé & Shakira – Beautiful Liar
Things get pretty saucy when you put Shakira and Beyoncé together.
5. Britney – Me Against The Music ft. Madonna
Released in 2003, Britney and Madonna teaming up was as big as it got!
6. Jessie J, Ariana Grande, Nicki Minaj - Bang Bang
Is it a Jessie J song? An Ariana single? A Nicki track? All we know is it's definitely a tune.
7. Madonna - Girl Me All Your Luvin' ft. M.I.A. and Nicki Minaj
Madonna brought out M.I.A. and Nicki at the Super Bowl halftime show to debut this big collab!
8. Whitney Houston & Mariah Carey - When You Believe
Two of the biggest divas there's ever been paired up for this R&B anthem.
9. Shakira - Can't Remember to Forget You ft. Rihanna
Shakira and Rihanna teaming up. On a song. What's not to love?
10. Rita Ora - Girls ft. Cardi B, Bebe Rexha & Charli XCX
We had to finish with the track that started the whole thing off - the brand-new single from Rita Ora, Bebe Rexha, Cardi B and Charli XCX, as exclusively announced on The Official Vodafone Big Top 40!
For more of the biggest hits, listen to The Official Vodafone Big Top 40 this Sunday from 4pm.