Hot! Top 10 Sexiest Music Videos of 2018... So Far!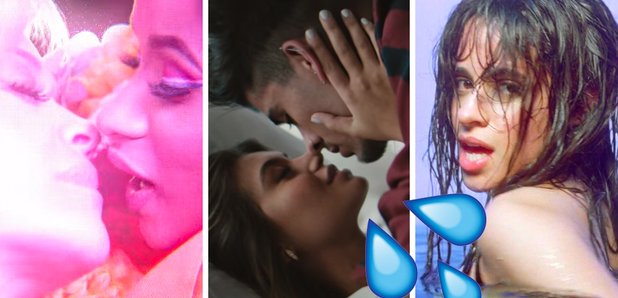 Music videos don't get any sexier than this!
There are some seriously sexy music videos knocking around at the moment.
Obviously, we're all about the music... obviously... but we're not complaining if the stars are also easy on the eye!
So here's our round up of ten of the steamiest and sauciest from the year so far...
> Throwback: The Sexiest Music Videos of 2017 That You Just HAVE To Watch
1. ZAYN - Let Me
ZAYN has a lil' snog with a model then goes to party... it's a tough life being a popstar.
2. Camila Cabello - Never Be The Same
There's a lot of face stroking in Camila's Never Be The Same video so you know she means business.
3. Charlie Puth - Done For Me ft. Kehlani
Seriously, where can we get on of those heart-shaped bathtubs? *rushes to IKEA*
4. Jennifer Lopez - Dinero
Topless hunks playing poker, J-Lo and Cardi in bed together... DJ Khaled... it's got it all.
5. Rita Ora - Girls ft. Cardi B, Bebe Rexha & Charli XCX
Another sexy number featuring Cardi B - this time she's snogging Rita Ora!
6. Years & Years - If You're Over Me
Olly puts on a show for us all, whilst wearing a rather incredible, sparkly suit!
7. Khalid & Normani - Love Lies
Normani introduces us to sexy, curtain dancing... and we're down for it.
8. Hailee Steinfeld - Capital Letters
It's from the soundtrack to a 50 Shades of Grey film. What more do we need to say?
9. Troye Sivan - My My My!
Troye's sexy song gets an equally sexy video with the singer dancing around an empty warehouse.
10. Liam Payne - Familiar
There's ladies twerking and Liam topless - something for everyone here.
For more of the biggest hits, listen to The Official Vodafone Big Top 40 this Sunday from 4pm.