HOT! The Sexiest Music Videos of 2017 That You Just HAVE To Watch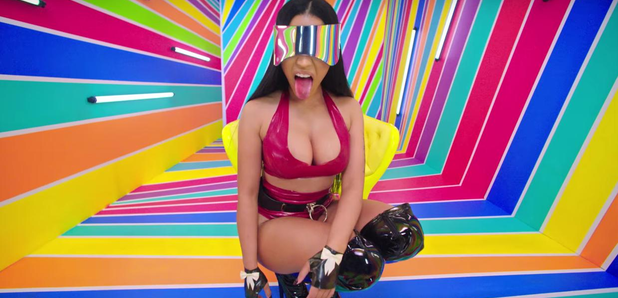 It hasn't taken 2017 too long to spawn a whole list of sexy music videos so we'll do our duty & put them i one place for you!
You just can't beat a hot music video can you? We love the songs, that's just a fact, the popstars aren't too bad either however sometimes the music video is ALL we want to see. And in this year's case, there are a LOT of options.
Check out the very best chart pop songs from 2017 that you'll NEED in your life too!
PIC: Little Mix/YouTube
Let's get down to it then, you ready for this?
Jason Derulo feat. Nicki Minaj & Ty Dolla $ign
Wow, just wow. When Nicki Minaj is featuring in a music video you can rest assured that there'll be some incredible outfits and in this Derulo collaboration she does not disappoint! Plus, Jason's abs...enough said.
Download 'Swalla' by Jason Derulo.
Little Mix - 'Touch'
Hot off the heels of their Vodafone Big Top 40 No.1 'Shout Out To My Ex', we weren't sure where Little Mix could go from there but by god did they prove us all wrong. 'Touch' came out of nowhere and the video was intense!
Download Little Mix's 'Touch' now.
Zara Larsson - 'So Good'
Just when you thought Zara Larsson couldn't get any sexier in her music videos she dropped this smokin' collaboration with Ty Dolla $ign and 2017 was well and truly LIT.
Download Zara Larsson and Ty Dolla $ign's 'So Good' now.
ZAYN & Taylor Swift - 'I Don't Wanna Live Forever'
No doubt it helps that this track appeared of the soundtrack for the hit blockbuster 'Fifty Shades Darker' however when ZAYN is looking this broody how could we NOT feature this in the playlist.
Download Taylor Swift and ZAYN's 'I Don't Wanna Live Forever' now.
Charli XCX feat. Lil Yachty - 'After The Afterparty'
We know, we know. This music video was actually released at the end of 2016 but we've got a feeling if we didn't feature this in the playlist, Charli's fans would undoubtedly riot.
Download Charli XCX feat. Lil Yachty's 'After The Afterparty' now.
Mariah Carey - 'I Don't'
The original queen of sexy music videos returned with this showstopper in true Mariah style. The legendary singer teamed up with rapper YG for the track and we'll be forever thankful for the video.
Download Mariah Carey's 'I Don't' now.