11 Songs You Won't Believe Are Actually Turning 10 In 2017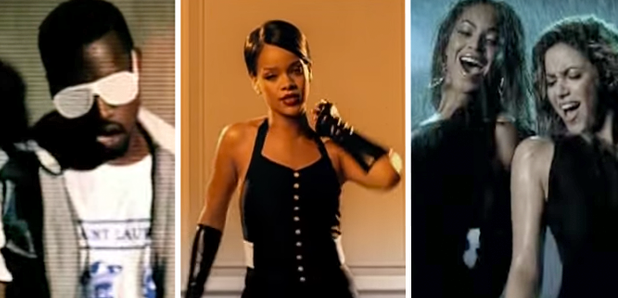 As if you didn't need reminding of how quickly time really does go, we thought we'd show you which throwback tunes are already 10 years old!
With an endless stream of good new music coming out every single year, it shouldn't surprise you that some of your favourite hit tunes are already a decade old! However, when you check out this playlist of songs that were released in 2007, you'll have to look twice because it truly is quite unbelievable.
Do you know every single Vodafone Big Top 40 No.1 of 2017 yet?
PIC: Beyoncé YouTube
Ok, get yourself ready for an instant hit of nostalgia.
1. Rihanna feat. Jay-Z - 'Umbrella'
Download 'Umbrella' by Rihanna and Jay Z now.
2. Kanye West - 'Stronger'
Download Kanye West's 'Stronger' now.
3. Sean Kingston - 'Beautiful Girls'
Download 'Beautiful Girls' by Sean Kingston now.
4. Sugababes - 'About You Now'
Download 'About You Now' by Sugababes now.
5. Mark Ronson & Daniel Merriweather - 'Stop Me'
Download 'Stop Me' by Mark Ronson & Daniel Merriweather now.
6. Kaiser Chiefs - 'Ruby'
Download 'Ruby' by Kaiser Chiefs now.
7. Beyoncé Knowles & Shakira - 'Beautiful Liar'
Download 'Beautiful Liar' by Beyoncé & Shakira now.
8. Plain White T's - 'Hey There Delilah'
Download 'Hey There Delilah' by Plain White T's now.
9. Mika - 'Grace Kelly'
Download Mika's 'Grace Kelly' now.
10. Arctic Monkeys - 'Brianstorm'
Download 'Brianstorm' by Arctic Monkeys now.
11. Kate Nash - 'Foundations'
Download 'Foundations' by Kate Nash.