Yes it's December everybody and that can only mean one thing. The ultimate list of festive tunes is here.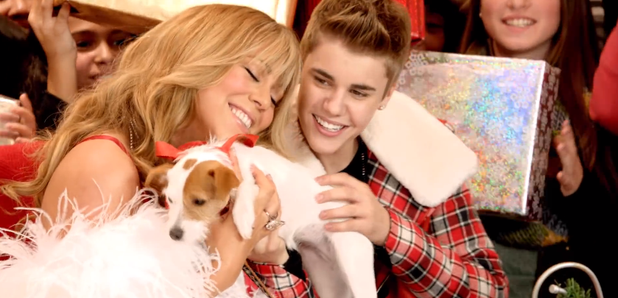 Christmas is nearly here so we thought we'd give you the ultimate list of festive tunes. From old classics like The Pogues' 'Fairytale Of New York' to Ariana Grande's 'Santa Tell Me', we've got you covered.
Well lets break open the eggnog and have a look at the list shall we?
The Pogues - 'Fairytale In New York'
We might as well start off with a classic right? You won't be able to go through December without hearing this song. Whether it is in a shop buying your mum that box set she has had her eye on or having a meal with your man…this will be on, we promise.
Download 'Fairytale In New York' now.
Mariah Carey - 'All I Want For Christmas Is You'
Did you know that this song has been covered over 24 different times! One which stands out in particular has to be from one of the greatest Christmas movies of all time, 'Love Actually'. With the little girl and that boy who plays the drums, remember? Aww too cute!
Ariana Grande - 'Santa Tell Me'
Ariana's 'Santa Tell Me' was one of the best Christmas songs of 2014: she's released one for two consecutive years now. We really hope this becomes an annual thing, it's been two consecutive years so far and we can only wish for more. Plus, look at those cute pics.
Band Aid - 'Do They Know It's Christmas'
We've got the original in the list. As much as we love hearing Sam Smith singing some of those legendary lines, we fancied listening to some Boy George, Sting and Bono for a change.
Michael Buble - 'Santa Claus Is Coming To Town'
Here's a perfect formula for you. Take 1 tablespoon of Buble, add 1 teaspoon of a Christmas classic and voila! This is what you end up with.
Paul McCartney - 'Wonderful Christmas Time'
Simply haaaaving a wonderful Christmas time! Everyone knows it, everyone loves it. This Paul McCartney classic had to make it, he's a Beatle after all.
Kylie Minogue - 'Santa Baby'
Who said that Christmas time isn't a time for being sexy? Kylie Minogue brings us a home-shot video for the sultriest festive song of them all!
Chris Rea - 'Driving Home For Christmas'
The weird thing about this track is that it actually does seem to always come on EVERY TIME we are in the car. It just has that sound though, you know the one…CHRISTMAS!
Jackson 5 - 'I Saw Mommy Kissing Santa Claus'
Aww little Michael Jackson was just the cutest! Who'd have thought that sweet sweet voice would go on to record such epic tunes such as 'Thriller' and 'Bad'.
Wham! - 'Last Christmas'
And the award for the cheesiest Christmas song of all time goes to…Wham! Yep this truly is on cheese on toast, however we want more slices!
Justin Bieber - 'Misteltoe'
Biebs had to make it into the list somewhere. His song 'Misteltoe' has now been out for almost three entire years. We still remember Justin serenading everyone with 'Baby' like it was yesterday.
Idina Menzel & Michael Buble - 'Baby It's Cold Outside'
It's another old classic however it's been taken to a whole new level with Michael Buble and Idina Menzel. Ever since Frozen hit the cinemas, everyone wants a piece of Princess Elsa. We have to admit though, it's the music video we can't stop watching, let alone the song.
Wizzard - 'I Wish It Could Be Christmas Everyday'
We know, we know, you have probably heard this track more than any other track in your entire life however it just wouldn't be Christmas without it really would it? Plus we REALLY do wish it was Christmas everyday.
Kelly Clarkson - 'Underneath The Tree'
This music video fills us with so much festive joy. Kelly looking stunning, the giant Christmas tree and red trumpets! Red trumpets people, where else do you see that??
Leona Lewis - 'One More Sleep'
We like to think this is exactly what all Leona Lewis' Christmases look like. Who wouldn't want to bake Christmas goodies with one of Simon Cowell's biggest and most successful acts?
Mean Girls - 'Jingle Bell Rock'
Here's another one for luck. You didn't really think we'd forget Santa's Helpers doing Jingle Bell Rock did you?