Ariana Grande's New Album 'thank u, next': Release Date, Tracklist and Collaborations
22 January 2019, 11:18 | Updated: 22 January 2019, 11:21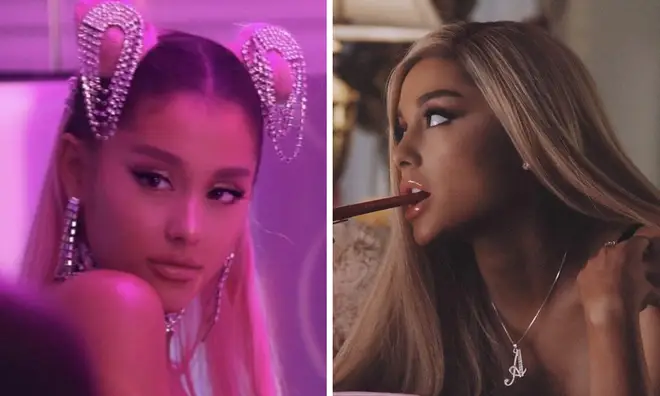 Ariana Grande will release her fifth studio album 'thank u, next' in February, featuring the title track and new single '7 rings'. Here's everything you need to know about the release date, tracklist, collaborations and more...
The year's only just started but get ready for one of the biggest albums of 2019... Ariana Grande's 'thank u, next'.
Ari revealed that she was working on her fifth studio album at the end of 2018, releasing the title track on November 3rd.
> Who Is Zandhr? Ariana Grande's Secret Album 'Nobody Does It Better' Leaked
It's her second album in six months, following on from 'Sweetener' which the singer brought out back in August last year.
Now, along with a title, we have a release date for the new album. Here's everything else we know so far...
What is Ariana Grande's new album called?
Ariana confirmed the new album's title would be thank u, next in a tweet on November 3rd 2018.
What is Ariana Grande's thank u, next album release date?
On 21st January 2019, Ariana took to Twitter to respond to fan questions about the new album and reveal some key details.
The singer confirmed that the album would be out in February and before Valentine's Day, heavily hinting that the release date is Friday February 8th 2019.
What is Ariana Grande's thank u, next tracklist?
Ariana has told fans that her album's tracklist will be revealed on Friday 25th January 2019. Fans will be able to pre-order the album on the day and we'll get to see the album's cover art for the first time too.
There have been some clues already though about what's on the album...
On October 2nd 2018, Ariana shared a photo on her Instagram story showing a nine song tracklist and tagged a bunch of songwriters and producers, including Victoria Monet and Kaydence.
Later, Ariana confirmed a track titled 'Needy' would be on the album and shared a snippet of on Instagram. The song was previously thought to be called 'Tell Me How Good It Feels To Be Needed'.
Ariana also revealed that there won't be an intro to the album.
In the music video for 'Breathin'', released on November 7th 2018, Ari teased the full tracklist. A shot of a bus departures board showed a number of track titles, including 'Imagine', 'Remember' and 'NASA'.
Behind-the-scenes shots from the video appeared to confirm the full tracklist for 'thank u, next':
1. Thank U, Next
2. Make Up
3. Seven Rings
4. NASA
5. Ghostin
6. Needy
7. Remember
8. Imagine
What collaborations are on thank u, next?
Ariana has previously said there won't be any collaborations on the new album.
She confirmed this again closer to the album's release, responding to a fan's question on Twitter - "any features or nah?" - with the response "nah :)."
What are the thank u, next tour dates?
Ariana has announced that she's doing the Sweetener World Tour in 2019, combining the tour for her thank u, next album with the one for her previous project Sweetener.
The UK leg of her tour kicks-off in London on August 17th 2019, with two dates at the capital's O2 Arena.
> Ariana Grande Sweetener UK Tour 2019: Dates & Tickets
Who is Zandhr?
At the start of November, fans spotted what seemed to be a secret Ariana Grande album, titled 'Nobody Does It Better'.
The album was listed under the name Zandhr and contained ten, unreleased tracks. However, it seems that this is a separate project to Ariana's upcoming fifth studio album.
> You can read more about Zandhr and the secret album tracklist here