Top 10 Wedding First Dance Songs
28 November 2018, 12:39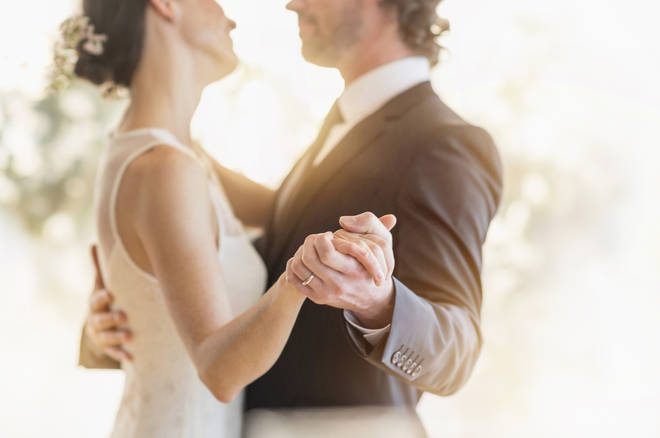 It's one of the most memorable moments of any wedding day - the married couple's first dance. But picking the perfect first dance song is a tricky task! We've put together a playlist of our Top 10 wedding first dance songs to give you some inspiration...
There are lots of difficult decisions to make when planning any wedding and choosing your first dance song is no exception.
What sort of first dance you want to go for at your wedding - classic or modern? Something slow or fast?
> Wedding Playlist: 14 Beautiful Songs to Walk Down the Aisle to
Do you want to slow dance to a smooth love song or surprise your guests by pulling out an expertly choreographed routine you've been rehearsing in secret together for the last few months?
Whatever you've got in mind, we've picked out ten of the most beautiful wedding first dance songs to help make picking your perfect piece of music a little bit easier.
John Legend - All of Me

"Give your all to me, I'll give my all to you"

John Legend's 'All of Me' is one of the most popular wedding first dance songs around and it's easy to see why. John dedicated the song to his own wife Chrissy Teigen.

Ed Sheeran - Perfect

"I found a love to carry more than just my secrets... to carry children of our own"

There's plenty of Ed Sheeran songs to pick from for a first dance. 'Perfect' is a beautiful love song and the lyrics are perfect (if you'll pardon the pun) for a wedding day.

Ellie Goulding - How Long Will I Love You

"How long will I love you, as long as stars are above you"

Ellie Goulding is someone else who has loads of ideal wedding songs. This one's particularly nice as it poetically expresses Ellie's endless love for her partner.

Charlene Soraia - Wherever You Will Go

"Way up high or down low, I'll go wherever you will go"

British singer Charlene Soraia covered The Calling's 'Wherever You Will Go' for a Twinings advert in 2011 - we think this version is even more beautiful than the original.

Aerosmith - I Don't Want To Miss A Thing

"I don't want to miss one smile, I don't want to miss one kiss"

This Aerosmith power ballad was used for a pretty powerful moment in the 90s film Armageddon and that emotion has made it a wedding classic too.

Ed Sheeran - Thinking Out Loud

"I will be loving you 'til we're 70, and baby my heart could still fall as hard at 23"

It's the second appearance in our Top 10 for love song supremo Ed Sheeran. 'Thinking Out Loud' has become one of the most popular first dance songs in recent years.

James Morrison - You Make It Real

"The only place that I want to be is right back home with you"

British singer James Morrison released the gorgeous 'You Make It Real' back in 2008 and a decade on it still takes our breath away.

Adele - Make You Feel My Love

"I could make you happy, make your dreams come true, there's nothing that I wouldn't do"

We couldn't do a loved-up playlist without mentioning Adele! Her cover of Bob Dylan's 'Make You Feel My Love' is one of her best-known songs and perfect for a first dance.

Bruno Mars - Just The Way You Are

"When you smile, the whole world stops and stares for a while"

Bruno is another superstar with plenty of sweet songs made for a wedding - along with 'Just The Way You Are', obviously 'Marry You' is also a strong suggestion!

James Arthur - Say You Won't Let Go

"I wanna stay with you until we're grey and old, just say you won't let go"

Rounding off our Top 10 of the best wedding first dance songs is James Arthur. The X Factor winner's 'Say You Won't Let Go' was made for having a slow dance to.